We're all starved for a good equipment exposition, after so many have been cancelled this year. Now you can have some of the same experience from the comfort of your own home. No airlines to book, no hotel bills, no tired feet. Although you also miss the dinners out, drinks with friends (unless you Zoom them) and exchanging business cards. You can't have everything.
The next Clean Show is set for June 2021. As we're all adjusting to our new 'normal' and trying to get our businesses back on-track, we gave companies a chance to showcase their latest innovations. Check out what the industry currently has to offer in our Virtual Mini Show!
Editor's Note: We gave our participants free rein to pitch their products and services as they would at a Show, without deleting the promotional statements. As always, do your research.
BC TEXTILE INNOVATIONS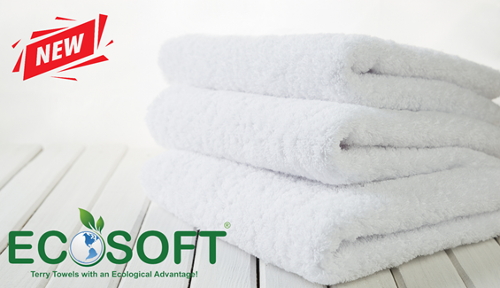 Check out our EcoSoft® Advanced Terry Towels.
EcoSoft® Warp Knit Terry Towels are specifically engineered to provide both an ecological advantage and a cost advantage to your business.
EcoSoft® towels are constructed on special high-technology knitting machines that create an exceptionally durable, soft and long-lasting terry towel.
Switching from regular woven terry towels to EcoSoft® Knitted Terry Towels will provide you with the following benefits:
EcoSoft® Towels dry up to 40% faster, saving you time and energy costs.
EcoSoft® Towels use considerably less water than conventional terry towels.
EcoSoft® Towels are inherently Snag Resistant and do not fall apart.
EcoSoft® Towels gives your business an ecological advantage that will resonate with your clients.
EcoSoft® Towels can last up to 3 times longer than conventional towels.
EcoSoft® Towels are incredibly plush, soft and luxurious – Guests/Residents will notice the difference.
Start using EcoSoft® Terry Towels at your Property – If you have a large or small operation you will begin saving money by switching to EcoSoft® Towels. Perfect for Hotels, Motels, Nursing Homes, Commercial Laundries, Gyms, Spas, Physio Centres or anywhere that requires a high-quality towel at a reasonable price.
EcoSoft® Knitted Terry Towels have been specifically engineered to help support environmental sustainability. These towels will also provide substantial economical benefits for those that incorporate them into their business model. The Hospitality, Health and Commercial laundry industries can realize production and inventory cost savings of up to 40% by making the commitment to use EcoSoft® Knitted Terry Towels. On a cost-per-use basis, EcoSoft® Knitted Terry Towels pay their own way, through reduced energy and water costs. EcoSoft® Knitted Terry Towels provide the lowest cost per use in the industry. It's like getting free towels!
Pre-Order your EcoSoft® Towels Today! www.textileinnovations.com
Extra savings with our pre-order discount. Shipment arrives in Fall 2020.
Contact: sales@textileinnovations.com or 1-866-552-7671
---
DALEX CANADA
We are currently offering Imesa's new IM11 software standard on all new soft-mount High-Spin Washers/Extractors from 11kg to 125kg Capacity
Benefits:
Create your own disinfection criteria based on time and temperature for each program on each machine.
Control and verify disinfection parameters have been met.
Remote management software allows tracking and recording of all cycle history.
Remotely monitor all wash cycle parameters including, temperature, water level and cycle phases.
Quickly verify that all cycles have met the parameters of disinfection previously stipulated by the user.
Special Pricing, Programming and Training available with our specialized Products.
For more information, visit: www.dalex.ca
---
G.A. BRAUN
With the state of the economy continuing to be a question mark, many are looking at used and rebuilt equipment as a viable option to purchasing new. However, like purchasing a used vehicle, the buyer must perform the due diligence and 'buy with confidence'.
Braun's certified manufactured equipment is truly second to none. All Braun pre-owned equipment is proudly remanufactured with the same high-quality workmanship as our new products. Braun returns the machine to OEM specifications with Braun certified parts and a NEW equipment warranty!
Our remanufacturing process strips the machine to bare steel and rebuilds the unit to ensure that it will perform with the same level of reliability as it did when it was originally built.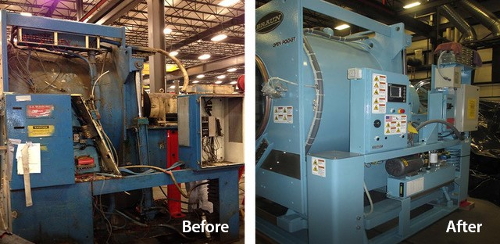 Machines are completely torn down and inspected for structural issues and repaired as necessary.
All components and controls are upgraded to the latest available technology.
Braun sources and certifies all factory parts.
Municipalities mandate certifications to be current; CSA and ETL require that original equipment manufacturers (OEMs) are the only ones that can recertify a machine to the latest standards, replacing all components and controls.
Braun customers also receive free equipment technical support 24 hours a day, 7 days a week for the life of the equipment through our service support help desk! This unique support gives Braun customers direct contact with our highly experienced team of factory-trained service technicians.
For more information please go to: www.gabraun.com/remanufactured-equipment.
---
GIRBAU NORTH AMERICA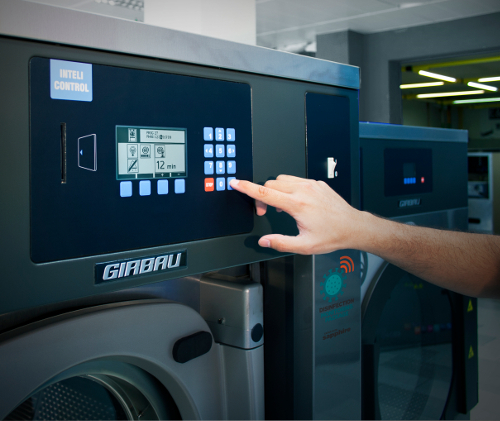 Girbau North America's (GNA) Covid-19 Disinfection Monitoring Package (DMP) monitors and verifies that disinfection parameters are met during the wash cycle. Available as a module on GNA ExpressWash® Washers, the DMP integrates with GNA's remote management software to show, in real-time, the evolution of machine wash cycles with details of temperature, water levels and cycle phases. Moreover, the DMP provides the option of creating custom disinfection criteria based on the time and temperature of each program – adapting to the specific needs of your hotel. In doing so, the DMP displays a summary of the rules and conditions created by the user. Hotels can then run a report to see if any program does not comply with the established parameters for disinfection. In the even that the washing cycle has not fulfilled either condition, the user is alerted with a notification.
Offering 1 year free if DMP is purchased before September 30, 2020.
Find out more at www.gnalaundry.com/dmp or call 800-256-1073.
---
EDMAR CHEMICAL COMPANY
Announces a new laundry textile sanitizer with lower use rates and expanded claims.
BacStop™ OPL (EPA Reg #7048-16) is a ready-to-use liquid fabric sanitizer designed for on-premises laundries and smaller machines. Used in the final rinse, BacStop™ OPL leaves behind a finish that is both self-sanitizing and bacteriostatic. Under conditions of contamination, BacStop™ OPL continually eliminates 99.9% of infectious bacteria. Unlike bleach – which stops working after textiles are removed from the wash-wheel – BacStop™ OPL remains active on textile surface, continuing to aid in the prevention of cross-contamination from both Gram Negative and Gram Positive bacteria, such as:
Corynebacterium ammoniagenes
Enterobacter aerogenes
Escherichia coli O157:H7 (E.coli O157:H7)
Kiebsiella pneumonia
Listeria monocylogenes
Pseudomonas aeruginosa
Salmonella enterica (Salmonella)
Staphyfococcus aureus (Staph)
Staphyfococcus aureus – Community Associated Methicillin resistant (CA-MRSA)
Staphyfococcus aureus – Hospital Associated Methicillin resistant (HA-MRSA)
These products are available for Private-label distribution in North America exclusively through Edmar Chemical.
For product data sheets, EPA Registered labels, SDS or additional information, go to www.edmarchem.com/products/bacstop/ or contact at 1-800-401-4780 or sales@edmarchem.com
---
EZ PRODUCTS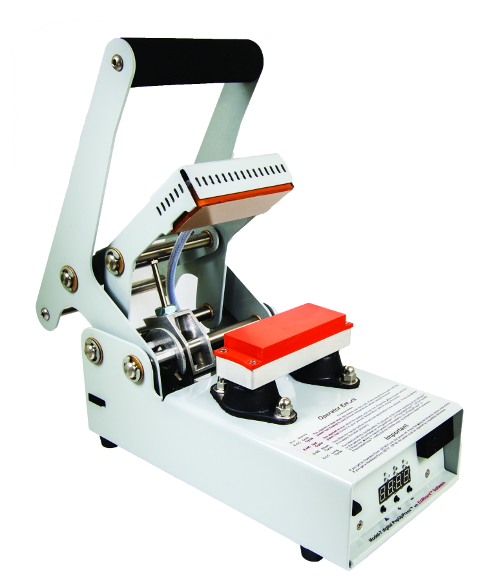 Our Heat Seal Presses are still by far the best presses out there and are TUV SUD safety certified and are CSA approved. Our heat seal bar code labels come with and without stripes on the sides and work with all POS systems.
Our heat seal presses quickly and easily melt the glue on the back of bar code and text labels to permanently apply the labels to garments. The bar code labels identify the owner, permanent finishing information and track the history of the garment. This helps to eliminate lost clothing due to paper tags falling off. Together they save time, labour and money.
We are offering for this virtual show, $100 off each press and it includes all models of our heat seal presses.
Visit www.ezpi.us for more information.
---
HAMILTON ENGINEERING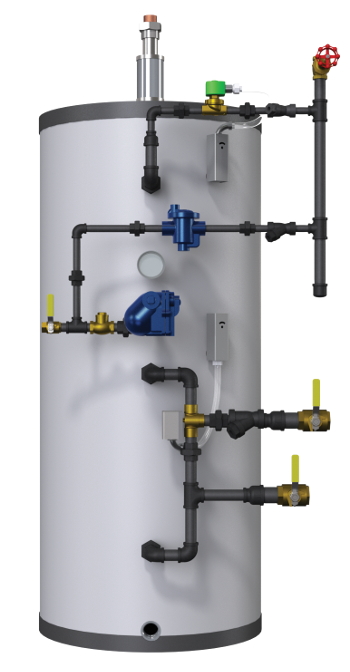 Use it or lose it. FREE HOT WATER!
The Eliminator is a condensate or steam and condensate fuelled water heater that provides substantial quantities of hot water, just from the wasted energy in your condensate and whatever quantity of hot water needed if the steam option is utilized.
Tank, coils and fittings are 316L Stainless Steel
Available in 80 and 119 gal.—single or double wall coil
Double wall construction is available in 119 gal.
Includes all traps and accessories—factory assembled, piped and tested to give you a plug and play system
All brass/bronze condensate and steam controls
Other heat sources can be utilized as well, consult factory for further information
Two inches of closed cell foam insulation surrounding the entire tank
ELIMINATES:
High Fuel Bills
Condensate Pump Failure
Wasted Condensate Heat
Water Heater Service Calls
Venting and Gas Line
IN STOCK! Call Ken Novak for more information
800-968-5530
www.hamiltonengineering.com
---
HARCO CO.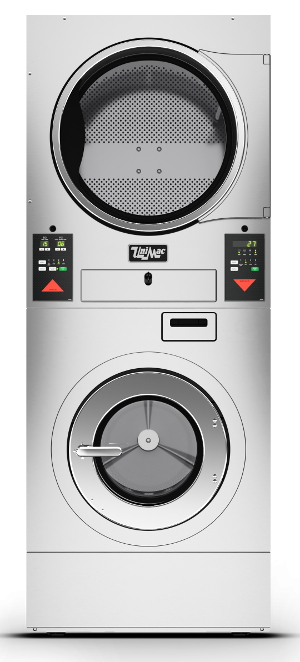 We are pleased to offer the latest Unimac innovation of a true commercial stack washer/dryer format in 30-lb. and 50-lb. capacities. These units combine a washer and a dryer into a vertical platform with the rugged reliability of a 30- or 50-lb. capacity washer and the fast drying capability of a 30- or 50-lb. dryer. The stack Unimac model UST30-50 is ideal for smaller on-premises laundries with limited space but high laundry volume, or an additional revenue generator for a dry cleaning plant trying to add laundry service to their products offered. The 30-lb. stacks have powerful options including: pump or gravity drain, gas or electric heated dryer, and a 4-signal soap board. These features allow a broad spectrum of locations to be considered for installation.
Harco is also offering their hospital laundry collection system to customers that require the sanitary collection of soiled gowns and scrubs. We have scaled down the system to allow small-volume locations access to hospital level containment of soiled linen until it can be laundered. This protects the staff and customer from contact with dirty laundry. We have programs for laundries or direct to the small business owner concerned about meeting guidelines for protecting staff and customers.
Prices: Bags $40 per case; Hampers $140 per hamper.
Take-Away Literature: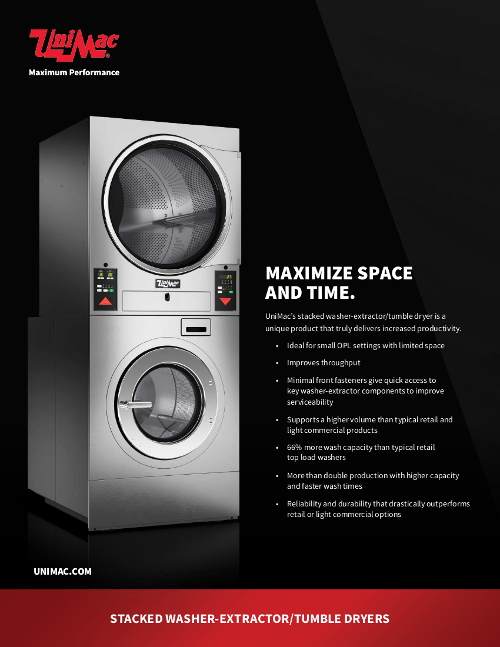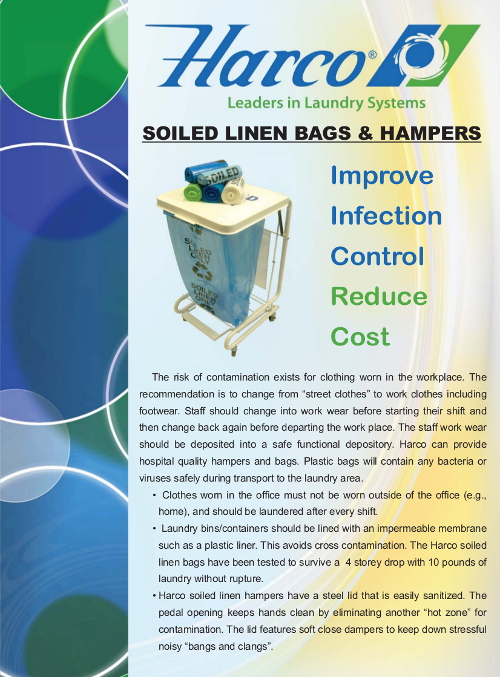 To learn more, contact Harco at:
Phone: 1-800-387-9503
Email: sales@harcoco.com
Website: www.harcoco.com
---
HAWCO PRODUCTS
Our product SaniSpray has been a best-selling product during the pandemic.
SaniSpray is a one-step cleaner and disinfectant spray that is packaged in a convenient 1L ready-to-use package – 12 bottles per case with 6 trigger sprayers included in each case.
SaniSpray can be used wherever the public or staff come in contact with hard surfaces such as reception areas, washrooms and delivery vehicles.
Dealer inquiries are welcome and we ship across Canada.
Take-Away Literature: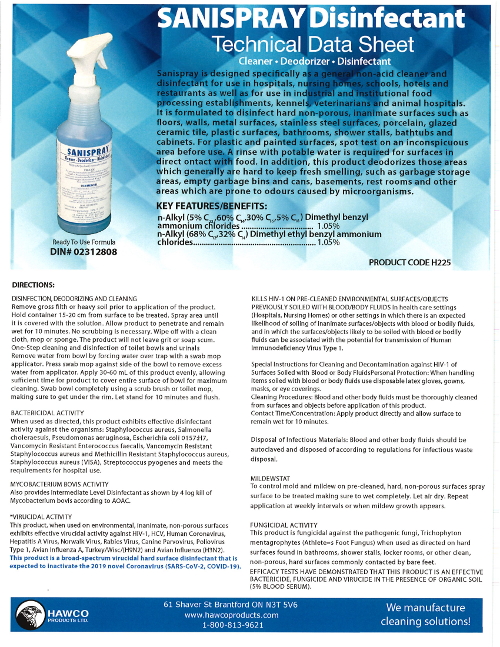 Please visit www.hawcoproducts.com for more information.
---
JENSEN USA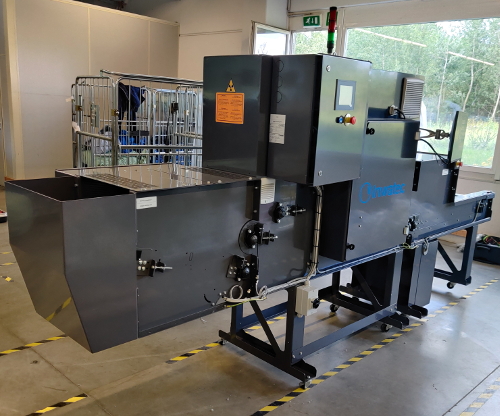 Our latest innovation is the JENSEN/Inwatec AI (artificial intelligence) and Robotics for automated soil sorting of garments and linen items via X-ray scanning, RFID scanning, and Camera ID.
Benefits include:
Safe handling of soiled health care items via X-ray scanning, which identifies goods with hidden sharp foreign objects such as needles, scalpels, knives, etc., and allows for those objects to be removed safely.
Identifying pens, markers, utensils, etc., in order for an operator to remove these objects prior to the wash cycle. This could potentially save thousands of laundered goods yearly from being destroyed.
Safe and accurate sorting of goods to ensure those goods are handled on the appropriate wash and dry formulas, reducing the possibility of ruined goods.
Automated sorting requires fewer team members, enabling management to place those team members elsewhere within the laundry facility.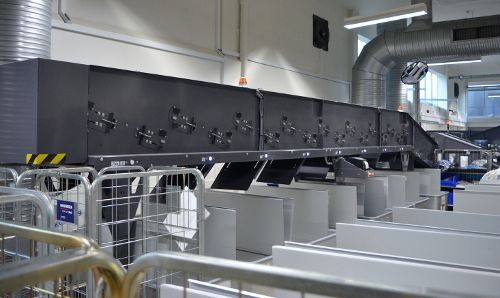 JENSEN is on the 'cutting-edge' of technology. We welcome the opportunity to work with all interested parties to ensure their best possible ROI.
For more information, please visit www.jensen-group.com
---
LEONARD AUTOMATICS INC.
Our best innovation right now is our LF and LFC Series Folder/Crossfolder – Draper – Stacker.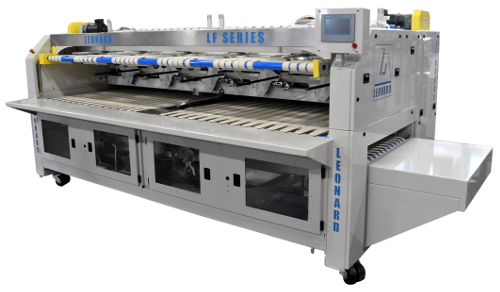 The LF and LFC Series offer the operator incredible versatility with the ability to process virtually every category of flatwork. Many operators will remember a machine called the Master Eclipse and its reputation for versatility and reliability. The Leonard LF and LFC Series builds upon this tradition with substantial upgrades that will benefit the operator. The LF large-piece folder produces up to 3 primary and 3 cross-folds as a standard. The LFC has the same large-piece capability and up to 2 primary folds for small pieces with small-piece draping accumulation. Our Dynamic Product Length Compensation Controls automatically adjusts to the products' size on the fly without the need for program changes. These machines provide total versatility for commercial, hospitality or health care linen suppliers. These units also can accommodate up to 3 Leonard stackers for post-folding automatic sortation.
We encourage all customers to contact us directly for seasonal as well as trade show special offers.
Take-Away Literature: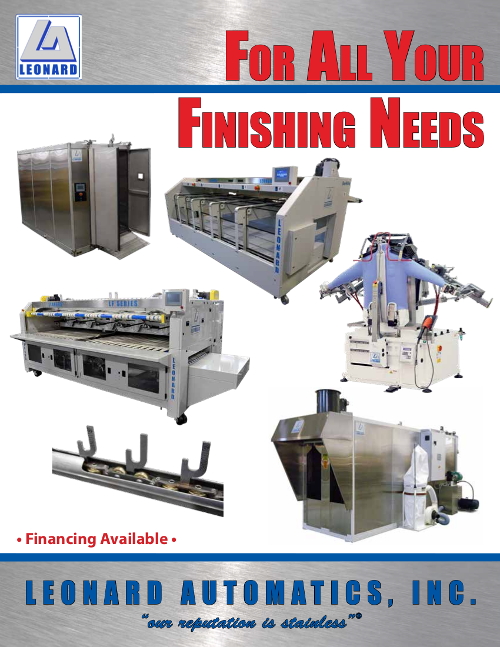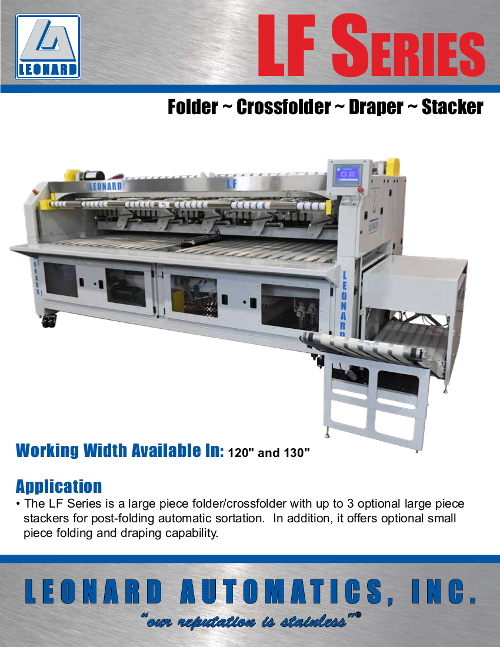 Contacts:
Dan Farnsworth, Vice President of Sales & Marketing
dfarnsworth@leonardautomatics.com
704-201-4934
Dave Perry, Eastern Regional Sales Manager
dperry@leonardautomatics.com
704-998-8890
Jason Miller, Western Regional Sales Manager
jmiller@leonardautomatics.com
980-525-6094
---
MIELE LTD.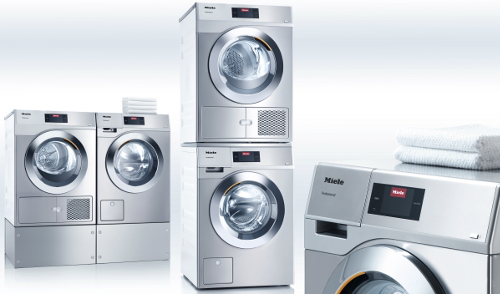 Miele's most versatile, efficient and technologically advanced laundry system to date is coming to Canada soon. The new Little Giants machines bring over 120 years of Miele design innovation and product excellence to the widest array of customers. The Little Giants laundry system is driven by technology designed to reduce and simplify your workload, featuring over 50 pre-programmed wash cycles and 35 pre-programmed dry cycles that offer laundry solutions for a range of applications. The new machines feature Miele's patented Honeycomb™ Drum, redesigned to ensure better wetting and drenching of textiles, and improved dewatering in the spin cycle. Clothes and textiles come out of the wash cycle retaining less water, reducing the drying cycle time and requiring significantly less electricity, water and total cycle time.
Please visit www.mieleprofessional.ca for more information.
---
PARISER INDUSTRIES INC.
Our best innovation right now is STERI-CLEAN, a one-step, easy and ready-to-use Tier 1 (Covid Specific) Cleaner Disinfectant.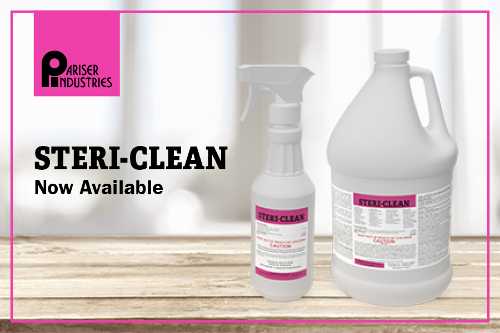 This product has excellent degreasing capability, and is a front-line weapon in disinfection without dilution worries.
STERI-CLEAN, an EPA-Registered, One-Step Ready-To-Use (RTU) Cleaner and Disinfectant. This product has exceptional cleaning and grease-removing capabilities. It is also an approved Tier 1 deodorizer, virucide, tuberculocidal, fungicide, and mildewstat.
Please carefully review the following information:
Tier 1 products are classified disinfectants approved by the U.S. Environmental Protection Agency (EPA) for use against emerging enveloped viral pathogens, which include SARS-CoV-2, the novel coronavirus that causes the disease Covid-19. Tier 1 products like STERI-CLEAN are listed on the EPA's N-List and the American Chemistry Council's (ACC) Nationally Published List of Disinfection Agents for use during the current pandemic.
STERI-CLEAN is lemon-scented and is non-dyed (the preference for ready-to-use products). The product's contact time varies from 2–10 minutes depending upon the specific pathogen mitigation application (see the product label for details). The product is transferable to a secondary pump or trigger spray applicators. Secondary labelling is available for end-user refill applications.
STERI-CLEAN is available in 4×1-gallon and 6×1-quart cases* (Quart case carton comes with two trigger sprayers enclosed).
STERI-CLEAN is being offered with a 20% promotional discount for first-time buyers through our distribution partner Dalex.
Take-Away Literature: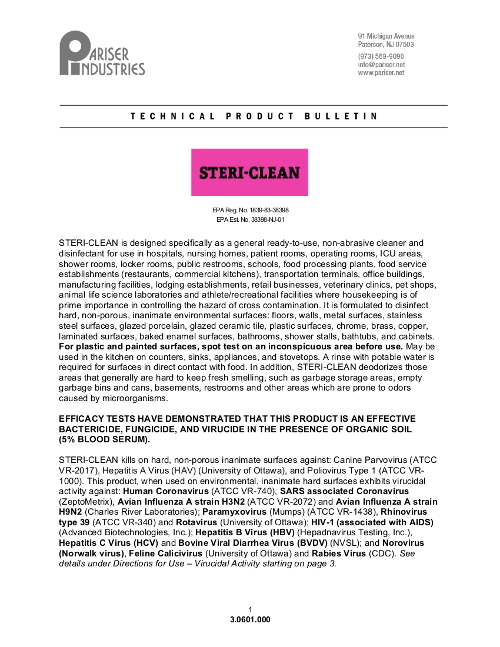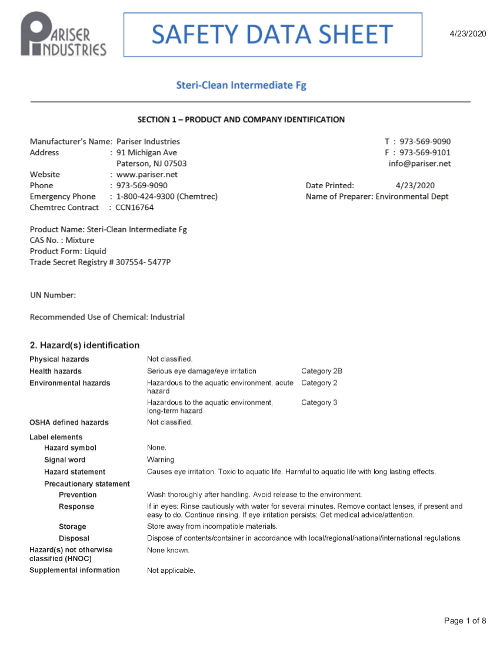 ---
PARKER BOILER CO.
We have a new cell alarm system that will notify the user if their boiler is down or might freeze.
The ParkerView-Alarm (PV-A) is a simple to set up, use, and maintain cellular-based alarming system for use on boilers or other devices. The ParkerView-Alarm allows the owner or operator of the boiler or other device to be off-site and be alerted when an alarm condition is detected, cleared or when there is a power loss, or higher or low ambient temperature conditions. When an alarm condition is detected, PV-A will text up to 3 phone numbers to indicate there is a problem. If the alarm is cleared, an additional text is sent to an off-site owner or operator.
Please visit www.parkerboiler.com for more information.
---
RELIABLE CORPORATION
Currently offering the Steamboy Pro 300CU Steam Mop with Scrub Brush.
Benefits:
Uses the power of steam at a temperature of 245°F to kill germs and bacteria without the use of harsh chemicals.
Won Good Housekeeping's 'Best Overall Steam Mop' in 2019.
Includes a triangle swivel head to easily clean corners, along with a scrub brush you can use for grout.
Using this tool kills 99% of germs and bacteria in an environmentally friendly way.
Easy-press foot release button to switch between scrubber and steamer effortlessly.
Ergonomic cord wrap feature for easy storage.
Carpet glide attachment to sanitize carpets and rugs.
Please visit: www.reliablecorporation.com for more information.
---
If there's a company you are interested in that did not respond to our invitation to contribute to our virtual show, please contact them directly. They are eager to tell you what's the latest and greatest, and many have special deals these days to help you get back on your feet and back into production.