We should have been convening as a group in Atlanta this month, but when the world turned upside down last year, the Clean Show organizers rescheduled the show for August 2022.
In the meantime, we thought we'd give you a mini version of the Clean Show, less the aching feet of course. In a three-part series, we will feature products that are currently being promoted by companies who would have been showcasing their products on the Clean Show floor.
Editor's Note: We asked companies to give us their pitch, just as if you were standing in their booths. Therefore, our usual editorial standard of eliminating promotional statements has been suspended.
PART I
CHEMICALS AND DETERGENTS
Modified GreenEarth Process – GreenEarth Cleaning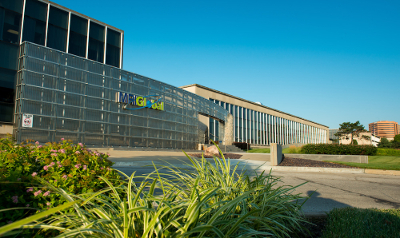 'Doing business without doing harm' has been the mission statement of GreenEarth® Cleaning since its birth in 1999. The company has aspired to provide the best possible fabric care with the lowest environmental impact to its network of member partners in over 6,000 retail points of service around the world.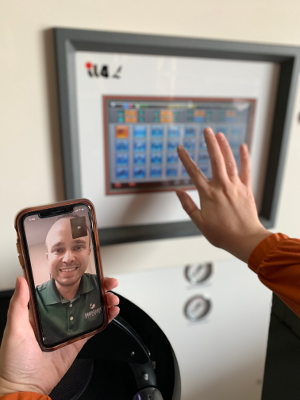 The last 15 months have highlighted the value of the unique GreenEarth model that emphasizes support for each individual member through technical operations and marketing expertise, while providing proprietary products proven to lower the cost of running a fabric care business.
In the first six months of the pandemic alone, more than 25,000 contacts ranging from 'virtual' site visits addressing operations support, to creating unique social media content, to home delivery marketing and management, etc., were initiated by the GreenEarth support specialists. Assisting each individual member's specific needs is considered by the company to be critical to the success of their network model.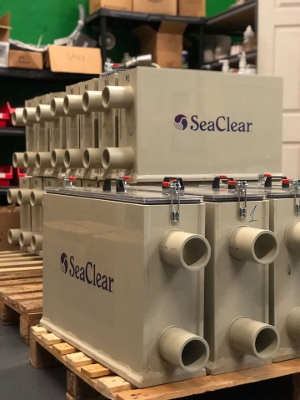 The pandemic interrupted the rollout of the SeaClear microfibre laundry filter testing, which was initiated in 2019, but opened the door to the exploration of a defensive, but proactive, cleansing system modification based on the World Health Organization's (WHO) determination that the lipid layer of the coronavirus could be attacked with temperatures of at least 158°F/70°C for 30 minutes. GreenEarth contracted with MRIGlobal, an independent laboratory approved for testing with SARS-CoV-2. The tests showed GreenEarth's modified process to have a kill rate that is six times more effective than heat alone – without any additive chemicals.
Looking to the future, the company has since filed a provisional patent covering a modified GreenEarth dry cleaning process that includes vaporized steps to allow for antiviral dry cleaning when the virus contains a protective lipid layer.
For more information, visit: www.greenearthcleaning.com
CONTROLS
Huebsch Galaxy Touch – Alliance Laundry Systems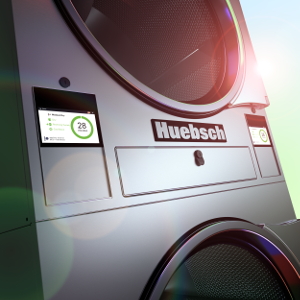 As laundromat customers increasingly expect and seek out a higher-level customer experience, Huebsch delivers a truly premium and intuitive touchscreen control in its Galaxy Touch control. The control is offered on both washer/extractors and tumble dryers to give laundries a high-end look and feel.
For laundromat owners, Galaxy Touch delivers the ultimate in return on investment. The clear, step-by-step directions (offered in multiple selectable languages) position cycle upgrades with descriptions of exactly what customers get for the extra cost. This results in customers selecting the modifiers a higher percentage of the time, which means more profit for owners. In addition, an app-based payment option and the flexibility to accept additional payment types means owners are prepared to cater to all customer types.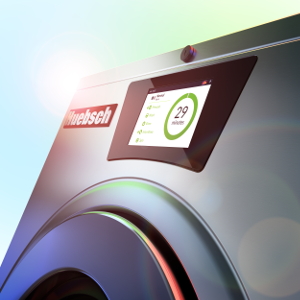 When owners pair Galaxy Touch with the power of Huebsch Command, they are equipped to streamline management of their business with a deeper understanding of how customers use it. They can use the information to tailor promotions and track their effectiveness, while monitoring overall operations. The bottom line is Huebsch Command and Galaxy Touch combine for a total solution for laundromat management and the pinnacle of customer experience.
For more information, visit: www.alliancelaundry.com
CONVEYOR EQUIPMENT AND SUPPLIES
All-Flex Steam Tunnel Conveyor – SRS Conveyors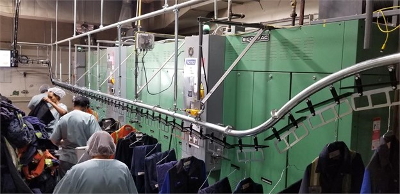 Caterpillar drive chain can pull up to 600 ft. per drive, enclosed track, ability to sort off the steam tunnel and its modular bolt-together design, the All-Flex Steam Tunnel Conveyor provides the return on investment customers are looking for.
Features
Completely enclosed chain helps prevent contact with moving parts and prevents contamination of conveyor chain and bearings.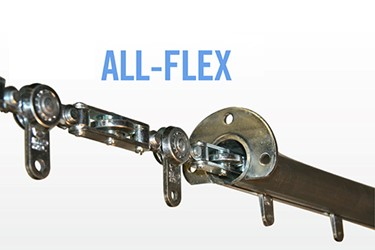 All-Flex chain is designed to provide maximum flexibility in all directions and features easy assembly or disassembly with simple hand tools.
Tighter radius curves provide closer spacing to curve tangents.
Enclosed modular bolted track design for easy installations and modifications.
Caterpillar drive provides product pass through and flexibility for all enclosed track power requirements.
Whether you are looking to modify your existing Steam Tunnel Conveyor System or planning to implement a new system, let our team of experts engineer solutions for all your garment material handling needs.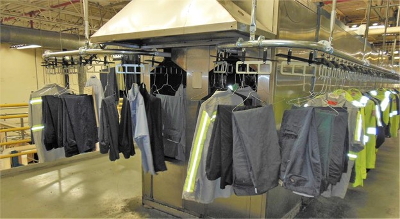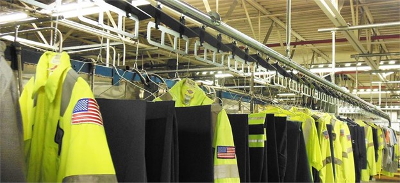 Email: sales@srsconveyors
Website: www.srsconveyors.com
Tel.: 905-475-7717
DRYERS
Braun Pro® Dryer – G.A. Braun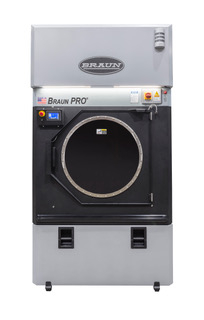 Over the next several months Braun plans to introduce new and innovative products to their portfolio. One such product is the Braun Pro® Dryer. The capacity of this dryer ranges from 125–200 lbs. and can easily process 3 loads per hour (up to 175-lb. loads) versus only one load as others in the same capacity range.
Other products include, but are not limited to, an array of new finishing equipment as well as energy- and resource-saving washer/extractor and tunnel systems enhancements.
Braun will also continue to maintain their exceptional level of project management, and parts and customer support programs as well as free 24/7 telephone technical support for the life of the equipment.
For more information, visit: www.gabraun.com
LAVACascade Drying System – LAVATEC Laundry Technology Inc.
As the world looks to reduce CO2 emissions, and industrial laundry operations search for newer and better ways to satisfy customers and save on energy costs, LAVATEC has developed an innovative and patented solution that accomplishes both. The new LAVACascade drying system is a true model of efficiency, producing energy savings of at least 50%.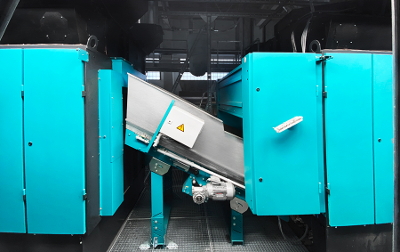 LAVACascade is a fast and simple three-tiered marvel that generates additional payback with time and labour savings. The first phase introduces high heat to the laundry load. A middle stage recaptures waste heat to maintain a consistent temperature, followed by a final cooling stage. Each phase takes only a few minutes to complete.
For more information, visit www.LLTusa.com
Shoe and Accessory Dryer – Sankosha USA
Our founder, Mitsuyuki Uchikoshi began as a dry cleaner. Running a cleaning store, his eyes always went toward one thing – the pressing machines. He was constantly thinking of new machine ideas that would make it easier for dry cleaners to operate their businesses and become more profitable. Eventually, after giving it a lot of thought, he decided to become a manufacturer.
Our reputation is known for providing products with labour-saving designs coupled with seamless longevity to provide our customers with years of satisfaction.
In today's times, diversification is a smart strategy to help grow additional business. Saying that, we are excited to announce the latest member of our family to the industry.
Our NEW Shoe and Accessory Dryer will allow cleaners to provide additional services to their existing customer base and attract millennials and non-traditional customers as well. There are three different models to choose from to allow cleaners flexibility in selecting the right one for their operations. Made by Sankosha, it comes with a compact design, a 40-inch diameter footprint that saves space along with simple and easy installation.
'Customer First' and 'Supreme Quality' are the mottos that we carry forward as we satisfy our customers with our products and services for the next quarter century.
Thank you to everyone who has helped us become a recognized and trusted leader in the industry.
For more information, visit: www.sankosha-inc.com or call 847-427-9120.
Next week – Part 2 of this Virtual Clean Show
Tags:
All-Flex
,
Alliance Laundry Systems
,
Braun
,
Braun Pro Dryer
,
chemicals and detergents
,
Clean Show
,
Conveyor equipment
,
fabricare
,
Fabricare Canada
,
G.A. Braun
,
Galaxy Touch
,
GreenEarth
,
Heubsch
,
LavaCascade Drying System
,
Lavatec
,
microfibre laundry filter
,
Samantha Tkachuk
,
Sankosha USA
,
SeaClear
,
Shoe and Accessory Dryer
,
SRS Conveyors
About The Author
Samantha Tkachuk
Samantha Tkachuk is a regular writer for Fabricare Canada magazine. She also oversees the annual Buyer's Guide and other projects for the magazine.