Virtual Clean Show 2021 — PART 2
|
This is the second part of a three-part series featuring products that are currently being promoted by companies who would have been showcasing their wares on the Clean Show floor.
Editor's Note: We asked companies to give us their pitch, just as if you were standing in their booths. Therefore, our usual editorial standard of eliminating promotional statements has been suspended.
EQUIPMENT AND SYSTEMS
Hi-Steam Tensioning Machines – European Finishing Equipment
We specialize in tensioning machines that hold the garments under tension and use steam and hot air to finish them. Unlike traditional machines that use a heavy metal buck that must be kept hot all day, our machines use steam and hot air only during the operating cycle, so the workplace remains cooler and more comfortable. Also, our machines are much smaller than traditional finishers, so they save on space.
SAM-451 Multi-Garment Finisher – Our most popular machine. Each cleaner can decide what to use the machine for: finishing laundered shirts, dry cleaned garments (blouses, suit jackets, etc.) or both (e.g., laundered shirts in the morning and dry cleaned garments in the afternoon).
TURBO-484 Luxury Shirt Finisher – Perfect for a cleaner who wants the best possible finish for demanding customers willing to pay the price for the best finish. The exhaust hood above the machine removes steam and hot air to keep the operator cool.
TURBO-440 Great Shirt Finisher – A cross between the luxury model (TURBO-484) and economical model (TURBO-Jr. ). An excellent finish at a reasonable price.
TURBO-Jr. Economical Shirt Finisher – Designed for the cleaner looking for an economical and high-production shirt finisher. The machine can also finish blouses. (Note: TURBO-Jr.Plus is an improved version of this machine.)
TURBO-Jr.(E) Electric Shirt Finisher (no boiler) – For the cleaner without an industrial boiler, or the cleaner who wants to stop using old boilers. No steam required.
PAM-510P Tensioning Pants Topper – This comes with or without pleat paddles.
JAM-510R Form Finisher – This is a form finisher for dry cleaned garments – such as suit jackets, polo shirts, wedding gowns (the machine goes up to 96″).
For more information and downloadable brochures, visit: www.histeam.com or call 888-460-9292.
Laundry Carts – G.S. Manufacturing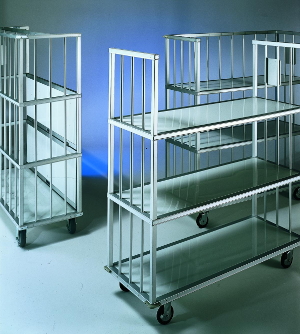 GSM has had many changes over the past 2 years, including new branding, new people, new processes, new drawing program, new products and new machines. All of the changes have a common goal for G.S. Manufacturing to continue to be a strong, reliable, flexible partner for our customers in this time of uncertainty. With the addition of Solidworks and Driveworks technology, GSM carts have never been easier to modify in order to suit our unique customer requirements.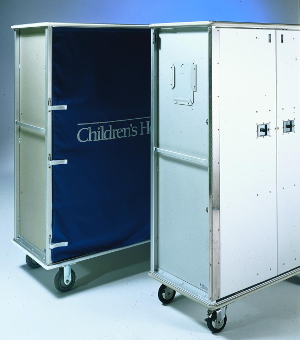 Although many things have changed, our commitment to providing the highest quality product and customer service at an affordable price has not. We still have a human picking up the phone on the second ring! As one of the few women-owned manufacturing facilities in Canada, I am very proud to be able to move G.S. Manufacturing securely into the future while continuing to provide the highest quality, anodized aluminum, Canadian-made linen carts to laundry facilities in North America.
For more information, visit: www.gsm-cart.com or call 1-800-363-CART (2278).
Finishing and Feeder Equipment/Technology – JENSEN USA
JENSEN Evolution Spider takes the automated folding and processing of towels to the next level. Our fully automated robot separates, feeds and optimally places towels of various sizes for exceptional folding and stacking quality. It is compact in size and can be positioned in front of the Tematic towel folder and optional Jenscan T scanner for even higher levels of quality.
For more details, please take a moment to watch our video:
JENSEN's NEW Genius Flow boosts your garment laundry's efficiency and productivity by connecting the soil side sorting area with the clean side sorting area. Soiled garments are sorted, X-rayed, washed and tracked through the laundry – all without any labour.
Please take a moment to watch our video:
JENSEN Inwatec THOR.Garment – Clean Uniforms & More (New Bedford, Massachusetts) recently took a huge leap forward on the technology scale after JENSEN Inwatec installed a robotic soil sorting system. Post the loading onto an inlet conveyor, there are zero touches until the finishing stations.
For details, please take a moment to watch our video:
JENSEN Inwatec THOR.Towel – Boost your towel folder's productivity. THOR.Towel picks and presents one towel at a time. The feeding operator simply removes the towel from the picking clamp, grabs the second corner of the towel and feeds it. This machine helps reduce, or eliminate, operator stress from pulling from a cart.
For details, please take a moment to watch our video:
Contact David Netusil at 850-271-5959 or visit www.jensen-group.com for more information.
MilRail® Sling System – Pellerin Milnor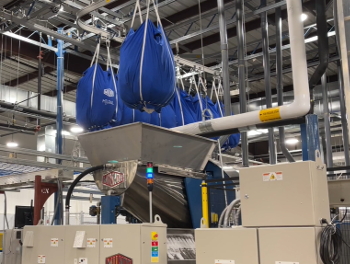 Milnor is offering MilRail® Sling Systems, including a simple loop loading system and fully automated soil and clean loading system, for larger laundries. Milnor's rail design uses anodized extruded aluminum rail for lightweight strength, and patent-pending chrome-plated stainless-steel inserts for added durability. The MilRail control tracks batches through the system while providing production reports, and seamlessly links into an over-arching system that serves as a window into the total laundry application.
For more information, visit www.milnor.com or call 504-467-9591.
FOLDERS
Folders – Leonard Automatics, Inc.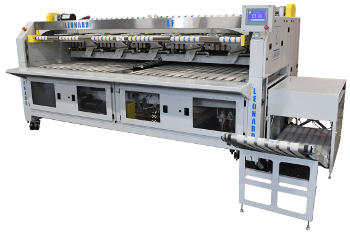 LF Series is a large-piece folder/cross-folder stacker. Large-piece 2 or 3 primary folds with up to 3 cross-folds and stacking/sorting. However, it also has the ability to process small pieces with up to 2 primary folds for king items and 1 primary for items like aprons and then draping. Dynamic machine control system measures all products on the fly. The LF is intuitive and adjusts automatically. Versatility to process table linens, table rounds, hospital blankets, bed linen including fitted sheets and duvet covers, as well as napkins, pillowcases, aprons. LED lighting provided throughout.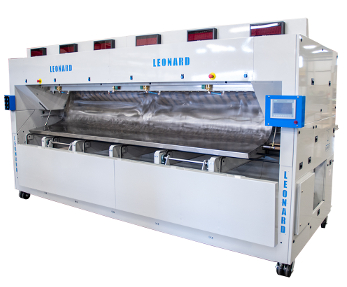 UNIQUE! The Hybrid Series is the only machine of its kind in the market today that combines the reliable industry standard high-speed 5- or 6-lane small-piece draping Stack-N-Store with the ability to process large pieces in one or two lanes, with up to 2 primary folds all in one machine. The Hybrid Series operates using Leonard's dynamic machine control system that measures your product on the fly. The Hybrid is intuitive and adjusts automatically. The Hybrid Series can process napkins, regular and king-size pillowcases, aprons, tablecloths, all sizes of bed sheets, and is great for table rounds. LED lighting provided throughout.
COMPACT! TheLVF is a large-piece and small-piece vacuum feeder that can operate in up to 6 lanes. The LVF will dramatically improve your productivity and quality by eliminating the need to manually handle and stretch linen. The unit's internal vacuum keeps each piece of flatwork taut, the laser lane guides provide the loading accuracy, which allows the operators to focus on production and quality control. It can operate with articles of all sizes and in any combination of lanes. There are no chains or sprockets for less mess and ease of use with gravity belt tensioning. Helicoidal fans are compact and easier to clean. Automatic ironer speed synchronization adjusts with the speed of the ironer. LED lighting provided throughout.
Please watch our video to see our product lineup:
For more information, visit: www.leonardautomatics.com
IRONER EQUIPMENT
PRI 21 series – Miele Professional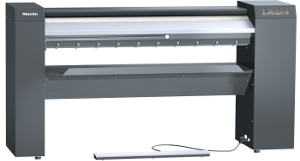 In July 2021, Miele Professional will launch its newest generation of Rotary Ironers. The PRI 21 series will offer the same trusted qualities as the currently available model, but in a new sleek Iron Grey colour. With working widths of 100 cm, 140 cm and 166 cm, the ironers will meet the most exacting requirements for a perfect laundry finish in hotels, restaurants and nursing homes. Equipped with innovative product details and high-quality components, the new rotary ironers from the PRI 21 series set new standards in the compact category. The excellent user convenience and enhanced ergonomics hold stress at bay. Some key product highlights include:
Best ergonomics: Allows professional to work in a seated or standing position, and offers individual working height through adjustable machine feet and optional base.
Simple operation: Large touch display for extremely simple program selection and excellent overview of all important functions; freely positionable FlexControl foot switch for fast and convenient ironer operation.
Perfect laundry finish: Uniform contact pressure across entire roller length thanks to hydraulic trough suspension and an out-feed table with automatic laundry cool-down.
Excellent performance data: 3 machine sizes to suit individual applications and precise temperature control for perfect energy efficiency.
For more information visit www.mieleprofessional.ca
Next week – Part 3 of this Virtual Clean Show