The industry just overdosed on technology. Every aspect of laundry, dry cleaning, wet cleaning and business management was on display at the Clean Show, and it's safe to say it left a lot of heads spinning.
Technology, in its simplest form, is the "application of scientific knowledge for practical purposes." A 216,400 square foot exhibit floor with 347 booths is also a definition of technology.
Innovation doesn't stand still. It's part of human nature to want to improve on what has been done before. Each Show has new processes, additional controls, spectacular ideas in action. And yet, is it really new?
Looking back, looking ahead
It's fair to say that cleaning textiles is as old as fabric—older, maybe, as those skins probably got a bit smelly, too. And people have been looking for better ways to clean them since rivers and rocks.
The 1928 edition of our magazine had some interesting ads for technology of the day, and though the machines look different, a lot of the same things were on display at the Clean Show.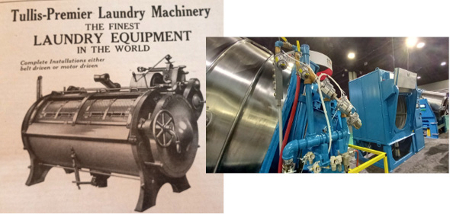 In 1928, the Tullis-Premier Laundry Machine was touted as "The finest laundry equipment in the world." It had an inner cylinder made in one piece of heavy stainless steel, without any rivets or projections (clearly a source of trouble up until then.) The "Evertite" door would "remain tight as long as the shell lasts."
Today, laundry equipment can be small enough to fit in a closet at home or as big as a city bus, moving great quantities of wash through various chambers as it washes, rinses and prepares it for the dryer. The Show featured enormous machines, like the ones from Brim shown here. With modern controls and updated styling, they look nothing like the old Tullis-Premier, yet the goal is the same.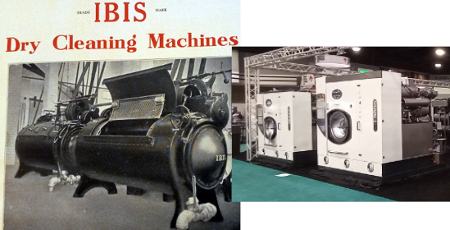 IBIS dry cleaning machines looked more like coffins than the equipment we're used to. Made in several sizes with black steel outer casings in Kendal, England, they were the latest thing in 1928.
At the Union booth, gleaming dry cleaning machines beckoned passers-by to open doors, go around back and look at the mechanics, and ask questions. Today's machines, with their ability to utilize different solvents and with computer controlled programs for just about anything, leave the IBIS in the dust.

With a name that trips off the tongue, the 1928 Thermo-Vento was "The only drying tumbler that automatically controls time and temperature!" It had a lint control feature and kept items from over-drying. "As soon as the last drop of moisture has been evaporated, the Thermo-Vento automatically sends great volumes of air, direct from out-of-doors, through the cylinder," the ad said.
Lavatec was demonstrating its LavaCascade equipment, which lines up three machines in the drying process, so that garments and other textiles flow continuously from one end to the other. This keeps linen from cooling down too much, and sends the hot air from one unit back to another to save on utilities. All times, temperatures and other parameters are programmable, with computer screens to monitor every bit of the process.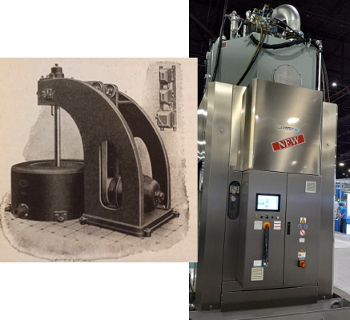 Looking more like a medieval torture device than something for the laundry, the Broadbent "Swan Neck Type Hydro-Extractor" from 1928 was sturdy and had "compound thrust and roller bearings housed in rubber bearings." It was also self-balancing—probably a good thing, as it would take a crane to do it otherwise.
On the floor in Atlanta, the LavaPress is completely programmable, and handles 130 kg. Of laundry at a time. When finished, it outputs it to a cart or conveyor for transport to the dryer. Users log in with an RFID chip so that different operators have access to separate levels of programming, without having to deal with passwords and other inconveniences. To close the loop, there are two pumps that recycle the water extracted from the load back to the tunnel washer for use in the rinse cycle of the next load.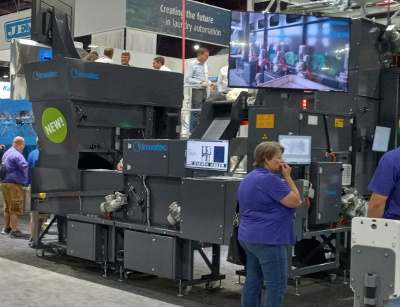 An interesting and crowd-drawing innovation was right across the aisle in the Jensen booth. Their Inwatec sorting machine includes a chute to funnel items to a bin, where a robotic arm picks up each item individually and places it on the transport belt. The item then passes through screening processes including x-ray, and Artificial Intelligence determines if there is something unsuitable in the item (like a scalpel or needle or other sharp object that will not be kind to the equipment.) Rejects are shunted off to a special holding area where people know they are dealing with potentially dangerous items, and they remove them before the item goes for cleaning.
Another staple in any plant is a press. Strangely enough, presses like the Canadian Eagle Press that boasted "fulcrum lever-like crowbar" control in 1928 don't look all that different from today's offerings. Yes, it was less exacting, and was missing the bells and whistles, but it still featured "uniform ironing pressure over the entire area of the buck, with each square inch of ironing surface having five pounds of pressure applied." Not bad for 1928.
Everything changes, everything remains the same
No exhibitor at the Show boasted of technology that was the same from decades ago. The whole point is to showcase the latest and greatest. Yet, the essential needs of the industry are the same today as they were back then. And the manufacturers and suppliers are working hard to meet the changing needs of today's garments and textiles just as they have all through industry history.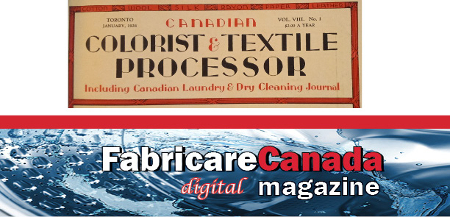 We've changed, too! Back in 1928, our publication was known as Canadian Colorist & Textile Processor (Including Canadian Laundry & Dry Cleaning Journal). That's a mouthful! We're proud to still be around, still serving the industry, still advancing to meet your needs.
As a digital magazine, we have the ability to bring you news and information quickly, with photos, live links and (coming soon) video, as well. But at our heart, we're still your magazine, highlighting the best on the market and the most progressive operators, so we can all move to the next level of excellence.