---
Be sure to visit People in the News and Product News while you're catching up on all the latest.
---
Association for Linen Management hosts successful Hybrid conference
November 16, 2020 — Like most things for 2020, this year's IMPACT Conference was a new adventure. Set in one of the most beautiful and adventure-loving areas of the United States, Colorado Springs, CO, it was also one of the most difficult ALM has ever produced. Canceling would obviously have been easier, but the encouragement to hold a hybrid event, both in-person and virtual, was overwhelming from across the industry.
First-time IMPACT attendee, Paolo Idurot, production manager at Ottawa Regional Hospital Linen Services, was impressed by his virtual experience, "What an IMPACT this conference has made on my journey of learning in this industry!"
In-person attendees were clearly delighted to be in the presence of industry colleagues after months of isolation and were especially enamored by the setting of the one-of-a-kind Broadmoor Hotel among the breathtaking Rocky Mountains. The hotel, a laundry member of ALM, was responsive to last-minute changes, enabling us to adhere to social distancing requirements and safety recommendations, as well as handling our technology needs.
"I thoroughly enjoyed the hybrid 2020 IMPACT Conference in Colorado Springs," said Kathy Harris, an in-person attendee from Sea Island Resort. "Because the sessions were available for virtual attendees as well, it enabled all attendees, including hospitality, the opportunity to continue learning. It was great to hear what others are doing to help manage COVID challenges and what measures various operations have put in place. And it was nice to see people in person after being quarantined, even if it was in a socially distanced manner."
Perhaps the greatest responses, from both virtual and in-person attendees, came from Tuesday's general session, Benchmarking: A Business Essential. Cara Walton, engagement manager with Harbour Results, Inc., an operational and strategic advisory firm, shared outcomes derived from five years of benchmarking data collection from the tool and die manufacturing industry. That industry shares many common attributes with the textile care industry, such as focus on production, throughput, and plant efficiency. Analysis revealed that tool and die companies making decisions derived from benchmarking data were 16% more efficient than those that failed to participate in benchmarking. Clearly demonstrating the added value external benchmarking brings to an operation.
Harbour Result's analysis of early anonymous data from LaundryMarks® revealed that profitability and operational size are not necessarily correlated; bigger, alone, doesn't equate to better. Secondly, data revealed that automation alone does not drive profitability. As the number of laundries participating in LaundryMarks® continues to grow, the value of using benchmarked data to make informed business decisions, driving proactive planning, and identifying strengths and weaknesses will place those laundries at a competitive advantage. Don't worry if you missed this session, registered attendees may watch it now from the IMPACT app, and the presentation is also available for purchase on ALM's website, under About ALM, Online Store.
Beautiful weather in Colorado Springs facilitated outdoor networking events in the evenings. The first day concluded with attendees gathering by fire pits for lively conversation, appetizers, and s'mores, after partaking in a favorite mountain pastime, hatchet throwing! Many thanks to Ellis, G.A. Braun, and Propeller Solutions Group for sponsoring such a fun event. Virtual attendees got in on the action, thanks to sponsors providing items for a fun a goody box, shipped directly to the attendees prior to the start of IMPACT.
Tuesday night's Cocktails & Moonlight event, hosted by MIP Inc., provided delicious food and mixology lessons for MIP signature cocktails, including a special drink request from Mark Mann, U.S. vice president of sales for MIP.
"We're proud to have supported ALM in the new hybrid endeavor and are glad so many attendees appreciated being able to join us both in-person and virtually," said Mann. "2020 definitely demanded a crazy drink, so I chose the Walking Dead shot. Being able to share the experience in person was a nice change of pace from the last few months, and we at MIP are grateful for the hard work ALM staff did to provide this event to the industry, regardless of attendees' locations."
Providing a cohesive experience for both in-person and virtual attendees was extremely difficult and not at all ideal, as we all wish our typical gathering could have happened. Due to COVID numbers climbing again across the U.S. just before the conference began, many who were planning to attend in person switched to virtual the last week of October to provide their customers with necessary textile services. ALM's outstanding educational programming produces one of the more favorable buyer/seller ratios at our events. Fifty-five percent of companies who participated in IMPACT overall, were from laundry/linen entities as were 41% of the companies attending in-person. In comparison, the ratio at our 2018 conference in Savannah was 61%. All things considered; we think this is an excellent turnout.
ALM leadership is looking to host the next IMPACT Educational Conference in fall 2021. Full details on the location and dates will be forthcoming. For more information about ALM visit the website: www.almnet.org.
---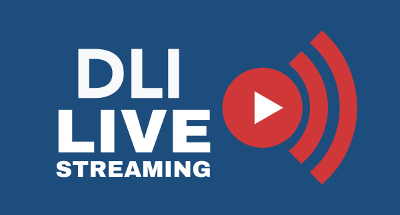 DLI Announces Online Learning Options
This Month DLI Offers Six Live Webinars and Six Peer-to-Peer Meetings
Over the past several months the dry cleaning industry has been turned upside down and shaken. Yesterday's business model needs to adapt to the "new normal." The Drycleaning & Laundry Institute adapted by going all-in on digital communications to connect and educate members.
"This Spring, when parts of the world were going into lockdown because of the virus, we determined the best way we could help members survive was to share as much information as possible through virtual meetings, webinars, and training," said DLI CEO Mary Scalco. "That's when we really started running with this and we're not going to stop, even after the pandemic ends."
Communication is Essential
This March DLI began offering member peer-to-peer Zoom meetings twice each week. Members log into a meeting and discuss various topics, covering all aspects of the cleaning business and the current economic climate. "I get a great idea from every Zoom meeting I attend," said Glen Gould, owner of Drycleaning Connection in Peachtree City, GA. "This isn't a time to back out of memberships that can move you forward this is a time you need to be paying attention," he said. Gould joined DLI as a new member this year.
"You don't have time to test every idea to see what works," Gould said. "With DLI, you can ask your peers what works for them. Chances are someone has solved the very problem you're facing. Their solution can save you time and money."
"Learn from the best and build strong relationships from smart, friendly competitors," said Michael Shader of Milt & Edie's Drycleaners & Tailoring Center in Burbank, California. "There is always someone in our industry doing it better, faster, stronger and the DLI allows for a direct link to those resources."
December 2020 Webinar Schedule
In addition to the twice-weekly Zoom meetings, DLI offers two webinars each week to help drycleaning business owners adapt and train employees.
DLI presents the following schedule of webinars and virtual training opportunities:
Tuesday, Dec. 1 – How to Set Up a Business Facebook Page with Harry Kimmel and Rebecca Ferguson
Wednesday, Dec. 2 – Tapping into the Holy Grail of Bedding with David Coyle
Tuesday, Dec. 8 – How to Write a Press Release with Harry Kimmel
Wednesday, Dec. 9 – Panel Discussion: Investing in Your Community
Tuesday, Dec. 15 – Cleaning Holiday Essentials with Brian Johnson
Wednesday, Dec. 16 – Building Your Brand with Brian Rashid
Friday, Dec. 21 – Jan. 1 – Holiday Break
"DLI is helping us navigate unprecedented times," said Rhonda Harrison Eysel, owner of Master Kleen Dry Cleaners in Columbus, GA. "The weekly webinars and conference calls provide much-needed guidance. The networking and professional relationships are also tremendous assets. The education and tools provided to each of us during these unprecedented times have truly been a Godsend."
On Demand Video Library
DLI embraced the new normal and continues to offer opportunities for members to learn and share ideas. Members who miss a presentation can stream the recording on demand at DLIonline.org and share training videos with staff members. As of mid-November, DLI's Educational Webinar Archive contained 38 webinar recordings covering wash-dry-fold, routes, finishing, diversifications, maintenance, marketing, and more.
Join the Conversation
All professional drycleaning and laundry business owners are invited to join DLI and participate in these programs, access the video library, and enjoy the many benefits of DLI Membership. Call 800-638-2627 or visit DLIonline.org/Membership for more information.
---