---
And if you missed a news story, check our News Archive for the top stories.
Be sure to visit People in the News and Product News while you're catching up on all the latest.
---
Gurtler Holds Global Sales Conference

Gurtler Industries held its Global Sales Conference in December. The three-day conference was held at the Briar Ridge Country Club in Schererville, IN, just outside of Chicago, and was attended by over 75 members of the Gurtler sales and service team, headquarters support team, and management.
Representatives were present from the USA, Canada, Mexico, and Australia. Due to the pandemic, this was the first time since 2018 that Gurtler brought together the sales and service team for the conference which focused on technical and safety training, recognition of top sales performers, and a celebration of Gurtler's 40th Year Anniversary.
As part of Gurtler's continuing effort to improve customer service, Gurtler invited four customers from the industrial/F&B and healthcare laundry markets to participate in a panel to review how they perceive their expectations and standards for service from their chemical representatives. In addition, during the conference representatives from six major manufacturers of standard and tunnel washing systems shared their latest innovations and technology with the sales and service team and the manufacturers heard feedback from the service team on how the systems perform in Gurtler's markets.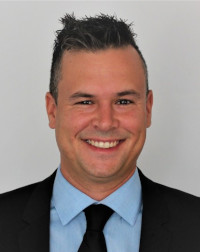 At the conference, Gurtler recognized the top sales and service performers from the last few years. The salespersons of the year for the last two years were also announced. Nicolas Legault from Ontario, Canada, earned the honor for 2021 and Joe Valdez of the Pacific Northwest was named salesperson of the year for 2022.
Lastly Greg Gurtler, President and Bill Gurtler, Chairman of Gurtler Industries shared their thoughts on the 40th Anniversary of Gurtler's founding in March of 1982. Plus, they presented an employee appreciation video that focuses on the role that our entire team plays in providing superior customer service across the entire laundry market. The video is posted on the Gurtler YouTube page.
Gurtler Industries is a leading manufacturer of advanced detergents, specialty chemicals and injection systems for the commercial laundry industry. From its headquarters and research center in suburban Chicago, Gurtler supports the entire spectrum of the laundry industry, including healthcare, hospitality, industrial uniforms, shirt laundries and textile rentals. Gurtler is a family company now in its third generation, maintaining its tradition of excellence, innovation, and service.
For more information, contact Gurtler Industries at 1-800-638-7300 or visit www.gurtler.com
---
February DLI Learning Opportunities for Members
The Drycleaning & Laundry Institute offers a special one-hour webinar program on how drycleaners can enhance their social media posts with hashtags, plus four weekly member Zoom meetings in February.
Rechelle Balanzat, of Juliette in New York City will present a webinar program on effective hashtag use to help members get the most out of their social media efforts.
DLI's weekly Peer-to-Peer meetings continue to help members stay connected and band together. For example, a recent meeting resulted in a successful campaign to convince the Los Angeles City Council to exclude drycleaning bags from a proposed single-use plastic bag ban.
Editor's Note: For details on all these programs, please see our Events Calendar!
---
HLAC Releases 2023 Standards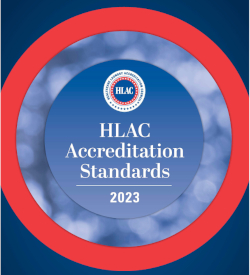 The Healthcare Laundry Accreditation Council released its 2023 updated standards to guide the industry in maintaining the highest possible quality work. Some highlights include: More emphasis on standards impacting hygienically clean linen More emphasis on functional separation and clean/soil issues Less emphasis on items that do not directly impact hygienically clean linen (i.e. eyewash stations) More flexibility for operators who employ different methods to obtain hygienically clean linen Easier to read standards, less duplication, better referenced standards You can watch the webinar or access the standards on the website.
---
Harco Canada Open House in Quebec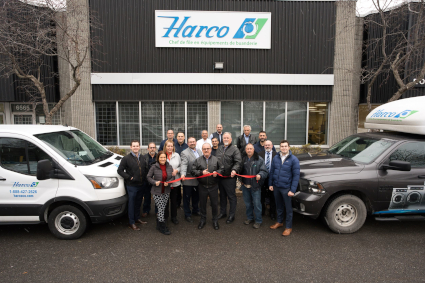 Harco Canada Inc. welcomed dozens of customers and suppliers to an open house in December. The open house celebrates an expansion for Harco that took place in February 2020 (just before the shut downs) in the province of Quebec.
"We more than doubled the square footage and the warehouse is 3 times larger than our previous warehouse space," said Malcolm Caldwell, vice president of sales. "We are excited to offer more inventory of equipment and parts to our Quebec customers."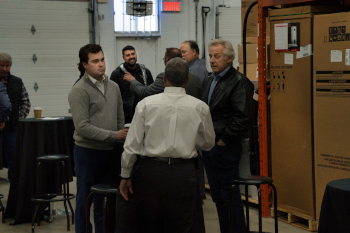 The comments from attendees were positive, and those who had visited the former building liked the fact that the new warehouse is much larger and has two types of forklifts to move and store the products, making it much more efficient.
Attendees also commented on the supply of parts in the inventory and how well organized the parts area is. Customers liked the fact that there is a parts counter that they can access without having to go through the main office.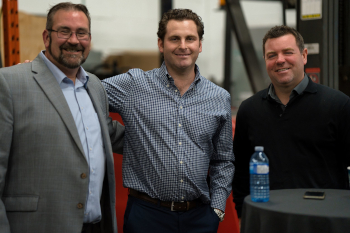 To facilitate easy equipment pick up, the facility includes a ramp and loading docks. so any type of truck or trailer can be accommodated.
The Harco office team are pleased with the way the new facility allows them to be more organized and able to focus on customer requests.
Harco senior management attended the event, and service sessions and demonstrations were conducted throughout the day. The Harco team look forward to the opportunity to support the laundry equipment, parts and service needs of Quebec and eastern Ontario customers.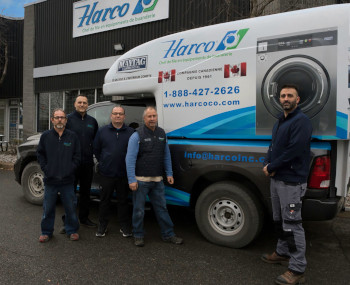 ---
---
---
---