---

---
And if you missed a news story, check our News Archive for the top stories.
Be sure to visit People in the News and Product News while you're catching up on all the latest.
---
Cindy Molko, former ALM President, retires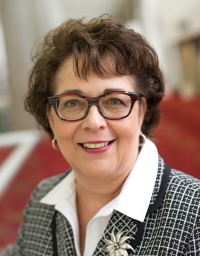 Cindy Molko, RLLD, CLLM, and former president of the Association for Linen Management (ALM) Board, recently retired from her position at Mayo Clinic after nearly 43 years of dedicated service.
"Some of my fondest ALM memories have been with Cindy," said Linda Fairbanks, ALM executive director. "Cindy has always been someone we could reach out to for knowledgeable guidance, whether it be for industry education, understanding member needs, or business insight, she has always been generous and enthusiastic in helping textile care professionals."
That knowledge has been gained through years of working at every level within The Mayo Clinic. Cindy began as a Central Service Tech, and was quickly promoted to a supervisory position, where through the years, she was instrumental in building the Mayo Linen and Central Services into what it is today.
"It has been an incredible experience to work with Cindy, whose knowledge and experience is invaluable to the organization and industry," said Kathy Mulhern, Director Linen and Central Service, Mayo Clinic, Rochester, MN. "I cannot thank Cindy enough for her mentorship. Cindy's consistent support and leadership is responsible for all our accomplishments. Congratulations on your retirement!"
Despite Cindy's many responsibilities at Mayo, she always found time to lead by example in other industry associations and organizations. At ALM, Cindy has spoken at conferences, taught at the Laundry & Linen College, as well as leading by example by completing and maintaining certifications in both the Registered Laundry & Linen Director (RLLD) and the Certified Laundry & Linen Manager (CLLM). She has also participated in the Boards of the Minnesota Health Care Central Service Materials Managers (MHCSMA) and the International Association of Healthcare Central Service Materiel Management (IAHCSMM).
---
Christeyns USA and UNX Industries sign merger agreement to for UNX-Christeyns.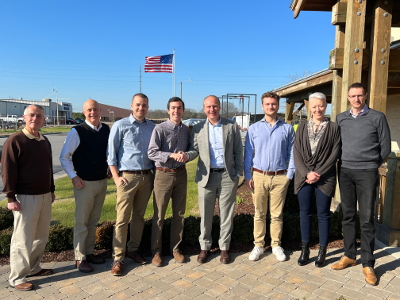 June 13, 2022 – UNX Industries and Christeyns USA announced they are entering into a definitive merger agreement to create UNX-Christeyns. The new U.S. based company will be able to deliver a portfolio of chemicals, detergents, engineered equipment and cleaning solutions to the commercial and industrial textile care market.
This alliance creates opportunities for customers by combining Christeyns' global innovation and supply chain capabilities, with UNX's domestic manufacturing and distribution platform. The agreement also means the companies will be combining their booth space (#4128) and discussing future plans with customers at the upcoming Clean Show, July 30-August 2 at the Georgia World Congress Center in Atlanta.
With the arrangement beginning July 1, company headquarters will be located in Greenville, N.C. Josh Lilley of UNX will serve as Chief Executive Officer and Christeyns' Rudi Moors becomes the President. Sales and service staffs, as well as their established distributor networks throughout the country, will remain in place.
"We have embraced family values for over 60 years in our business, and now another like-minded family-oriented business with a global reach has joined us," commented Lilley. 'This agreement makes us a stronger, more flexible organization that is laser focused on expanding our presence in the U.S."
"This is a true 50-50 partnership, and both companies have compatible values and a shared passion for serving our customers," remarked Moors. "Current and future customers will benefit from a wider selection of products and wash concepts, enhanced service, and the chemical innovation and R&D capabilities we have to offer."
UNX was founded in 1958 and earned a reputation for providing companies with superior, commercial grade cleaning products for their laundry, houskeeping and warewash needs. A supplier to a variety of industries including industrial laundries, education, healthcare, food service, hospitality and athletics, their equipment also is said to help customers increase their efficiencies and extend linen life.
"We strive to bring added value to our customers, and this merger gives us the ability to provide better buying power and new product concepts to make them more efficient operators," said Lilley. "Christeyns has 46 offices, 17 manufacturing facilities and nine R&D centers around the world. When you add in the manufacturing, distribution and supply chain strengths UNX has built domestically, these are strong attributes that will benefit our customers."
Christeyns USA was a division of Christeyns, the $300M family-owned and operated Belgian manufacturer of cleaning, hygiene and disinfection products for laundries, the food industry, cleaning companies and the medical sector serving customers in over 50 countries.
"We intend to be one of the top three chemical providers in the textile care sector," said Moors. "As a family owned company, UNX developed very close relationships with their customers that was integral in building their business. When you add in the full complement of resources from an internationally respected company, UNX-Christeyns represents the best of both worlds. We have our customers' best interests in mind, and our combined resources and experience will benefit them across the board."
Any customers who have questions are encouraged to contact their respective UNX Industries and Christeyns representatives.
About UNX-Christeyns
Based in North Carolina, the partnership of UNX and Christeyns brings together more than 100 years of experience in the textile care industry. Specializing in commercial quality cleaning chemicals for the laundry, housekeeping, warewashing, and dry and wet cleaning markets, these products are supported with custom designed dispensing equipment. Learn more by calling 800-869-6171 for more information or visit the website.
---
CINET Global Best Practices Award for 2022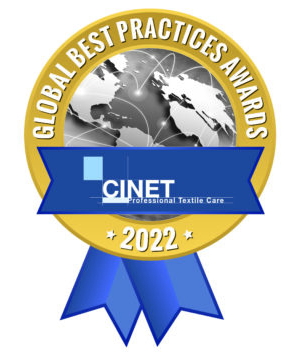 The Global Best Practices Awards Program 2022 organized by CINET for this fall during EXPO Detergo promises to be a special event. The EXPO Detergo will be held in Milan from October 21 – 24. The GBPAP Meet & Greet is scheduled the day before, the presentation of 50 Pitches and the Official Ceremony will be held on October 21 in the large Conference Hall, which can accommodate about 300 visitors.
Preparations are now in full swing. About 350 participants have been invited. The 50 best nominees will be selected by the international jury. They are given the opportunity to give a 3-minute presentation to show the international jury their qualities, professionalism in organization, service, sustainability and service provision. Participation will be in 3 categories: retail textile cleaning (large and small), as well as a category of industrial textile service. The winners await international recognition, national publicity and a nice sales boost, as was noted from earlier editions. Additionally, experience also shows that participation is a reason to critically review and think through all parts of the company, in order to perform professionally and efficiently.
First Applications Received
The first applications have now registered with CINET. The enthusiasm is great. After COVID, everyone is eager to see and speak to each other again. If there is any problem with in-person meeting, the event will be streamed online again. In 2020, more than 26,000 professional industry peers took part in the online event. If you still want to register, you can do so at CINET until August 15.
---