---
Be sure to visit People in the News and Product News while you're catching up on all the latest.
And if you missed a news story, check our News Archive for the top stories.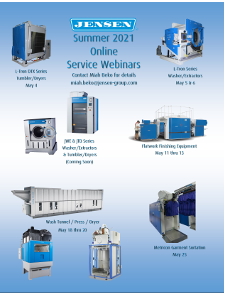 ---
Jensen announces Summer 2021 Online Service Webinars
If you have Jensen equipment and want to brush up on your service techniques, you can jump on the online webinars Jensen is offering for specific pieces of equipment.
Webinars include:
Flatwork Finishing Equipment — May 11 – 13
Wash Tunnel / Press/Dryer — May 18 – 20
Metricon Garment Sortation — May 25
JWE and JTD Series Washer/Extractors & Tumble Dryers — Coming Soon
The flyer at left can be downloaded full sized if you click on it. For information about the webinars, contact Miah Beko, customer service coordinator.
---
CLATA Annual General Meeting
CLATA's AGM was held virtually on April 22. The meeting included the voting in of the 2021-22 Board of Directors:
Earl Eichen (Lavanett) President
Steve Freeman, Secretary & Past President
Trevor Holmes (Seitz Inc.), Treasurer & Past President
Malcolm Caldwell (Harco), Director
Ashlynn McConvey (Dalex Canada Inc.), Director
Patrick Robertson (Tingue Canada), Director
Gabriel Boardman (MIP), Director
Deb Butcher (Ecolab), Director
Nicolas Legault (Gurtler Industries Canada), Director
William Kahan (Unipress), Director
Daniel Gelac (Kannegiesser Canada), Immediate Past President
Despite the present uncertainty, plans are underway for the annual golf tournament. A provisional reservation has been made at the Bay of Quinte Golf Club for Thursday September 9th and will be the first time in two years that members have been together. The event will be evaluated again in July, and a final decision on whether it can be held will be made at that time.
There are also plans to organize a committee in the coming weeks to begin planning for the 2022 Clean Show in Atlanta. If you have suggestions or want to be involved in the planning, contact the board members listed above.
---
Gurtler Industries and OMNI Solutions Enter Exclusive Distribution Agreement
Gurtler Industries and OMNI Solutions announced this week an agreement that allows Gurtler exclusive distribution rights for OMNI's SULAOS tunnel washer, Smart Ultraviolet Light Advanced Oxidation System, throughout North America and Australia.

"OMNI Solutions' SULAOS is designed for today's modern tunnel washing systems. SULAOS treats press water with a combination of potent oxidizers and ultraviolet light and returns the treated water to the rinse zone, virtually eliminating organic contaminants, which allows the SULAOS system to provide reduced microbial contamination in the rinse zone." said Andrew Rupnow, chairman and CEO of OMNI Solutions. "OMNI is excited to partner with Gurtler, a leader in innovation in the laundry market. Their team of experienced service specialists will be instrumental in delivering a proven patented microbial reduction solution multifaceted to the tunnel washer market."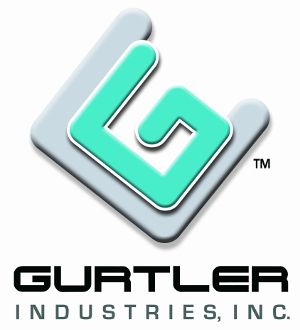 Gurtler is a producer of specialty laundry chemicals providing expert service to all segments of the commercial and professional laundry industry across North America and Australia. Known as a leader in the healthcare and tunnel washer laundry processing market, Gurtler recognized the potential benefits of the OMNI SULAOS technology. Greg Gurtler, president of Gurtler Industries said, "We are very pleased that we have entered into this exclusive agreement with OMNI. The SULAOS technology provides a unique benefit for the industry and our team of experienced service specialists are excited to introduce the system to the market. This agreement allows us to deepen our innovative offerings for the healthcare laundry market."
The Gurtler–OMNI agreement will create synergistic benefits for both companies and their customers. OMNI customers will benefit with additional expert service consultation from Gurtler's service force. Gurtler customers will have easier access to the unique capabilities and benefits from the SULAOS technology.
For more information, contact Gurtler Industries at 1-800-638-7300 or visit www.gurtler.com. Or contact OMNI Solutions at 1-888-356-9111 or visit www.OMNIsaves.com.
---
DLI Offers More Education & Network Opportunities in May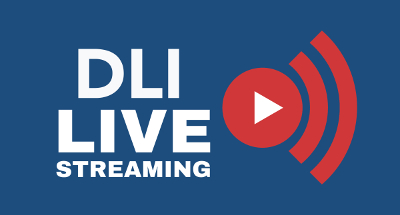 As the seasons change and members of the Drycleaning & Laundry Institute report an uptick in business, DLI continues to offer educational programs and networking opportunities. "Now is the time to make sure you and your staff have the skills required to take on new challenges or even brush up on some old ones," said Mary Scalco, DLI's CEO.
Wednesday, May 5
How and Why to Hire an Outside Sales Team On a Budget with Robert Bobo IV with Infinite Time Solutions
Wednesday, May 12
New Services Members Are Offering—Panel Discussion
Wednesday, May 19
The Power of Setting Your Business and Personal Three-Year Vision with Industry Marketing Coach Dave Coyle of Maverick Drycleaners
Wednesday, May 26
Easy Tools to Create Attention-Getting Videos with Peter Blake
Peer-to-Peer Members-Only Zoom Calls
DLI continues to host Peer-to-Peer Zoom calls every Wednesday at 11:30 a.m. Eastern. "Members hear how other cleaning business professionals are adapting to the current business climate, share ideas, get answers to questions, and even just vent," Scalco said. "DLI's doors are always open. All drycleaning professionals are invited to join DLI and participate in these events."
---
DLI Offers Virtual Stain Removal Course in May
DLI will offer hands-on, live instruction in a remote learning format over six, three-hour sessions in May. This means students can get the training they need without traveling to DLI's School of Drycleaning Technology.
"The pandemic hit our industry hard," said Brian Johnson, DLI's Director of Education & Analysis. "In its nearly 100-year history, DLI's school was only closed one other time during World War II. With this course, we're offering in-depth, virtual, live training. This will help students understand this complex, but very important, aspect of the business."
The course is structured to give students maximum flexibility. Each of the six, three-hour sessions will take place on Tuesdays and Thursdays in May:

| | |
| --- | --- |
| Tuesdays | Thursdays |
| May 4 | May 6 |
| May 11 | May 13 |
| May 18 | May 20 |
Stain Removal Course Topics
Removing coffee, ink, grease and other stains from clothing.
Identifying cotton, silk, polyester, and other fabrics.
Using bleaches without damaging the fabric color.
Using specialty products such as digesters, amyl acetate, and acetone in stain removal.
Identifying fibers and fabric construction.
Tuition
DLI Budget Members: $295
DLI Standard Members:$236 (20% discount)
DLI Gold Members: $177 (40% discount)
DLI Premier Members: Free
Non-DLI Members: $495
Space for this course is limited. To register, email Education@DLIonline.org or call 800-638-2627.
---
Always Available: DLI's On Demand Video Library
Each week DLI adds recordings of the presentations to make them available to members who may have missed the live program. Members login to DLIonline.org and click the program to watch. DLI's archive currently contains more than 70 videos on the following topics:
COVID-19 Relief Programs
Diversification
Maintenance
Management
Marketing
Production
Finishing
Stain Removal
Business Sales and Acquisitions
All professional drycleaning and laundry business owners are invited to join DLI and participate in these programs, access DLI's on-demand training video library, and enjoy the many benefits of DLI Membership. Call 800-638-2627 or visit DLIonline.org/Membership for more information.
Learn more at www.DLIonline.org
---