Don't you hate it when you miss a news story? The very essence of "news" is that it comes and goes pretty quickly. But we want you to be able to read news after it's been removed from our main pages. So, check this archive if you missed something.
---
Ontario Hazardous Waste Program Registry changes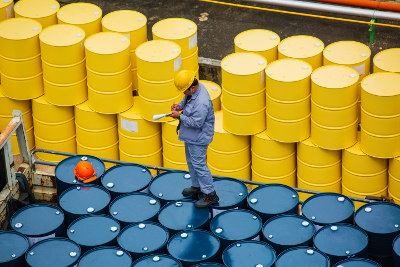 Ontario's hazardous waste generators (including dry cleaners) have some new rules to take note of to avoid running foul of regulators.
The main change is in the method of reporting. Instead of paper reports being sent in, now waste generators will be required to submit their reports through an online reporting portal, beginning January 1, 2023.
Companies can designate their waste recycler to submit the reports and pay any fees involved, but this must be done according to the regulation. Rather than try to restate the rules and changes, we're making a PDF file available to you for downloading. It is the official presentation from the Ontario government, and is easy to read and understand.
Please download it here, and review it so you are ready for the new regulations when they kick in.
---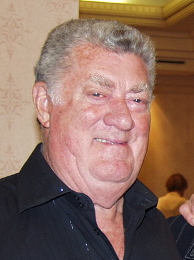 Tom White passes away
Tom White, active in the fabricare industry for over 60 years, passed away on August 30 at age 96. Read more about Tom and see memorial details by visiting our People page.
---
GreenEarth acquired by Greybull Stewardship

Greybull Stewardship, L.P. ("Greybull") formally announced its acquisition of GreenEarth Cleaning. The Kansas City, Missouri-based company is the world's largest brand of environmentally friendly dry-cleaning solvent.
The GreenEarth acquisition marks the latest significant expansion into the garment care space for Greybull. In recent years, the Jackson, Wyoming-based equity firm has invested in several cleaning franchises under their Clean Brands company, including both Lapels Cleaners and Martinizing Cleaners.
The GreenEarth management team, headed by Tim Maxwell, will continue to serve in their current roles.
"This entire acquisition process has confirmed to me that ownership of the GreenEarth Brand is moving from multiple pairs of guiding hands that founded the company more than two decades ago to a group that understands the potential opportunities available through so many avenues in the professional fabric care space," says Maxwell. "The entire team here at GreenEarth is excited for the opportunity to continue to bring environmentally non-toxic cleaning to our affiliates around the globe."
Maxwell added, "The most important thing to note about this acquisition for our customers and affiliates is that GreenEarth will continue to be GreenEarth. The ownership may be different, but the direction and vision of the company and commitment to our business partners remains the same."
---
Continental Creative Services changes name to Girbau Creative Services
Continental Creative Services (CCS), a division of Girbau North America (GNA), recently changed its name to Girbau Creative Services (GCS). "We wanted to change the name to better align with our parent company, Girbau Global Laundry Solutions (Girbau)," said Creative Services Manager Kim Foxcroft.
Developed in 2005 to support GNA distributors and end-users, GCS offers cost-effective marketing, advertising and public relations services. With a team of laundry industry marketing experts, GCS provides distributors and their customers with everything from logo, brochure and website development to signage, direct mail campaigns, vehicle wraps and press releases, according to Foxcroft.
"We've worked closely with distributors and store owners for years to provide the kind of marketing support that sets them apart in the eyes of their customers," she said. "Today, we move forward together under the Girbau umbrella – focused on customer proximity, one team and innovation and sustainability."
For more about GNA or GCS visit www.gnalaundry.com or call 920-428-4682.
---
ALM releases Monkeypox Best Practices for hotels
The growing concern over the increased spread of Monkeypox in the United States provides an opportunity to address best practices for hotel textile processing and handling. With a focus on protecting workers and providing a safe and comfortable environment for the travel public, the Association for Linen Management (ALM) and the American Hotel & Lodging Association (AHLA) have partnered to release their latest best practice document Monkeypox: Textile Handling Guidelines for Hotels.
This collaborative effort included multi-dimensional textile service providers, end users, regulatory authorities, and related industry subject matter experts. The final document involves research of regulatory compliance and incorporates the concerns of the public, customers, and key stakeholders.
"As business and personal travel returns to typical numbers, we felt it important to revisit the best practices for hotel laundries, including additional measures to keep textile service professionals and guests safe during travel with the increase in Monkeypox cases" said Linda Fairbanks, ALM's Executive Director. "And after our work with AHLA during COVID-19, we welcomed the opportunity to collaborate with them again on this project."
For access to the complete Monkeypox: Textile Handling Guidelines for Hotels document, please email Leesy McCorgary at lmccorgary@almnet.org.
---
Tingue Invests in Management Team's Future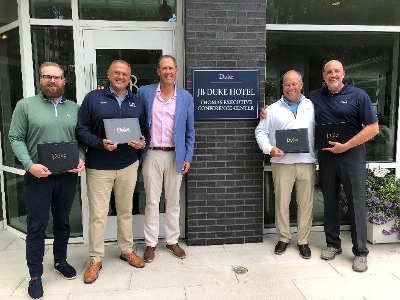 Tingue's management team attended a week-long executive education program at Duke University's Fuqua School of Business, with each participant earning a certificate in Finance.
The Duke program is designed to introduce participants to the essential elements of financial reporting, including managerial and financial accounting. Additional topics include, interpreting financial statements and developing capabilities to communicate operating, marketing, sales, and growth strategies in financial terms.
CEO David Tingue explained, "Our management team has historically been strong in operations management and in sales management. As I look ahead, I believe our managers will best serve both Tingue, Brown & Co., and their customers if they combine this expertise with strong financial competence as well. To that end, we turned to Duke University to help raise the financial understanding and aptitude of four of our company leaders: David Rovetto, Regional Sales Manager; Jamie Bridge, Regional Sales Manager; Chris Melchionni, Regional Sales Manager; and Patrick Robertson, VP of Operations."
Patrick Robertson had high praise for the program. "An exceptional course. Building from basics on day one, to real-world applications on the final day. The Duke program has allowed me to analyze financial statements and make impactful decisions backed by the data. A deeper understanding of company financials is critical for any leader, and this program has made me a much more competent decision-maker within our organization."
---
CFA works to raise profile of industry in Canada
Some things you can do on your own as a business owner to improve your standing in the community. But others are best done by Associations of members. The Canadian Fabricare Association is launching an initiative to remind municipalities, cities and provincial governments of the key role fabricare professionals play in the community.
In speaking to the City of Mississauga Council, CFA President Dino Kantzavalos proposed a program called "Get Close with Your Cleaner Again!", urging customers to remember those who are standing by to care for their garments once again.
In part, his statement said: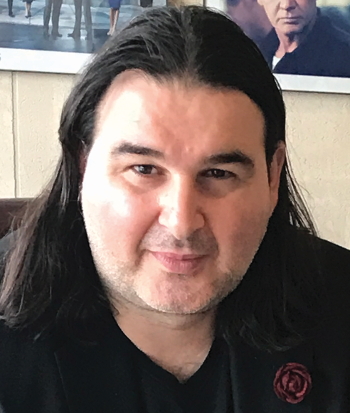 The last two years have been extremely challenging across all levels. We lived through some unprecedented events not seen in our country. This pandemic has caused many businesses to suffer economic stress because of lack of revenues, partly due to government-implemented lockdowns and the encouragement to "stay at home".
However, no industry has suffered more than ours. We saw on average, up to a 90% drop in sales across the country for almost two years. A more dramatic statistic is that our industry has closed over 30% of its locations nationwide. One of the key contributors to these declining numbers is that our industry was deemed an 'essential service', thus causing us to miss out on much-needed financial assistance which other businesses were able to benefit from. Another key detriment was the removal of travel. Not travel in the traditional sense but the type of travel that would take you to a social function. Even funerals were limited. Between zoom meetings and all restrictions there was no need to have your suits and dresses and shirts taken to your cleaner.
We are not asking for a handout. We are asking for your assistance in helping us tell our story.
The City of Mississauga issued a supportive proclamation on July 6, signed by John Kovac, Councillor, Ward 4. It read:
WHEREAS the City of Mississauga is home to over two-hundred dry cleaners, of which combined employ thousands of Mississauga residents;
WHEREAS the City of Mississauga is a significant provider of businesses associated with the fabricare industry;
WHEREAS many businesses have endured economic hardship due to the societally negative effects of the pandemic;
WHEREAS dry cleaning businesses, on average, have experienced a considerable decline in their sales locally and nationally, with many locations having been closed down as a result;
WHEREAS the dry cleaning industry once thrived and is now in desperate need of community support and revitalization;
THEREFORE BE IT RESOLVED
That the Council of the City of Mississauga extends its support to members of the dry cleaning community by acknowledging the hardship suffered but rallying behind their "Get Close with Your Cleaner Again" industry campaign; and further,
That the Council of the City of Mississauga connects with their counterparts at the Federal and Provincial levels, local-area MPs and MPPs included, and calls upon them for their support of this campaign and for their further assistance where possible.
For more information, contact Dino at 416-804-2261 or kdk@tscwetclean.com.
---
TRSA names Brian O'Neil Lifetime Achievement Award Winner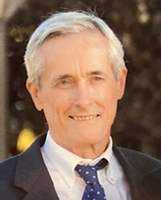 The Executive Committee of TRSA's Board of Directors recently voted to honor Brian O'Neil, president of California Linen Services, Pasadena, CA, with the association's highest honor, the TRSA Operator Lifetime Achievement Award. O'Neil will receive the award on Sept. 15 at TRSA's Annual Awards Dinner, held in conjunction with its Annual Conference in Nashville, TN.
O'Neil, 80, has dedicated his career to working in the linen, uniform and facility services industry and continues to lead the staff at California Linen, where 25% of its employees have been with the company for 25 years and another 25% have been for another 10-25 years.
TRSA Chair Noël Richardson, president, Shasta Linen Supply, Sacramento, CA, noted that the Executive Committee's decision, "allows us the pleasure of extending a heartfelt thanks for Brian's service to the industry with the TRSA Operator Lifetime Achievement Award. This is bestowed in recognition of exceptional personal service to our industry and to the associations that serve our industry."
O'Neil has longstanding ties to TRSA. He served on TRSA's Board of Directors from 2003-'09 and chaired TRSA's Textile Management Committee from 2001-'03. O'Neil also served as the vice chairman of the Textile Management Committee from 1999-'01. California Linen Services is certified Clean Green® and Hygienically Clean Food Service®. Additionally, the company has sent employees to EMI, PMI and MMI to further their industry-specific professional development.
Brian's son Andrew, the general manager at California Linen commended his father's achievement: "Humble and soft spoken, Brian inspires others to become leaders within the organization and beyond…He is a staple in the community and respected by many industry leaders."
For more information on the TRSA Operator Lifetime Achievement Award and to review past recipients, visit www.trsa.org/awards.
---
Malboeuf chosen President-Elect of ALM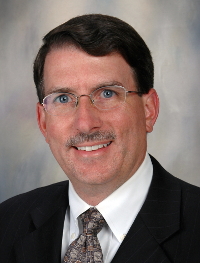 Chip Malboeuf will join the Association for Linen Management (ALM) Board of Directors at the end of June. Malboeuf has been a long-time member of ALM, and succeeds Jim Mangini, RLLD, as president-elect as Mangini moves into the role of president. Malboeuf has over 28 years of experience in the industry, and currently he serves as vice president of Engineering for ImageFIRST Healthcare Laundry Specialists.
"I am honored and humbled at being selected for this position," said Malboeuf. "I look forward to working with the ALM leadership and members and am excited for the opportunity to share my knowledge of the industry and to give back to ALM members."
Malboeuf has taught myriad ALM educational programs throughout the years, and his history with ALM has built a foundation for collaboration with both the incoming and outgoing Board presidents.
"I am excited that Chip Malboeuf been chosen by our membership to serve as the president-elect of ALM," said Mangini. "Chip's extensive background within our industry is an asset to not only our membership but also our Board. I welcome the opportunity to work side-by-side with him over the next few years."
"I am thrilled to have Chip join the ALM Board as president-elect," said Rich Bott, RLLD, CLLM, who is shifting into the role of immediate past president. "I have known Chip for several years and his reputation, integrity, and industry knowledge are exceptional. Chip will add tremendous insight and leadership to ALM as we look to the future to provide excellence in both education and support to our industry. I appreciate Chip's willingness to serve and look forward to working with him."
ALM Executive Director Linda Fairbanks is pleased with the members' decision for ALM leadership.
"I am so proud of how many wonderful individuals we have throughout our membership," said Fairbanks. "So many step up to help others learn from their expertise, and Chip is the quintessential example of working together to make things better for everyone. I'm confident that with his leadership, ALM and its members will continue to grow and thrive!"
---
Cindy Molko, former ALM President, retires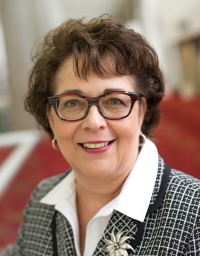 Cindy Molko, RLLD, CLLM, and former president of the Association for Linen Management (ALM) Board, recently retired from her position at Mayo Clinic after nearly 43 years of dedicated service.
"Some of my fondest ALM memories have been with Cindy," said Linda Fairbanks, ALM executive director. "Cindy has always been someone we could reach out to for knowledgeable guidance, whether it be for industry education, understanding member needs, or business insight, she has always been generous and enthusiastic in helping textile care professionals."
That knowledge has been gained through years of working at every level within The Mayo Clinic. Cindy began as a Central Service Tech, and was quickly promoted to a supervisory position, where through the years, she was instrumental in building the Mayo Linen and Central Services into what it is today.
"It has been an incredible experience to work with Cindy, whose knowledge and experience is invaluable to the organization and industry," said Kathy Mulhern, Director Linen and Central Service, Mayo Clinic, Rochester, MN. "I cannot thank Cindy enough for her mentorship. Cindy's consistent support and leadership is responsible for all our accomplishments. Congratulations on your retirement!"
Despite Cindy's many responsibilities at Mayo, she always found time to lead by example in other industry associations and organizations. At ALM, Cindy has spoken at conferences, taught at the Laundry & Linen College, as well as leading by example by completing and maintaining certifications in both the Registered Laundry & Linen Director (RLLD) and the Certified Laundry & Linen Manager (CLLM). She has also participated in the Boards of the Minnesota Health Care Central Service Materials Managers (MHCSMA) and the International Association of Healthcare Central Service Materiel Management (IAHCSMM).
---
Christeyns USA and UNX Industries sign merger agreement to for UNX-Christeyns.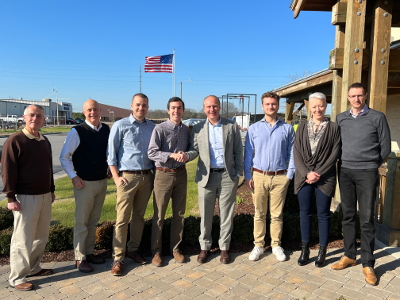 June 13, 2022 – UNX Industries and Christeyns USA announced they are entering into a definitive merger agreement to create UNX-Christeyns. The new U.S. based company will be able to deliver a portfolio of chemicals, detergents, engineered equipment and cleaning solutions to the commercial and industrial textile care market.
This alliance creates opportunities for customers by combining Christeyns' global innovation and supply chain capabilities, with UNX's domestic manufacturing and distribution platform. The agreement also means the companies will be combining their booth space (#4128) and discussing future plans with customers at the upcoming Clean Show, July 30-August 2 at the Georgia World Congress Center in Atlanta.
With the arrangement beginning July 1, company headquarters will be located in Greenville, N.C. Josh Lilley of UNX will serve as Chief Executive Officer and Christeyns' Rudi Moors becomes the President. Sales and service staffs, as well as their established distributor networks throughout the country, will remain in place.
"We have embraced family values for over 60 years in our business, and now another like-minded family-oriented business with a global reach has joined us," commented Lilley. 'This agreement makes us a stronger, more flexible organization that is laser focused on expanding our presence in the U.S."
"This is a true 50-50 partnership, and both companies have compatible values and a shared passion for serving our customers," remarked Moors. "Current and future customers will benefit from a wider selection of products and wash concepts, enhanced service, and the chemical innovation and R&D capabilities we have to offer."
UNX was founded in 1958 and earned a reputation for providing companies with superior, commercial grade cleaning products for their laundry, houskeeping and warewash needs. A supplier to a variety of industries including industrial laundries, education, healthcare, food service, hospitality and athletics, their equipment also is said to help customers increase their efficiencies and extend linen life.
"We strive to bring added value to our customers, and this merger gives us the ability to provide better buying power and new product concepts to make them more efficient operators," said Lilley. "Christeyns has 46 offices, 17 manufacturing facilities and nine R&D centers around the world. When you add in the manufacturing, distribution and supply chain strengths UNX has built domestically, these are strong attributes that will benefit our customers."
Christeyns USA was a division of Christeyns, the $300M family-owned and operated Belgian manufacturer of cleaning, hygiene and disinfection products for laundries, the food industry, cleaning companies and the medical sector serving customers in over 50 countries.
"We intend to be one of the top three chemical providers in the textile care sector," said Moors. "As a family owned company, UNX developed very close relationships with their customers that was integral in building their business. When you add in the full complement of resources from an internationally respected company, UNX-Christeyns represents the best of both worlds. We have our customers' best interests in mind, and our combined resources and experience will benefit them across the board."
Any customers who have questions are encouraged to contact their respective UNX Industries and Christeyns representatives.
About UNX-Christeyns
Based in North Carolina, the partnership of UNX and Christeyns brings together more than 100 years of experience in the textile care industry. Specializing in commercial quality cleaning chemicals for the laundry, housekeeping, warewashing, and dry and wet cleaning markets, these products are supported with custom designed dispensing equipment. Learn more by calling 800-869-6171 for more information or visit the website.
---
Read the official government press release here.
What does it mean for you? Will it include the poly you send your customers' garments home in? Read the definition of a "single use bag" and you may be enlightened… or confused.
SPECIAL UPDATE FROM KEN OLSEN of Environment and Climate Change Canada, via Sid Chelsky:
"I have followed up with our colleagues managing the Plastics Regulations and they have informed me the Single-use Plastics Prohibition Regulations do not cover dry cleaning bags.
Further details are available in the Technical Guidelines, where it is noted that bags to protect clothes after professional laundering or dry-cleaning are not intended to be prohibited by the Regulations: Single-use Plastics Prohibitions Regulations Technical Guidelines – Canada.ca
---
Gurtler Celebrates 40 Years with Video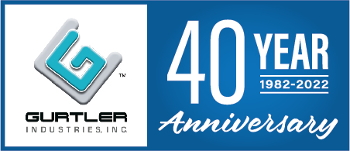 Gurtler Industries recently released a short video that commemorates the 40th Anniversary of the company. The video features the three generations of the Gurtler family, Bill, Greg and Jake, and their thoughts on the company that had its start in 1982. Bill, now the Chairman and his son Greg, President, were there at the beginning when Gurtler Chemicals started as a regional laundry specialty chemical producer and service provider. Now Gurtler has stretched its coverage across the US, Canada, and Mexico, opened a business unit in Australia and has customers in the Caribbean and Central America.
Jake Gurtler, V.P. Corporate Accounts, joined the company in 2008 and is the third generation to take a role in managing Gurtler's growth. In the video, Bill, Greg, and Jake review how Gurtler has built on its successes over the decades with primary focus on the Gurtler Advantage: Service, Innovation and People. They especially take the opportunity to thank all our loyal customers, some who have been with us for the entire 40 years!
The video can be accessed on the company's website home page or on Gurtler's YouTube Channel.
Gurtler Industries is a leading manufacturer of advanced detergents, specialty chemicals and injection systems for the commercial laundry industry. From its headquarters and research center in suburban Chicago, Gurtler supports the entire spectrum of the laundry industry, including healthcare, hospitality, industrial uniforms, shirt laundries and textile rentals. Gurtler is a family company now in its third generation, maintaining its tradition of excellence, innovation, and service.
For more information, contact Gurtler Industries at 800-638-7300 or visit www.gurtler.com
---
AWGS Annual Meeting in Florida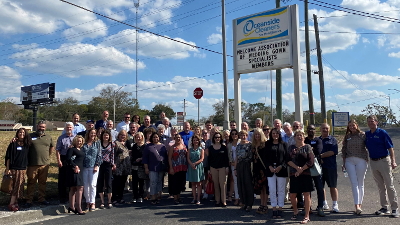 Members of the Association of Wedding Gown Specialists (AWGS) met recently in Jacksonville, Florida, to discuss marketing strategies with wedding industry experts and elect officers. This year there were two stops on the traditional plant tour: one at Oceanside Cleaners award-winning plant (2020 CNET Global Best Practices) owned by AWGS members Mike and Amy Harris, and the other at the company's remarkable, completely computer-programmed drop shop.
A highlight of the meeting was the presentation of the eleventh annual Jack Barth Memorial Award of Excellence. Initiated by Linda Stokes-Barth in remembrance of her late husband and his achievements in the dry cleaning industry, the award recognizes a member of the Association of Wedding Gown Specialists for advancement, promotion, and development of industry standards for wedding gown care and for outstanding contributions and service to the Association and its members.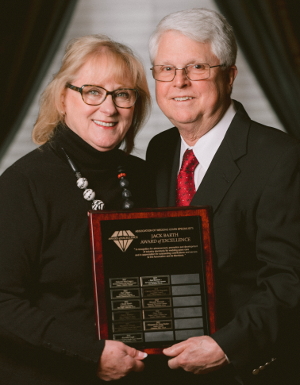 For the first time ever, there were dual honorees, Greg and Margaret Butler of Dublin Cleaners in Columbus, Ohio. As AWGS president Kermit Engh noted when he presented the Barth Award, "The Butlers represent the heart of our association—family-owned businesses with a long history of both exceptional care for wedding gowns and community activity. When the Butlers joined the association in 2007, they credited AWGS for tripling their gown business over the following year, but AWGS in turn has greatly benefited from their membership—not least because we truly look forward to the true pleasure of their company at our meetings."
Speakers at the conference presented a range of important trends and ideas for branding and networking. Kirsten Ott Palladino, founder and editor of EquallyWed.com spoke about learning to use inclusive language and affirming values. Something as simple as adding the phrase "We support wedding equality" to a website is an effective way to better serve and market to the rapidly growing LGBTQ+ community.
Trevor Allred of Kenect.com demonstrated the benefits of marketing via text through a business phone number rather than a personal cell phone. As opposed to dealing with texts to a personal number at inconvenient times, a company's business phone can be programmed to be available 24/7 and accommodate a repeatable process with an automatic response.
Francis Flair's exceptional presentation completely convinced the group that effective management of the customer's experience can make price irrelevant. As he describes on his website, www.FlairConsultingGroup.com, creating standards for each part of the cycle of the customer's experience removes variations and provides a consistent world-class customer experience at every touchpoint by every employee. Flair's personal story is also inspiring. Growing up in an orphanage in Ghana alongside his younger brother, he personifies the American dream of personal achievement.
Other presentations included "Is Your Number 1 Employee (Your Website) Ready" by Tracy Arnett of Wedding and Party Websites, "Surviving the Pandemic and What Lies Ahead" by Kermit Engh of Methods for Management, "Documenting the Bride's Gown" by Vikki Reed of Fashion Cleaners in Omaha, Nebraska, and "Why and What to Blog" by Michael Astorino of Fabricare Cleaners in Norwalk, Connecticut.
In addition to speakers, there were a series of round-table conversations offering everyone in the group the chance to discuss topics ranging from the best techniques for dirty hemline to magnets for attracting wedding couples.
Re-elected to office were president Kermit Engh, vice president Gary Fine of Parkers Custom Clothing Care in Toronto, Ontario, and secretary-treasurer Sharlene Thum of Five Star Wedding Gown Specialists in San Antonio, Texas. Malcolm MacGregor of Browns Cleaners in Ottawa, Ontario, serves as immediate past president and chair of the finance committee.
Incoming members of the Board of Directors are Mila Martin of ArGown Preservation in Bentonville, Arkansas, Michael Rowe of Shores Fine Drycleaning in High Point, North Carolina, Angel Suarez of Rey's Cleaners in Miami, Florida, and Heather Ziccarelli of Owl Cleaners in Pittsburgh, Pennsylvania.
Sponsors of the event were Foster-Stephens, Inc., Sankosha-USA, Inc, Select Risk Insurance, and Kleerwite Chemicals.
AWGS is a not-for-profit trade association with members in seven countries.
---
DLI Virtual Presentations in June
The Drycleaning & Laundry Institute (DLI) is hosting two intriguing webinar presentations in June that you won't want to miss. Both presented by long-time cleaners who've "been there, done that, and survived it", the online sessions will cover the areas of laundry lockers and evaluating your marketing efforts.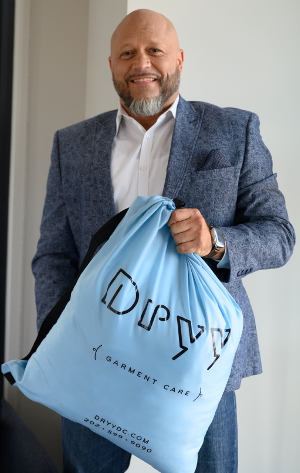 ---
My experience implementing dry cleaning lockers
June 8, 1 p.m. Eastern time
Ken Sandy of Dryy in Washington, D.C. can save you the frustration of figuring it all out for yourself where laundry lockers are concerned. His presentation will walk you through what he did right… and what he did wrong along the way.
If you're thinking about diving into the interesting service of providing laundry lockers, you'll want to tune in.
---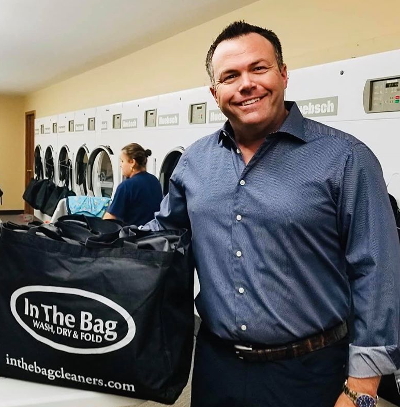 Measure your marketing — Only do what works
June 15, 1 p.m. Eastern time
Industry marketing coach Dave Coyle of Maverick Drycleaners of Wichita, Kansas will help you figure out how to measure your marketing efforts. After all, how can you tell what works if you don't measure it? His presentation will help DLI members evaluate their marketing so they can focus on what drives result.
In addition, DLI will also offer it's usual Peer-to-Peer Members-Only Zoom Calls and the On Demand Video Library is always available. For details on any of DLI's programs visit the website: DLIonline.org
---
TRSA Annual Award Winners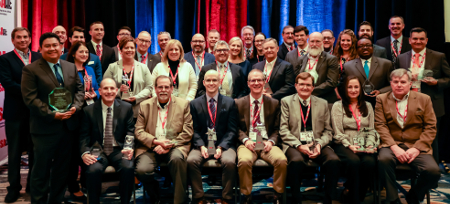 On March 30, 2022, individuals and operations were honored by their peers for outstanding efforts made in specialized categories in their digital, safety, educational, inclusionary and operational pursuits.
Best Plant Award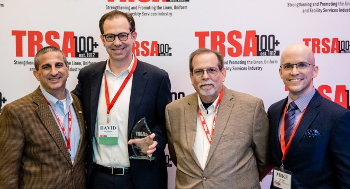 This an award honoring a company that is setting the standard for how an operation should be run, as voted by their peers. This year the highest honor that TRSA can bestow was awarded to the Unitex plant in Linden, NJ.
Unitex was honored for their diligent commitment to customer satisfaction, ensuring high reviews through weekly surveys, quality fulfillment rate reviews and data analytics. Operating seven days a week, the plant houses 200 full-time employees and produces nearly 140,000 pounds of laundry to serve nearly 30 routes weekly.
---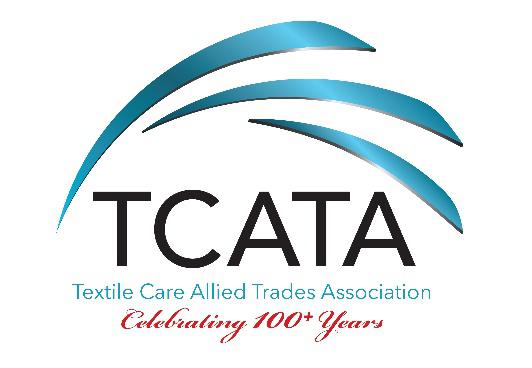 TCATA Honors Schwarzmann
The Textile Care Allied Trades Association honored Fred Schwarzmann, Jr. of A. L. Wilson Chemical Company with the prestigious J. Morry Friedlander Award at its 2022 Annual Educational & Management Conference, April 3–6 at Wild Dunes Resort in Isle of Palms, SC.
Fred served on the TCATA Board of Directors in various positions from 2005-2011 and most recently as President of the Board beginning in January 2020.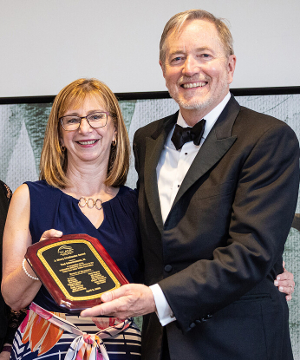 After receiving the award, Fred said, "I was certainly touched by the recognition I received, but I know that my contribution would not have been nearly enough in a vacuum. Only by pulling together were we able to protect TCATA through the dark days and re-launch it into a bright future. Thank you once again!"
TCATA established the J. Morry Friedlander Award to honor outstanding dedication and service to the association, naming it to acknowledge the unrivaled enthusiasm, dedication and goodwill Friedlander generated in his more than 40 years of service. Only six people have received the award since it was introduced in 1994.
New President
Also at the event, John Silverman, President of Tschopp Supply Company of Buffalo, NY, was installed as the incoming president of the Textile Care Allied Trades Association. He will serve a two-year term as president.John previously served on TCATA's Board of Directors representing Distributors and in the role of Treasurer.
John began his career at Tschopp in 1989. By 1999, John became Corporate Vice President and General Manager. In 2005, James Tschopp retired, and John Silverman assumed the role of Corporate President. When asked what being a member of TCATA has brought to Tschopp Supply, John said, "The relationships and connections I've made through TCATA have helped Tschopp Supply grow as a company."
---