Don't you hate it when you miss a news story? The very essence of "news" is that it comes and goes pretty quickly. But we want you to be able to read news after it's been removed from our main pages. So, check this archive if you missed something.
---
Gurtler Celebrates 40 Years with Video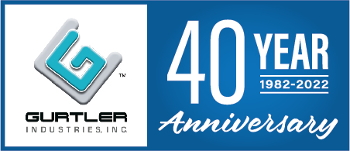 Gurtler Industries recently released a short video that commemorates the 40th Anniversary of the company. The video features the three generations of the Gurtler family, Bill, Greg and Jake, and their thoughts on the company that had its start in 1982. Bill, now the Chairman and his son Greg, President, were there at the beginning when Gurtler Chemicals started as a regional laundry specialty chemical producer and service provider. Now Gurtler has stretched its coverage across the US, Canada, and Mexico, opened a business unit in Australia and has customers in the Caribbean and Central America.
Jake Gurtler, V.P. Corporate Accounts, joined the company in 2008 and is the third generation to take a role in managing Gurtler's growth. In the video, Bill, Greg, and Jake review how Gurtler has built on its successes over the decades with primary focus on the Gurtler Advantage: Service, Innovation and People. They especially take the opportunity to thank all our loyal customers, some who have been with us for the entire 40 years!
The video can be accessed on the company's website home page or on Gurtler's YouTube Channel.
Gurtler Industries is a leading manufacturer of advanced detergents, specialty chemicals and injection systems for the commercial laundry industry. From its headquarters and research center in suburban Chicago, Gurtler supports the entire spectrum of the laundry industry, including healthcare, hospitality, industrial uniforms, shirt laundries and textile rentals. Gurtler is a family company now in its third generation, maintaining its tradition of excellence, innovation, and service.
For more information, contact Gurtler Industries at 800-638-7300 or visit www.gurtler.com
---
AWGS Annual Meeting in Florida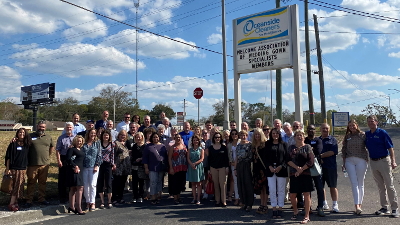 Members of the Association of Wedding Gown Specialists (AWGS) met recently in Jacksonville, Florida, to discuss marketing strategies with wedding industry experts and elect officers. This year there were two stops on the traditional plant tour: one at Oceanside Cleaners award-winning plant (2020 CNET Global Best Practices) owned by AWGS members Mike and Amy Harris, and the other at the company's remarkable, completely computer-programmed drop shop.
A highlight of the meeting was the presentation of the eleventh annual Jack Barth Memorial Award of Excellence. Initiated by Linda Stokes-Barth in remembrance of her late husband and his achievements in the dry cleaning industry, the award recognizes a member of the Association of Wedding Gown Specialists for advancement, promotion, and development of industry standards for wedding gown care and for outstanding contributions and service to the Association and its members.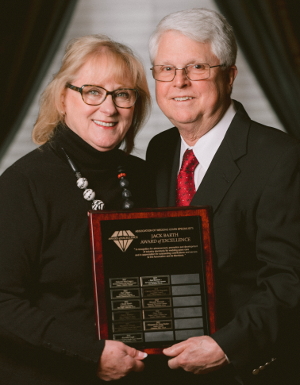 For the first time ever, there were dual honorees, Greg and Margaret Butler of Dublin Cleaners in Columbus, Ohio. As AWGS president Kermit Engh noted when he presented the Barth Award, "The Butlers represent the heart of our association—family-owned businesses with a long history of both exceptional care for wedding gowns and community activity. When the Butlers joined the association in 2007, they credited AWGS for tripling their gown business over the following year, but AWGS in turn has greatly benefited from their membership—not least because we truly look forward to the true pleasure of their company at our meetings."
Speakers at the conference presented a range of important trends and ideas for branding and networking. Kirsten Ott Palladino, founder and editor of EquallyWed.com spoke about learning to use inclusive language and affirming values. Something as simple as adding the phrase "We support wedding equality" to a website is an effective way to better serve and market to the rapidly growing LGBTQ+ community.
Trevor Allred of Kenect.com demonstrated the benefits of marketing via text through a business phone number rather than a personal cell phone. As opposed to dealing with texts to a personal number at inconvenient times, a company's business phone can be programmed to be available 24/7 and accommodate a repeatable process with an automatic response.
Francis Flair's exceptional presentation completely convinced the group that effective management of the customer's experience can make price irrelevant. As he describes on his website, www.FlairConsultingGroup.com, creating standards for each part of the cycle of the customer's experience removes variations and provides a consistent world-class customer experience at every touchpoint by every employee. Flair's personal story is also inspiring. Growing up in an orphanage in Ghana alongside his younger brother, he personifies the American dream of personal achievement.
Other presentations included "Is Your Number 1 Employee (Your Website) Ready" by Tracy Arnett of Wedding and Party Websites, "Surviving the Pandemic and What Lies Ahead" by Kermit Engh of Methods for Management, "Documenting the Bride's Gown" by Vikki Reed of Fashion Cleaners in Omaha, Nebraska, and "Why and What to Blog" by Michael Astorino of Fabricare Cleaners in Norwalk, Connecticut.
In addition to speakers, there were a series of round-table conversations offering everyone in the group the chance to discuss topics ranging from the best techniques for dirty hemline to magnets for attracting wedding couples.
Re-elected to office were president Kermit Engh, vice president Gary Fine of Parkers Custom Clothing Care in Toronto, Ontario, and secretary-treasurer Sharlene Thum of Five Star Wedding Gown Specialists in San Antonio, Texas. Malcolm MacGregor of Browns Cleaners in Ottawa, Ontario, serves as immediate past president and chair of the finance committee.
Incoming members of the Board of Directors are Mila Martin of ArGown Preservation in Bentonville, Arkansas, Michael Rowe of Shores Fine Drycleaning in High Point, North Carolina, Angel Suarez of Rey's Cleaners in Miami, Florida, and Heather Ziccarelli of Owl Cleaners in Pittsburgh, Pennsylvania.
Sponsors of the event were Foster-Stephens, Inc., Sankosha-USA, Inc, Select Risk Insurance, and Kleerwite Chemicals.
AWGS is a not-for-profit trade association with members in seven countries.
---
DLI Virtual Presentations in June
The Drycleaning & Laundry Institute (DLI) is hosting two intriguing webinar presentations in June that you won't want to miss. Both presented by long-time cleaners who've "been there, done that, and survived it", the online sessions will cover the areas of laundry lockers and evaluating your marketing efforts.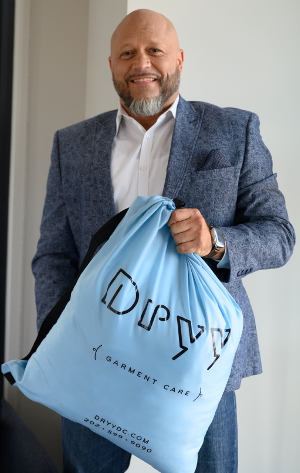 ---
My experience implementing dry cleaning lockers
June 8, 1 p.m. Eastern time
Ken Sandy of Dryy in Washington, D.C. can save you the frustration of figuring it all out for yourself where laundry lockers are concerned. His presentation will walk you through what he did right… and what he did wrong along the way.
If you're thinking about diving into the interesting service of providing laundry lockers, you'll want to tune in.
---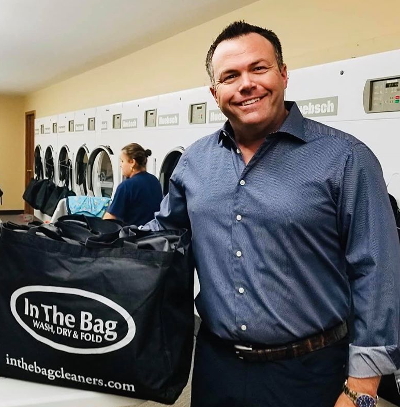 Measure your marketing — Only do what works
June 15, 1 p.m. Eastern time
Industry marketing coach Dave Coyle of Maverick Drycleaners of Wichita, Kansas will help you figure out how to measure your marketing efforts. After all, how can you tell what works if you don't measure it? His presentation will help DLI members evaluate their marketing so they can focus on what drives result.
In addition, DLI will also offer it's usual Peer-to-Peer Members-Only Zoom Calls and the On Demand Video Library is always available. For details on any of DLI's programs visit the website: DLIonline.org
---
TRSA Annual Award Winners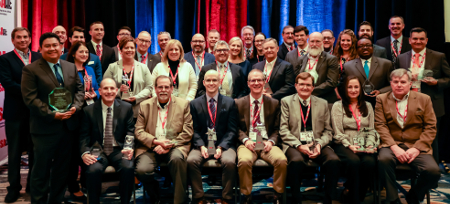 On March 30, 2022, individuals and operations were honored by their peers for outstanding efforts made in specialized categories in their digital, safety, educational, inclusionary and operational pursuits.
Best Plant Award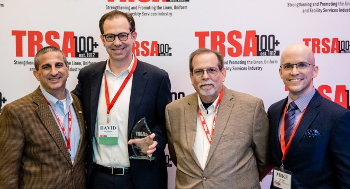 This an award honoring a company that is setting the standard for how an operation should be run, as voted by their peers. This year the highest honor that TRSA can bestow was awarded to the Unitex plant in Linden, NJ.
Unitex was honored for their diligent commitment to customer satisfaction, ensuring high reviews through weekly surveys, quality fulfillment rate reviews and data analytics. Operating seven days a week, the plant houses 200 full-time employees and produces nearly 140,000 pounds of laundry to serve nearly 30 routes weekly.
---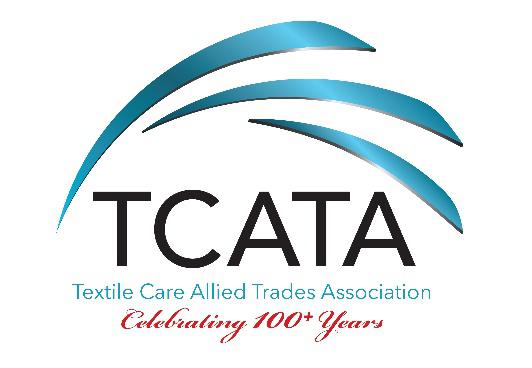 TCATA Honors Schwarzmann
The Textile Care Allied Trades Association honored Fred Schwarzmann, Jr. of A. L. Wilson Chemical Company with the prestigious J. Morry Friedlander Award at its 2022 Annual Educational & Management Conference, April 3–6 at Wild Dunes Resort in Isle of Palms, SC.
Fred served on the TCATA Board of Directors in various positions from 2005-2011 and most recently as President of the Board beginning in January 2020.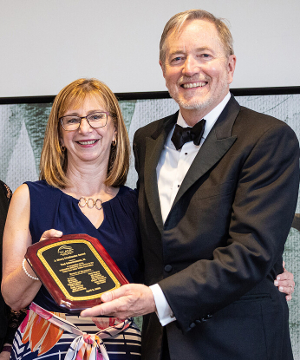 After receiving the award, Fred said, "I was certainly touched by the recognition I received, but I know that my contribution would not have been nearly enough in a vacuum. Only by pulling together were we able to protect TCATA through the dark days and re-launch it into a bright future. Thank you once again!"
TCATA established the J. Morry Friedlander Award to honor outstanding dedication and service to the association, naming it to acknowledge the unrivaled enthusiasm, dedication and goodwill Friedlander generated in his more than 40 years of service. Only six people have received the award since it was introduced in 1994.
New President
Also at the event, John Silverman, President of Tschopp Supply Company of Buffalo, NY, was installed as the incoming president of the Textile Care Allied Trades Association. He will serve a two-year term as president.John previously served on TCATA's Board of Directors representing Distributors and in the role of Treasurer.
John began his career at Tschopp in 1989. By 1999, John became Corporate Vice President and General Manager. In 2005, James Tschopp retired, and John Silverman assumed the role of Corporate President. When asked what being a member of TCATA has brought to Tschopp Supply, John said, "The relationships and connections I've made through TCATA have helped Tschopp Supply grow as a company."
---