News and articles about things happening outside Canada.
Shaking it up during Lockdown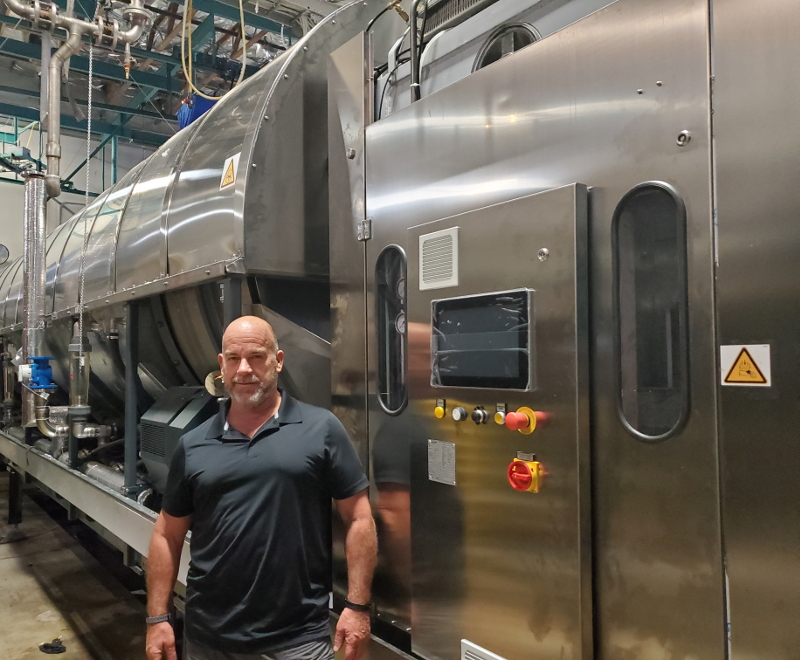 Rick Taft (Textile Care Services [TCS] outside Salt Lake City, UT) is no stranger to shake-ups. In early March of 2020 a 5.7 earthquake struck just 15 miles from his laundry facility. Even more impactful was the beginning of the coronavirus crisis and mandatory stay-at-home orders for his state. But, being a glass-half-full kind of guy, he decided to continue the shake-up by using the 'downtime' to install lots of new equipment to position his company for success for the next few decades.
Not a hasty choice
"The decision to purchase a new tunnel washer system was made in late 2019," Taft said. "Lavatec shipped the equipment prior to the Covid-19 situation, and when it arrived, people could not travel. That delayed installation by about a month. But as soon as Lavatec had people available, they reached out to me and I made the decision to move ahead."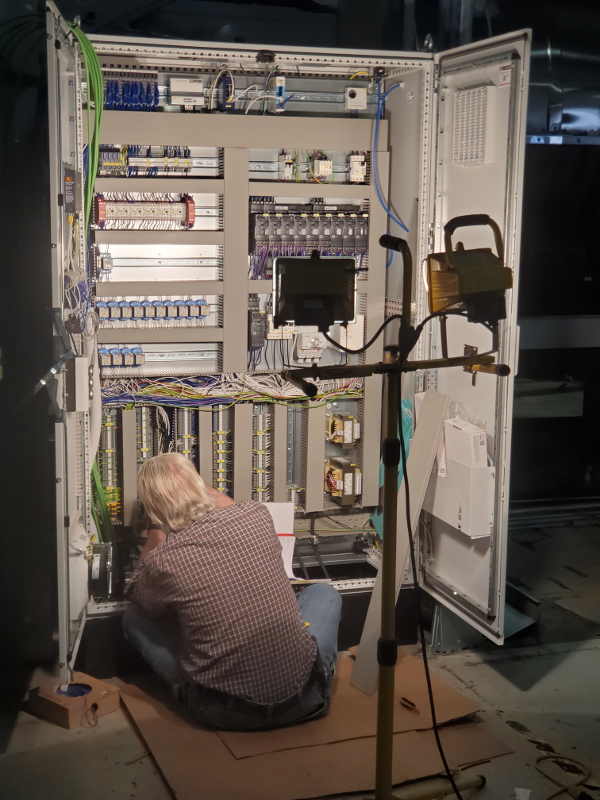 Despite the worldwide lockdowns occurring, Lavatec never stopped working on projects or servicing customers, the company said. Technicians who visited on-site adhered to proper Covid-19 procedures to keep everyone safe. For this installation, travelling itself was a challenge due to airline cancellations. Two technicians eventually flew to Salt Lake City and another chose to drive.
"I was being optimistic that the pandemic would be short-lived, and also knowing the installation would better position Textile Care Services for the future once business returns to 100%," said Taft.
Essential service
TCS is strictly a health care textile processing facility, operating in a 56,000-sq.-ft. facility. The company handles approximately 9 million pounds of linens each year. Taft himself has been involved in the industry for 30 years, both with TCS and other companies. He left the company for a time, and then returned in 2007 as the general manager, and finally purchased TCS from its parent company four years later.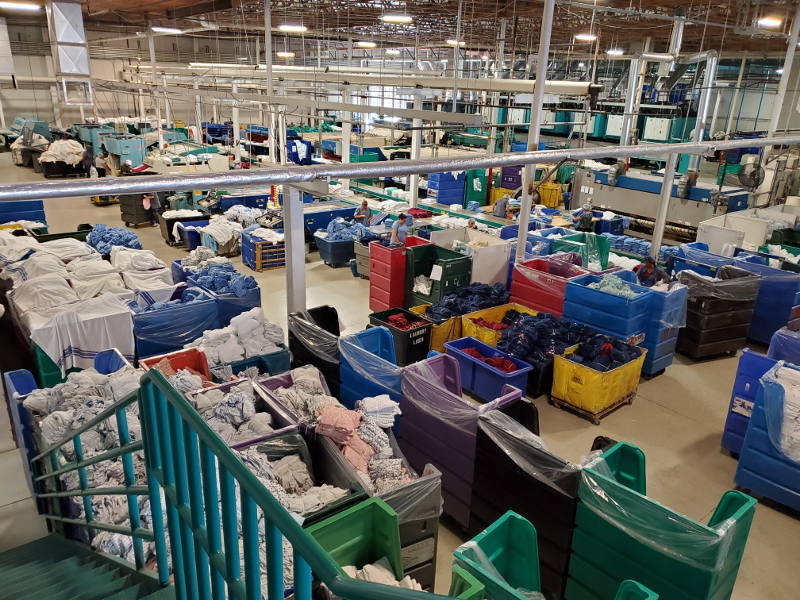 When the pandemic hit, health care linens became top-of-mind to more than just hospital and care facility workers. Suddenly, everyone in the world was worried about them. For companies like TCS, deemed essential service providers, the work didn't shut down just because the economy did, though it has been a struggle.
"We had as much as a 45% reduction in volume and 27% overall throughout the pandemic," Taft said. "Today we are back to about 85%. We are able to process our volume by working the tunnel system on two shifts (normally a single-shift operation 5 days a week)."
Like a jigsaw puzzle
Replacing large pieces of equipment is always challenging, even in a large facility. Something has to be moved out before something else can be removed or relocated. In the case of TCS, a 30-year-old 30-bar Lavatec press unit was being upgraded to a larger and more energy-efficient LP572 40-bar hydraulic extraction press. Only when that was completed could the enormous new tunnel washer be installed.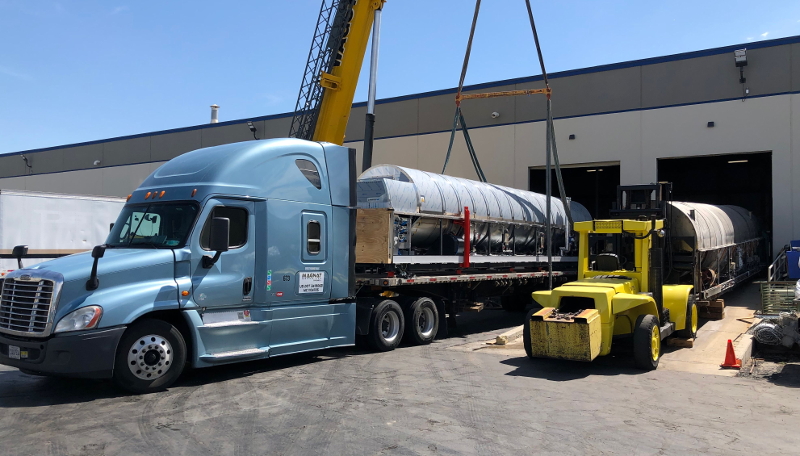 Lavatec's Jim Slatcher, regional sales manager for the western U.S. said, "The old tunnel system was still producing at a high level, and was sold to another laundry operator, who will be installing it at his facility later this year." The new LT60 14-compartment bottom transfer tunnel is connected to six TT745 292-lb. capacity natural gas dryers, also from Lavatec, as well as a press discharge conveyor system and a two-tiered shuttle system. The entire process is controlled by the osLaundry management system – a platform and technology independent software program that is said to provide operators with real-time information, allowing them to make adjustments to daily production data in seconds or minutes, instead of hourly.
"My goal is that TCS continues to provide consistent service with quality products to our long-term health care partners and that we may grow new business in the future," said Taft. "With the new equipment, we will be able to provide these services while reducing our energy use and carbon footprint."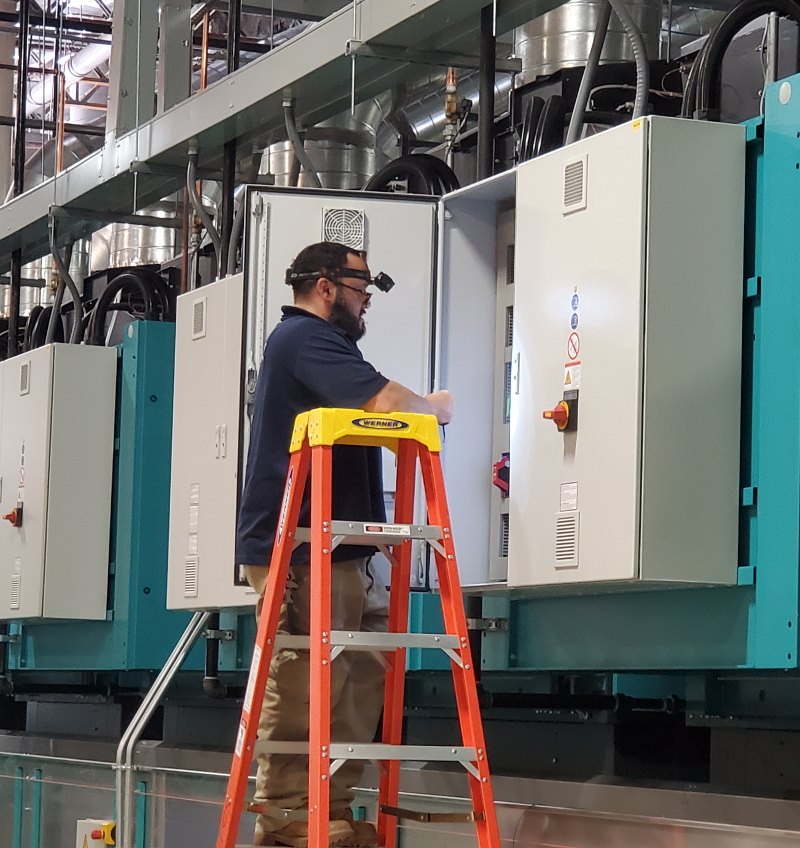 Taft expects reductions in electrical, gas and water usage costs with the new equipment. As an example, the dryers are equipped with infrared technology that determines when the linen is dry, and thereby is said to reduce dryer times and energy consumption.
The future of health care laundry?
The Covid-19 crisis brought supply chain issues to the forefront, particularly in the health care field.
"There were some tough lessons learned on what happens when a pandemic occurs and inventory vaporizes," said Taft. "If facilities were in reusable barrier gowns and other reusable items, while new inventory might have been swept up, they have at least had the ability to send the reusable items back to the laundry for processing and return them to use. With disposables, once inventory was depleted, there was nowhere to draw from and there were significant shortages in facilities. I heard that, in some cases, they were actually washing items that were disposable, just to have something."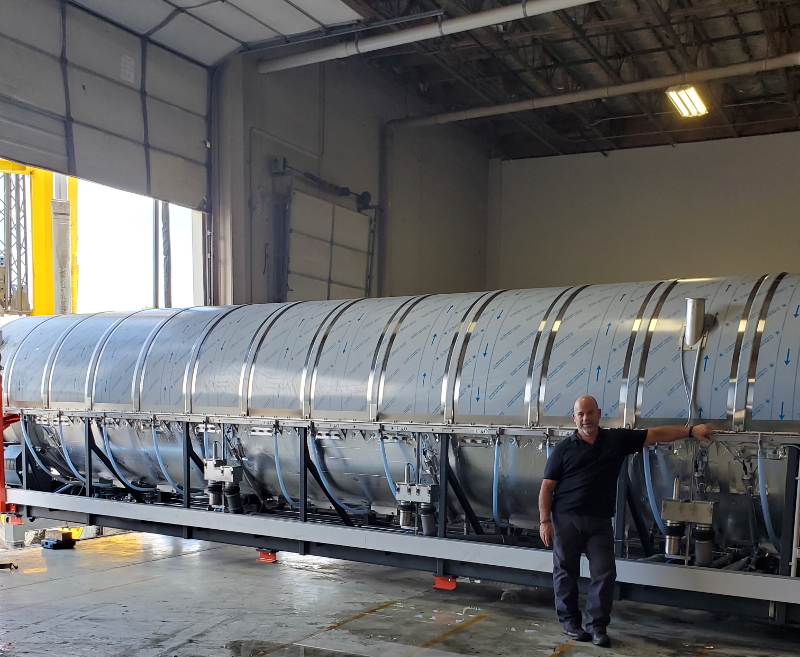 In the immediate future, Taft expects business to return to normal, and then some. "I hope to see health care back to 100% in late July or early August," he said. "And it might go to 110% in the fall due to elective surgeries that were postponed."
It's easy to get caught in a glass-half-full mentality when there is disorder all around. A visionary operator sees it for what it is – a temporary situation. TCS has taken the long view and is looking to the future.