News and articles about things happening outside Canada.
---
Texas-sized growth demands Texas-sized machines

The old axiom that everything is bigger in Texas is alive and well. The state's population is among the fastest growing in the U.S., and well-run businesses like Triple D Uniform & Linen Service are responding to the challenge. A local staple in Houston for over 50 years, they recently expanded service to markets in central Texas and required some new equipment to handle the increased demand.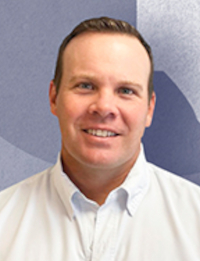 "We recently purchased a Lavatec LX460 washer extractor to join the two smaller washers from them that we've had in service for 16 years," stated Jacy Henderson, Triple D's Vice President. "These are workhorse machines and suit our needs perfectly. The newest machine has proven to be just as solid as the other two."
A local leader with a larger game plan
Triple D is a third generation owned company that originally began as a uniform rental organization when it was run by Wayne McCullough. The business has been operated by Doug McCullough and his wife, Cindy, since 2005. Its automated facility located on the northwest side of Houston now provides customers with state-of-the-art laundering, corporate apparel, custom embroidery and servicing technology.
Their decision to expand comes after an unprecedented population boom. According to statistics compiled by the U.S. Census Bureau, Texas showed a 43% increase from 2020 to 2022, making it the fourth largest growing state. The largest of the 48 contiguous states, it is now home to more than 30 million residents.
During the same period Triple D has shown steady progression. After processing 5.4 million pounds of linen in 2021, they ramped it up to 6.9 million last year and currently are averaging 150,000 pounds per week. Henderson anticipates they will deliver about 7.8 million pounds by the end of the year.
"We are now servicing clients in Austin and San Antonio. That is in large part the reason for our increase," said Henderson, who began working at Triple D as a route relief driver in 2007 after graduating from Texas A&M University. "It was supposed to be a part time gig, but 16 years later here I am. I ran the production floor for eight years before moving into my current role."
Henderson manages the three uniform rental service programs Triple D makes available to its customers. It includes the industrial side for healthcare and food service uniforms, restaurant services for chef wear that includes aprons, coats, pants and chef hats, and healthcare rental that covers lab coats, scrubs, isolation gowns and footwear.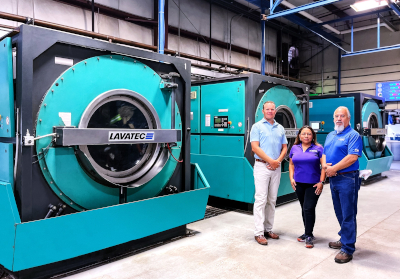 He says healthcare clients account for 20% of the work – with industrial and hospitality evenly splitting the remainder – but hospitality has been the fastest growth segment since the COVID-19 pandemic first arrived in 2020.
"We currently employ about 70 people and work a four-days-a-week schedule, Monday through Thursday. Most of our accounts get serviced once a week, but some of the larger organizations require service two or three times per week," Henderson said.
An Easy Choice
"We chose Lavatec for their cost effectiveness and their reliability," he said of the two older LX445 washer extractors and the new LX460. The LX445s have a 450 pound capacity compared to the larger LX460, which can accommodate up to 600 pounds. All three are employee friendly, front-loading machines.
"We are using the larger LX460 mainly to process our bar towels and mats. We loved the idea of having the larger capacity," acknowledged Henderson. "At the same time we benefited from the fact it didn't take up much more floor space. I do believe the front loaders are more beneficial at reaching a higher extract speed with a full load of mats than some of the competitor models I have seen."
When the inevitable does happen with a service interruption, Henderson knows that downtime will be limited.
"Occasionally there are the typical breakdowns, but the Lavatec service team is very responsive. That's reassuring because our customers know that we take care of business and deliver on our promise to provide a superior quality product," he said. "Lavatec is always willing to spend the time needed to troubleshoot. With help from the service and parts teams, they get our needs taken care of and keep our machines up and running."
For more information, visit the Lavatec website.
---
JVK Operations anticipates a banner year
In the business world, medical community or the sports and entertainment industry, experience is often the harbinger for success. For Vinny Samuel, his 40 years in the engineering field and the commercial laundry business is paying off. With the recent addition of more Lavatec equipment, he's forecasting a banner year for JVK Operations with a huge increase in volume.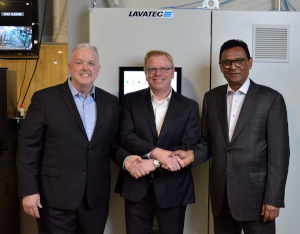 "We processed 36 million pounds of laundry last year. I anticipate we will add another eight million more by the end of 2023," said Samuel, who is the president and co-owns the company with Mike Connell. JVK is headquartered and operates two facilities in Amityville, N.Y. on Long Island, and has another processing plant in New Jersey, just south of Philadelphia. The three plants combined offer 80,000 square feet of space to keep the work flowing.
From plant engineer and designer to successful owner
Samuel has achieved success for JVK by developing a well-designed blueprint. He began working in the industry after arriving in the U.S. with business and engineering degrees. He gained experience at several companies, starting as a plant engineer in 1985 and later designing laundry plants around the world. After learning the ins and outs of the business, it was time for Samuel to open his own company in 2004.
"We have been servicing health care institutions almost since the first day. Today it accounts for 50% of our business, and the other half is hospitality driven," he said.
JVK services customers on Long Island and in other parts of New York, in addition to New Jersey, the Philadelphia market and some customers in Connecticut. Known for processing Customer Owned Goods (COG), they handle the linen and garment rental side of the business with a Lot Washing program. By keeping client linen separated, they find it improves overall lot integrity and boosts customer satisfaction.
A partnership that works
Samuel takes pride in the high quality work JVK provides its customers, believing it forms a winning combination with timely delivery and the best customer service possible. To achieve this, the foundation begins with the equipment on his floors. He says he determined years ago that partnering with Lavatec gives him the best return on his investment.
"There are many manufacturers of laundry equipment, but during my association with them the past 35 years Lavatec has displayed a very consistent manufacturing process," remarked Samuel. "I believe in getting it right the first time is best, and I have seen them keep the production standards at a higher level. They haven't chased the unnecessary goals for cosmetics. Instead, they've kept it simple and safe with user friendly controls."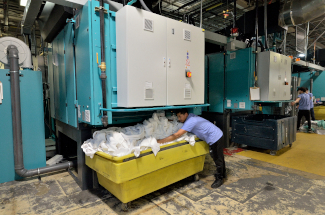 Starting in 2008, JVK installed a new 200-pound, LT90 tunnel washing system with 16 compartments at their Amityville processing facility. Recent upgrades include six, 330-pound capacity dryers that are now helping operations to run more efficiently.
"Our tunnels are a perfect fit for these dryers," said Samuel. "We have already seen a 40% utility savings by doing all the work with six dryers instead of 10."
Another tunnel washer JVK employs is a model built 27 years ago that Samuel purchased and has run on a regular basis since 2008. All told, they now utilize five Lavatec tunnel washing systems and 20 dryers to go with six LAVAPress press extractors.
"It still runs very efficiently and is a perfect example of what I think about Lavatec equipment," said Samuel about the older tunnel system. "The quality of materials which were used many years ago have proven to be better than any other manufacturer."
Having a machine of that age providing output every day is remarkable unto itself. Operating it at a high performance level also means having available access to parts, a task that Samuel says is uncomplicated.
"Lavatec machines are built so the maintenance is simple and easy, and we keep track of each and every part. We also have a preventive maintenance policy in place to replace any sensitive parts prior to them breaking down," he acknowledged. "In accordance with the quality of our equipment, we study and plan ahead. That's why we have trained our technicians this way to maintain the equipment."
When the need arises, Samuel says he and his staff are confident in Lavatec's abilities to resolve any issues, making for a strong partnership.
"We keep in touch with their engineering and service departments, and from time to time we ask them for support of the older equipment. Surprisingly, they deliver all the parts for us, no matter what we need.
"Commercial laundry businesses do not attract highly educated engineers or technical personnel. It is a struggle for every laundry to retain knowledgeable employees because they are in such high demand. That's why it is important that Lavatec's equipment is simple to maintain, and the training for our operators and technicians is helpful and fairly easy."
---
Innovative Chemistry Program Helps Imperial Linen Services Earn the Trust of Houston's Business Community
If you have stayed at a major chain hotel property in Houston, chances are you've experienced having bright white linen and towels courtesy of Imperial Linen Services, Inc. (ILS). Located in suburban Stafford, Texas, they have played a major role in Houston's hospitality sector for 80 years. For the past decade, ILS has teamed with UNX-Christeyns as its washroom chemistry partner to deliver a solution that is winning over their customers.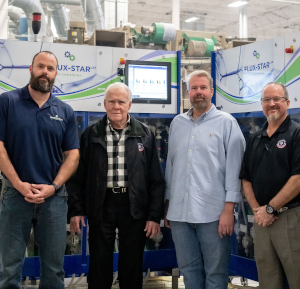 Leadership of the family owned and operated company begins with President Gayle Page and his son Michael, who serves as vice president and comptroller. Gayle assumed control of what was then known as Imperial Laundry & Cleaners, Inc., after his father died in 1973. He ended the dry cleaning portion of the business, and in 1993 started Imperial Linen Services, Inc., dedicated solely to commercial laundry services.
Michael joined the company full time in 1996 after earning a Finance degree at the University of Houston. Combined, the two have steadily built up the business over the years with expansion in mind and an eye on the future.
"My father focused on the dry cleaning and uniform side of the business after he opened it in 1943. I would help out after school and during the summer," recalled Gayle. "After graduate school, I was in Chicago for a year and came back to work here."
In those days, Imperial Linen Services operated on Houston's east side from a 20,000 square foot building. Through the years, they have worked with a wide range of companies in the food service and healthcare industries, as well as with some in the events and fitness markets. But the majority of their customers today are in the hospitality world, and ILS moved to their gleaming new 50,000 square-foot home in Stafford in 2015.
"Most of the hotels we service are in Houston, but several are in Austin and we recently expanded to include the San Antonio market. This facility was constructed with two phases in mind," revealed Gayle Page. He's now in his mid-80s but still goes to work every day and proudly shares building blueprints with some visitors. "We have enough land behind this building to connect and add another 50,000-75,000 square-feet to our operation."
Persistence and perserverance pays off
As the hospitality market continues to strengthen, so goes business at ILS. The COVID pandemic deeply impacted the Houston community in 2020. The fourth largest city by population in the U.S., the cancellations of convention business and tourism travel led to major cutbacks with any business tied to hospitality. Houston is recognized as a top 10 U.S. hotel market, but occupancy rates had fallen to only 22% in April 2020.
In 2021, the recovery period began with month-by-month improvement led by utility companies and others in the critical energy sector. The bounce-back was later bolstered by strong convention traffic, business meetings and the return of business travelers themselves. Combined with tourism visitors, figures by the end of 2022 had rebounded to the point where they exceeded pre-pandemic levels.
"Hospitality is a seasonal business and during the summer months, we are very busy," acknowledged Michael Page. "We survived the COVID pandemic and in 2022 processed 21 million pounds of laundry. We anticipate that number will rise to 23 or 24 million this year."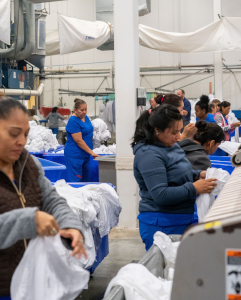 "We have been really fortunate," added Jessica Garland, ILS's VP of sales & marketing, "to develop strong personal relationships and partnerships with our hospitality customers. Our clients are very loyal, and many of them have been with us for over 10 years. I think our response time is a key component because they know if there is an issue, we will fix it quickly."
In addition to the new building easily handling the workload, it was designed with capacity and other important things in mind. Energy conservation, environmental issues and employee considerations are three key areas that were addressed and are paying dividends.
Partnership built on better chemistry
The partnership with UNX-Christeyns began as an association through Houston-based distributor Team Systems. Mike Moore sold his company to UNX-Christeyns in 2017 when he retired. But his son, Adam – who like Gayle Page, started working in the industry during his high school days – continues to service the ILS account.
"I was not happy with the product and service of our previous chemistry partner," recalled Gayle Page. "I knew Mike for 20 years and he introduced us to UNX-Christeyns. They have been a true blessing and we have developed a close, amicable relationship with company president Rudi Moors. Between him, Adam and Bradly Bolton (vice president, business support), if we need something they are here for us."
Moors explained how the positive relationship with ILS allowed UNX-Christeyns to take their wash chemistry program to the next level – together.
"Linen, utilities and operating costs have risen significantly in recent years and is impacting our customers' revenues," said Moors. That's why we work to bring our customers a complete concept, not just chemicals. By using our unique wash chemistries, dosing equipment, water re-use systems and our washroom management information systems together, they now have a complete package to help manage the entire process more effectively."
Kevin Stromatt, ILS's vice president of operations, agrees with Moors.
"When we switched to UNX-Christeyns, you could see the difference in the quality and color of the linens," emphasized Stromatt, which includes bedsheets, pillowcases, towels, washcloths and food and beverage items such as napkins and tablecloths. He started at ILS as the service manager in 1999. For the next 10 years during his free hours, he simultaneously worked part-time for the Houston Astros as the ballpark manager and supervised their laundry operations.
"The chemistry program UNX-Christeyns developed for us produces bright white linen, and alleviates the need to use bleach except for heavy duty stains," said Stromatt. "Since the switch, we are able to produce the bright whites at a lower temperature and the great chemistry keeps the cotton blends in place. The chemistry basically pays for itself."
In reducing peroxide amounts by 25-30% and extracting heat out of wastewater, ILS is lessening their impact on the environment, saving on energy costs and extending linen life. They do it with top of the line equipment, and with UNX-Christeyns' controlled pH-balanced chemistry system, they are said to have lowered the water consumption rate by more than 40% compared to the previous suppliers.
Capacity expansion to meet equipment demands
Their wash equipment includes a pair of Milnor continuous batch washers (CBW) utilizing either a press or washer-extractor; a third CBW is slated to be up and running later this year. Also on the floor are six Chicago Dryer Company models, with four more being added to the mix.
Like the hotels, there are no days off at ILS. Running and maintaining the equipment requires a highly skilled team, and the company's investment in their employees is on par with the technology in the building. With a 24-hour turnaround commitment to their customers, the 150 employees typically work 10 or 12 hour shifts three or four days a week, depending on the volume the facility receives each day. Many have worked at ILS for 15, 20 or 25 years, including a majority who returned to work after COVID restrictions eased.
"Gayle and Michael Page have given us the opportunity to be successful and the ability to grow, and I think that accounts for the longevity we have in our building," reflects Stromatt. "We understand success begins with our employees, and Gayle has a gift for communicating and being on the same page with everyone here."
"We have cultivated a family environment," adds Garland, who has worked at ILS for over seven years. "Our employees refer friends and relatives to work here and I think that's due to several things. We have a clean and modern work environment, offer flexible hours, and still do traditional things like holiday work parties and lunches for birthdays. Doing these little things is beneficial to retaining our workers, which is really important in a tight labor market."
Stromatt says all of these elements are connected to ILS being well positioned in the marketplace.
"Our hospitality customers are happy because the linen life is extended and the cost of replacement is reduced. That's huge in an industry that operates on thin margins," said Stromatt. "The UNX-Christeyns chemistry system creates a brighter white product and presents a crisp presentation in the hotel rooms. We receive a lot of positive feedback about this from our hotel customers. This has resulted in a great partnership with UNX-Christeyns."
---
Eagle Star Equipment receives 2022 Poseidon Distributor of the Year award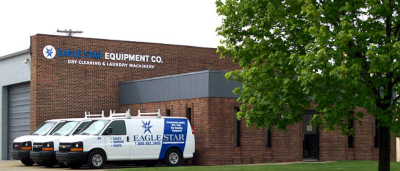 Eagle Star Equipment, in Troy, Mich., was recently named the 2022 Poseidon Textile Care Systems® (Poseidon) Distributor of the Year for superior sales and customer support.
Led by Michael "Stucky" Szczotka, Eagle Star is a full-service distributor of quality solutions for the textile care, vended laundry and on-premise laundry markets. The company, with more than 47 years in the industry, offers dry cleaning and laundry planning, equipment, installation, parts and service. "Eagle Star and Stucky helped us create, field-test and launch the Poseidon brand through their market expertise," said Joel Jorgensen, Girbau North America (GNA) vice president of sales. "Since then, Stucky and his team have introduced Poseidon to the textile care market, where the brand has taken hold and continues to grow year-over-year. Eagle Star's continuous sales efforts, backed by their first-class service and technical support make them a valued industry partner."
"My relationship with GNA has been very beneficial over the years," said Szczotka, "not only for my business, but to myself personally as I've been blessed with many friendships since officially joining them in 2001."
For more information about Eagle Star Equipment, visit www.eaglestarequipment.com or call 800-482-3400. For more about Poseidon Textile Care Systems visit www.poseidontextilecare.com or call 800-256-1073.
---
Snedicor Cleaners Introduces Its First Electric Delivery Vehicle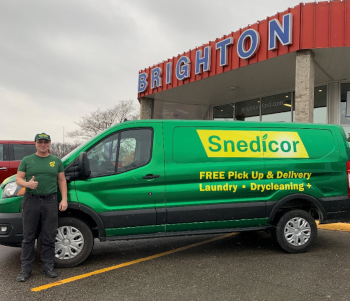 Snedicor Cleaners, with locations in 20 communities in Michigan, is dedicated to making a difference for Michigan and the environment. The company uses the GreenEarth Cleaning process, and now they are taking their efforts one step further by adding the first Electric Vehicle (EV) to their fleet.
Snedicor's owner, Jim Gilligan, tested the 2023 Ford E Transit earlier this year and soon realized he had a potential winner. The company transitioned to exclusively pick-up and delivery, so Jim wanted to explore ways to make his delivery fleet as environmentally friendly as possible. He began researching other smaller scale, locally owned businesses to see if there were any vans being used. Without finding anyone currently using an EV delivery van, he decided the best way to know what works is to test it himself. What he discovered was impressive.
EV1, as it has been fondly named, has 120 miles of range, works routes averaging 60 miles with 70-80 stops, while operating 5-6 hours per day. That's averaging 15 stops per hour. So far, it has operated in temperatures as low as 26°F and achieved the same range as in 50°F temperatures. Snedicor's drivers report they have been very comfortable on those mid 20° days.
Many people have asked about reliability in gauging the miles vs. miles/battery%. According to Jim, "The actual miles vs. miles/battery% gauge has always been spot-on. When it leaves the Process Lab at 120m/100% of range, it returns from a 60-mile route with very close to 60m/50% of range on the gauge every time. A reliable delivery vehicle is critical to providing the high standards Snedicor's sets of always delivering on time, as promised."
If the data holds up, Jim plans to shift more miles/stops to EV1. When Ford Motor Company rolls out the 200-mile range E Transit, Jim feels confident Snedicor's could run 100% EVs.
Since 1916, Snedicor has said it is a forward thinking, innovative company. Taking this step to continue protecting the environment comes as no surprise.
For more information, call Jim Gilligan at (810) 599-6881.
---
Building on Supplier Experience and Relationships
Rental Uniform Service, Greenville, NC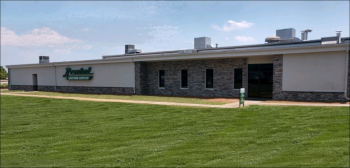 Longevity is an admired hallmark of a successful business. Now in its 74th year of operation, Rental Uniform Service has reached this point by making deft and correct decisions time after time. One recent move was selecting UNX-Christeyns to return as its washroom chemistry partner, a decision that is said to have produced significant benefits in a short window of time.
"We began a review of our wash chemistry situation in late 2021, did extensive research and narrowed it down to two companies that we met with personally," recalled Danny Lawrence, the longtime CEO for Rental Uniform Service. "It was remarkable that cost-wise, there was not much difference between the two. But it was evident from the beginning the UNX-Christeyns folks genuinely wanted our business, and they had the technology and service we were looking for."
Rental Uniform Service has an intriguing history. The North Carolina family-owned company began as a small operation in Bluefield, VA., with a 2,000 square-foot building and one truck in 1949. James E. Waggoner and his brothers sold many of their possessions to fund their start-up, and steadily grew their business with persistence and a sincere dedication to their customers.
Today, Mr. Waggoner's legacy lives on with second, third and fourth generation family members in key roles. That is an impressive accomplishment few companies can claim. According to Harvard Business Review statistics, a staggering 70% of family-owned enterprises either fail or are sold before the second generation becomes involved.
"I've been in the linen and uniforms industry my entire life" said Waggoner's grandson Danny Lawrence, who has guided the company as its CEO since 2000. "I became a full time employee here in 1978 after working in the plant for my apprenticeship. I was promoted to assistant plant manager in 1981 and promoted to general manager at our Sunshine Rental Uniform Service facility in Gastonia in 1988."
About the time Lawrence was elevated to assistant plant manager in 1981 is when UNX-Christeyns first became a Rental Uniform Service supplier. Known then as UNX–which later merged with and became UNX-Christeyns in July 2022–they became involved during a growth spurt.
"I was heavily involved in the washing technology operations at that point," acknowledged Lawrence. "It became apparent their service was always quality oriented and their pricing was fair. The relationships we had at that time were second to none."
Those moments were remembered during the recent selection process. Rental Uniform Service is now a more diversified organization with 145 employees. They utilize 200,000 square feet of space between their headquarters in Statesville N.C., a processing facility in Gastonia, N.C., and distribution centers in Mills River, N.C. and Florence, S.C., putting them in favorable proximity to an expansive client base. Management also operates a employee-friendly schedule, running ten hour shifts four days a week.
Rental Uniform Service also understands that working with the food, healthcare, hospitality and manufacturing industries, as well as government, municipalities and others, requires different and specialized wash formulas for each.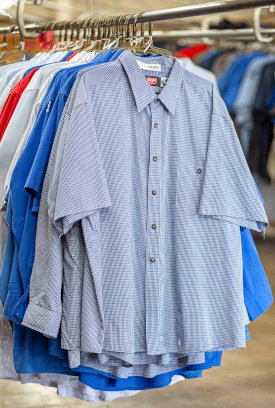 "We provide the highest quality product for our customers. That involves utilizing good modern chemistry with natural soap," explained Robert King, Director of Corporate Development. After working for General Electric he joined Rental Uniform Service in 1999, first in sales before switching to marketing and then as the GM in Gastonia. He's been instrumental in growing the company's sales and technology efforts in his current position.
"The goal was to create advanced wash formulas that were unique to each of our customer segments," King said.
"For example, we partnered with UNX-Christeyns to develop a low pH dispensing formula. In simple terms, since the wash cycle environment is less harsh the goods are going to be brighter, they will last longer and they are going to wear better. We have always been known for the quality and comfort of our garments. Now, with skilled input from UNX-Christeyns, we have been able to achieve an even higher level of comfort and appearance for our customers. This innovative treatment environment makes it better and we didn't have that process prior to working with them."
King said that working with an experienced, technically proficient UNX-Christeyns staff generates better results.
"They have a smart group of laundry industry professionals. People like Graham Skinner (Vice President of Field Engineering) and others who have actually worked in our industry and know what they're doing," he commented. "Their Area Supervisor, Nicholas Vangelakos, visits our plants regularly and we consider him like family. He's developed a trusted work relationship with our facility managers.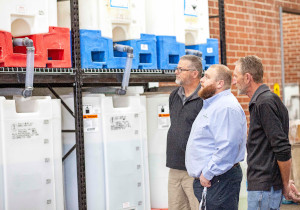 "UNX-Christeyns was able to provide significant efficiencies by reducing the number of steps in our wash formula processes from the beginning to the end. They're making sure we are being trained properly on their equipment and making any necessary adjustments. They also just finished constructing a unique rack system for the chemical dispensers, which provides efficient product injection while reducing mechanical components. The end result is we have a better looking and cleaner product, in addition to the tangible benefits of using less energy, natural gas, electricity and water."
Those benefits include improved effluent (wastewater), which is always an important goal for industrial laundries. They have real-time, in-house reporting capability that tracks pertinent management data, such as determing the cost-per-load and other vital daily production numbers. King says better chemistry ultimately benefits their customers.
"You can get a uniform from anybody, but what our customers get from us and our vendor partners is better service and quality that can't be found elsewhere. Our customer's expectation is they want a clean and comfortable product, not one that was run through a solvent process," he noted.
"We invest more money than most of our competitors because we require our wash process to deliver the highest quality product for our customers. They know we have an experienced service team that is providing the best care in the industry. We treat our employees and partners like family and that's why many of them have been with us for three decades. That is what truly impacts the relationship with our customers, not just numbers on a page.
"Some of our most loyal customers," King concluded, "are those who have previously used our competition. Once they experience our superior quality level, the dramatic differences become apparent and we never lose them. Thus, we are pleased that we have found a solid partnership with UNX-Christeyns. They get it. They have the same goals and with their support, we make happier customers."
---
Southern Oregon Linen Service does a complete Lavatec installation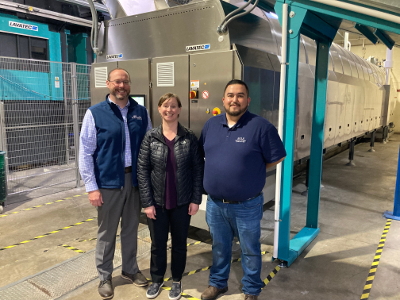 Marathon runners train their bodies relentlessly, running hundreds of miles to prepare themselves for a race. They do it to build endurance so they can overcome any conditions, stave off fatigue and finish with a strong sprint to the finish line.
That scenario is similar to the situation where Lavatec recently installed new equipment at Southern Oregon Linen Service (SOLS). Four years after beginning the process, Lavatec had only 10 days to remove the old machinery and install an entire new system that centered around a custom-built continuous tunnel washer. They completed it in eight, and SOLS is on the road to achieving their energy efficiency goals.
"For the capacity we handle daily, we're now able to process everything in less than 10 hours a day compared to 14-18 hours previously," explained Antonio Casillas, Southern Oregon Linen Service's general manager. He's been with SOLS for the last eight years.
"With this new equipment, we anticipate saving over seven million gallons of water annually. In the first month the new equipment was operating, we averaged a savings of 30,000 gallons of water a day."
Meeting today's changing demands
His statement is significant and relevant to the challenges SOLS has encountered. Four years is hardly normal for an installation process, but climate change has caused a shift away from what is considered normal in the western United States. The company took stock in the needs of their customers, where the industry is heading, and regional business and environmental conditions before making their decision.
SOLS is in White City, about 35 miles north of the California border and close to I-5, the major north-south interstate that runs through the states bordering the Pacific Ocean. A provider of cooperative laundry services for nine Oregon hospitals and one assisted living facility within a 300-mile radius, their 30,000 square-foot facility first opened for business in 1996. With 70 full-time employees, it makes them one of the largest local employers in the town of less than 10,000 people.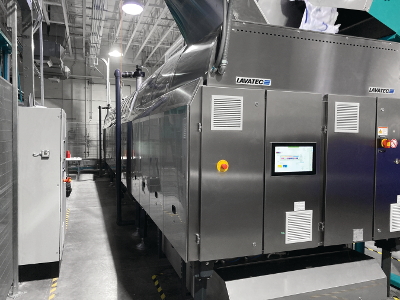 A few weeks before the Lavatec equipment arrived at SOLS, the Governor of Oregon declared a drought emergency in several counties including Jackson, where White City is located. Over 70% of the county is experiencing extreme conditions, and forecasters are predicting the prolonged drought to be worse than the last two years. Local farmers delayed planting due to the water storage and lower snowpack levels, and there are concerns about the fire season, which officially arrived on June 1.
Jim Slatcher, Lavatec 's western regional sales manager, began conversations and building a relationship with the Southern Oregon Linen Service management team in 2018. When it became apparent last year that it was time to replace their existing tunnel system, Lavatec was one of three vendors invited to submit proposals.
"We never had any Lavatec equipment, but after four years of working with them and understanding the benefits of their system, it was evident they were our choice," said Casillas. "Lavatec is now part of the Southern Oregon Linen Services family, and we look forward to future projects with them."
In addition to the new LT60 continuous tunnel washing system with 14 compartments, SOLS added an LP572 40-bar press, six TT-745 dryers with a capacity of 292 pounds each, and a Shuttle system. To keep up with the demands of a two-shift, five-days-a-week work schedule, Casillas outsourced work to several area laundries until the conversion was completed.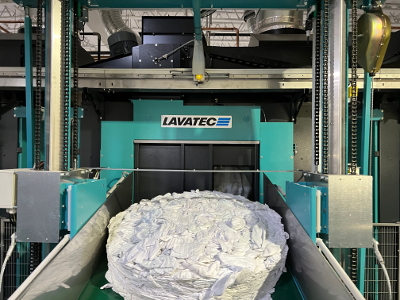 "Lavatec did a phenomenal job completing the project in eight days. I would like to genuinely thank everyone involved with the installation team for all the support, especially Pacific Machinery Moving," said Casillas, referring to the California company Slatcher brought in to handle the rigging for the project. "In my opinion, Hector Gutierrez has put together the best rigging company in the industry."
Casillas and his staff feel they are working with the best energy efficient washing equipment in the industry.
The LT-60 tunnel washer is said to deliver superior performance with maximum throughput. With the capability of over 100 wash programs, it allows them to select, monitor and control all inputs and levels of energy, water and chemicals to do the work. Its power source is the tunnel rotation, which utilizes four motor-powered friction drives, said to be an advantage compared to a single-motor chain drive requiring constant lubrication.
Casillas is also impressed with the TT-745 dryers. Equipped with an in-line burner, these machines provide total basket coverage that evenly distributes heat throughout the drum. A more efficient fuel burn is achieved with the lower gas pressure and BTU consumption, generating additional time and cost savings.
"The equipment has definitely lived up to our expectations. After the installation we had a few minor issues as expected, and the Lavatec team promptly took care of it," remarked Casillas.
"Having six dryers has kept our steam line flowing consistently. The infrared sensors work very efficiently and help keep the flow of work moving quickly. When you combine the extraction press and shuttle, the whole system has helped us to run more efficiently."
Casillas anticipates the new equipment will take Southern Oregon Linen Service to the next level.
"We have been producing over 8 million pounds of linen consistently," he said. "We expect to see growth in our business and process about 9 million pounds in 2023. As we continue to expand, we hope to add additional equipment."
---
Girbau UK: Doing well by doing good
Installs laundry for Street Soccer charity in Scotland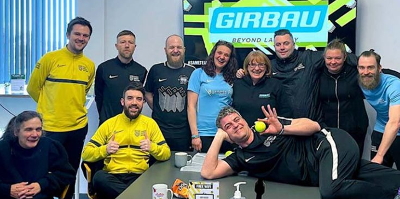 Girbau UK is supporting the work of Street Soccer Scotland by providing laundry equipment for the charity's new training center in Dundee. Girbau has given the charity one of its heavy-duty HS-6008 commercial washing machines, an Econodry dryer and a commercial ironing board for the training center's laundry room. The equipment is ideal for years of all-day, everyday use.
Street Soccer Scotland uses football inspired training and personal development as a medium to empower people who are affected by social exclusion. It works across Aberdeen, Dundee, Edinburgh and Glasgow using the power of football to inspire young people and adults to change their lives.
The charity runs drop-in soccer sessions and tournaments, a personal development program for prisons and a women's program. It also selects, coaches and mentors the Men's and Women's Homeless World Cup teams who represent Scotland.
The new laundry will allow volunteers to wash and dry sports kit for all players and staff and also be available to Street Soccer participants who may need a place to wash and dry clothes of any kind. A welcome facility which most of us are lucky enough to be able to take for granted.
"I would like to thank Carole and the rest of the Girbau team for their very kind donation to Street Soccer Scotland to help facilitate a laundry space at the flagship Change Centre Dundee," said Scott Hollinshead, business development manager at Change Centre Dundee for Street Soccer Scotland.
"The washing machine, tumble dryer and ironing board now take pride of place in the laundry room to help further our social mission within the city, by enhancing a safe and welcoming place for all our players. The equipment was in fantastic condition and will be used to wash and dry players kit, towels, and training bibs. Thank you for all your support and we look forward welcoming the Girbau family back at the Change Centre very soon".
"Girbau UK is proud to be able to support the fantastic work of Street Soccer Scotland by equipping the laundry at its Dundee Training Centre," says Peter Rankin, managing director of Girbau UK. "Their work is an outstanding example of how coaching and playing football can absolutely turn people's lives around. I would also like to pay tribute to the hard work of Carole Wise our area sales manager in Scotland who has worked tirelessly to make this happen along with our partners Bill Mclachlan of Gailarde who supplied the towels, DLS (Drycleaning and Laundry Services) in Edinburgh who installed the equipment and Malcolm and Andy Drummond of Trichem Scotland who supplied detergents for the equipment."
---
Emerald Textiles plans to double capacity in 2022
Emerald Textiles™, recognized as the largest commercial healthcare laundry and linen service business in the western part of the U.S., with headquarters in San Diego, prides itself on being an environmentally responsible healthcare laundry provider. Therefore, each equipment purchase decision is based on the strict California regulations and what's best for their customers.
The company purchased a new Lavatec continuous batch washer system (CBW) for its Commerce commercial linen and laundry facility in Los Angeles. The purchase is part of a multi-million dollar commitment to meet the growing demand and need for energy efficiency improvements at the location.
Emerald installed a Lavatec CBW system in 2019 that exceeded its expectations. A new rail and conveyor system that is scheduled for installation this summer. It will be the next phase to help the facility nearly double its volume in 2022.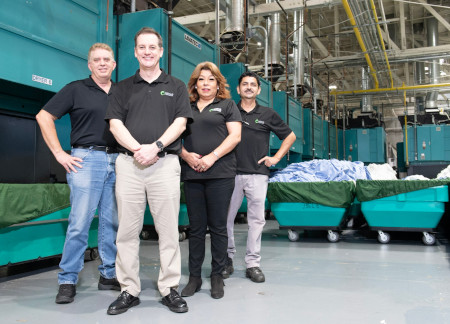 "These Lavatec CBW systems are right there with the most energy efficient tunnel systems on the market," explained Sean Mageean, the Commerce facility's general manager. "Energy savings is very important to us. We do our part to preserve natural resources by regularly investing in energy and water saving equipment so our healthcare customers can feel good about choosing Emerald Textiles."
Major acquisition expected to propel growth
Timing of the new equipment and increased volume projections coincide with a December 4 announcement that Emerald Textiles had acquired the west coast assets of the Angelica Corporation, a national healthcare linen service provider. The acquisition included nine facilities, allowing Emerald to expand its western footprint into Phoenix and Las Vegas and strengthen its northern and southern California markets.
"We are focused on building out our strong network of customers and expanding our footprint of facilities, while investing $35 million in capital across our locations to create world-class linen and commercial laundry facilities in the west," said Andy Kratky, Emerald Textile's CEO. "At the Commerce facility, we have welcomed several newly won healthcare customers that is the primary growth for 2022, along with 100% renewals of linen services to all our acute hospitals and medical centers."
The plant in Commerce is one of the oldest in Emerald's portfolio. Located in a business park, the 70,000 square-foot building opened in 1950. But the energy crisis in the early 1970s would lead to new regulations for businesses in the state.
The California Energy Commission was created and in 1978, it adopted stringent energy efficiency standards requiring businesses to decrease the energy intensity and carbon emissions of their equipment and buildings. Emerald has championed those efforts and it led to their San Diego facility winning a Savings by Design Award in 2011, which is sponsored by the California Public Utilities Commission and San Diego Gas & Electric. In 2020, the Commerce facility was recognized by the Los Angeles County Sanitation District for converting waste into resources by reducing the amount of wastewater.
New equipment to meet greater demands
Emerald's new CBW system went online the first week of October 2021. It included a custom built, 12-compartment bottom transfer tunnel washer, a new 50-bar, LP583S washer extractor speed press, six pre-owned TT-745 gas dryers, a 4-pocket loading conveyor and shuttle conveyor, and a dryer shuttle control cabinet. It's the second time in the last three years the company has chosen Lavatec.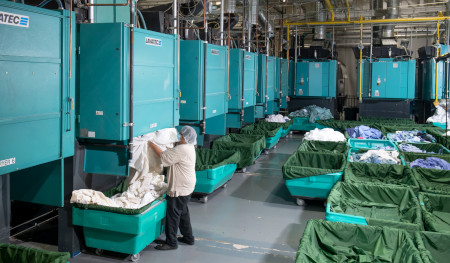 "In 2019, we purchased a Lavatec CBW system to replace one from [another company] that had reached the end of its useful life," said Mageean, who has worked in the linen and garment service industry for 26 years. He's been with Emerald for the last three.
"The system installed then included a new loading conveyor, a 12 module, 200-pound pocket CBW, 50-bar press extractor, shuttle system and five dryers. This new system replaced another [older system] and compliments the other. Price, dependability and support were all factored into the decision to go with the Lavatec systems in our facility."
Mageean indicated his facility is ready to take on a greater workload after the new acquisitions announcement was made in December 2021.
"The expectation is that, at a minimum, the new CBW system will handle approximately 50,000 pounds wash capacity per shift," he said. "With the addition of 15 new client hospitals, our plant has transitioned to a two shift, seven days a week schedule."
Jim Hernandez, Emerald's director of engineering who oversees all major projects, handled this installation with Luis Lopez, the chief engineer in Commerce. Mageean said both men and Jim Slatcher, Lavatec's western regional sales manager, were responsible for a seamless transition.
"The new CBW system has allowed us to increase our overall throughput so we are processing more poundage in a shorter amount of time," he noted. "The used TT745 dryers run two shifts, seven days a week, along with five more Lavatec dryers we have and eight others. They were available to be shipped fast and are doing well for their age. Since replacing the older, inefficient systems, we are experiencing resource savings with water and steam. Running more poundage in a shorter amount of time is also good for our people and the environment, and great for our bottom line."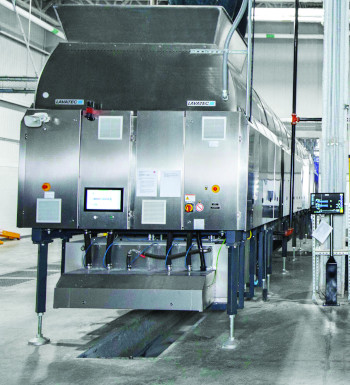 Still some challenges
Mageean said the controls upgrade and discharge conveyor system will help him manage operations at the facility.
"As with most businesses, we have experienced some trouble finding qualified workers. Washroom and dryer operator positions, which require some level of technical skill, have been particularly difficult to maintain," acknowledged Mageean, who has 209 employees working at the Commerce plant. "The addition of discharge conveyors and their corresponding controllers will allow for the reduction of some of these workstations and increase the ease of work overall for our employees."
Having Lavatec's support available anytime to maximize production uptime now that operations have expanded to the two, eight-hour shifts everyday schedule is reassuring to Mageean.
"Our overall impression is the new CBW system is running great and exceeding our expectations. The Lavatec team was here onsite throughout the entire installation, and again during the training phase once the system was up and running. I know if any issues arise that require support beyond our local engineering team, Lavatec staff can connect to the system remotely and assist our engineers."
For more information, visit www.LLTusa.com.
---
This article is based on information supplied by Lavatec. If you have news about installations or other projects, contact Becca Anderson, Editor.
---