We all anticipated a magical moment when we got back to "normal" after the pandemic, but it's been a steady process. Jensen Group reported their successful return to pre-Covid levels. Read how they did it in Industry News.
---
Association for Linen Management News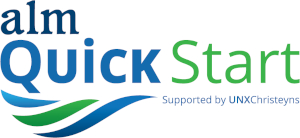 ALM Quick Start, an online eLearning opportunity, allows incoming textile care industry professionals to quickly and effectively gain a consistent industry framework. UNX-Christeyns recently joined ALM in supporting the program as part of their ongoing efforts to provide the best possible resources for the betterment of the industry.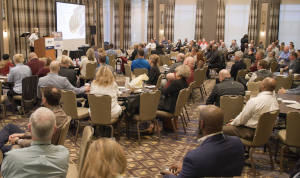 The Association for Linen Management (ALM) sold out their 2023 IMPACT Conference, held last week in Charleston, South Carolina, exceeding pre-pandemic attendance levels.
One attendee said, "The energy and enthusiasm of attendees was off the charts," shared James Mangini, RLLD, ALM Board President and Senior Director of Supply Chain Logistics for MaineHealth. "The amount of networking that took place, business being conducted, and minds being challenged and enlightened with actionable takeaways from the educational programming was phenomenal."
---
Also in the News…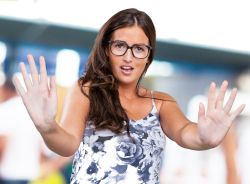 Have you ever thought about how your customers see you? Not just the cleanliness of your plant or the availability of parking or drive-thru service, but the way you do things? Read an eye-opening opinion on one UK journalist's encounters with her dry cleaner — then clean up your act.
---
---
MARCH FEATURE FOCUS — TRAINING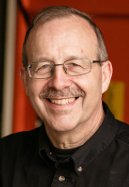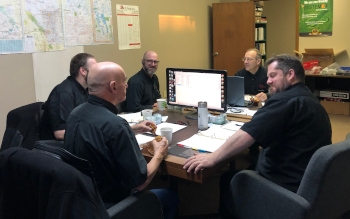 Kevin Marois spends a lot of time on training those who will, in turn, train his customers in the proper use of their machines. Find out what goes on behind the scenes.
---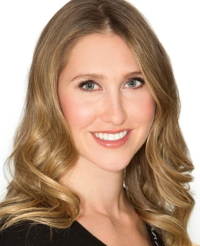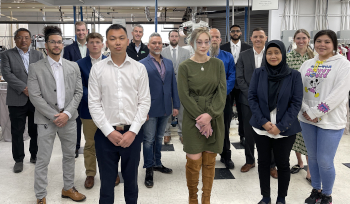 Linley McConnell spent a week at the DLI training center and it gave her a fresh perspective, deeper understanding, and new pride in our industry. Read her daily log of what went on, then consider attending — or sending someone from your staff.
---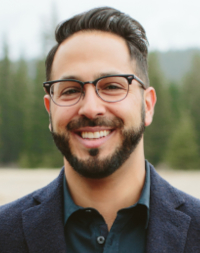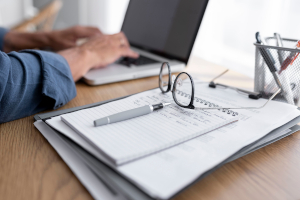 Though the day-in, day-out goals of our industry are fairly simple (get things clean), there is a lot of new information and better practices that you can build into your operations to take you to the next level. Latif Jamani has some suggestions on how to access all that learning.
---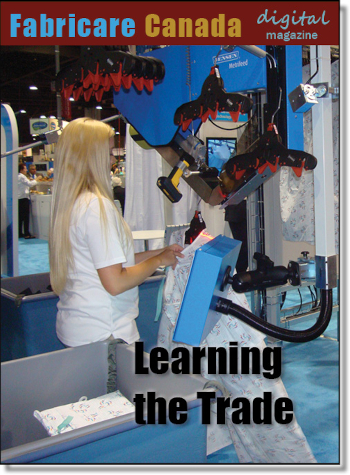 Learning the Trade
People who think dry cleaning and laundry operations are "easy jobs" have never tried it. Expertise in spot-removal, running expensive equipment to create like-new results for customers, working among dangerous presses with efficiency and care, maintaining the equipment, interfacing with customers—all part of a day's work for many of you. Hats off to you!
But you started somewhere, didn't you? There was that first day on the job when it was all rather bewildering. You persevered, and now you're a skilled worker. How did you get there?
This month, Fabricare Canada will focus on taking people from walk-in-the-door new-hires to able craftspeople who make the difference between the business's success or failure. We'll look at formal training, the use of consultants, instruction from manufacturer representatives, and in-house programs.
---
March 14, 2023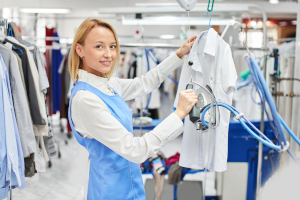 We posted a quick survey asking how YOU were trained, and what the results have been. Answers came in from Alberta, Ontario, Saskatchewan, and Quebec. Without exception, those who responded have been in the industry more than 15 years. Obviously, it's a great place to get your foot in the door.
---
March is National Kidney Month
FEBRUARY FEATURE STORIES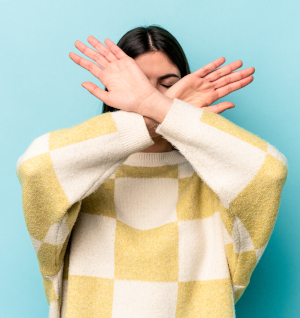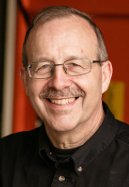 Kevin Marois has seen some scary things in his career as a mechanic. Some of the most frightening are in family-owned businesses, because they forget that the rules of good business apply to them, too.
See what he's got to say this month!
---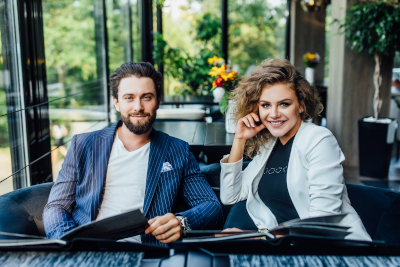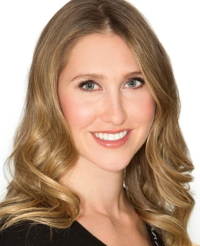 It's quite a juggling act, but many successful companies were formed around the family dining table and have gone on to national or international success, still driven by the couple that formed them.
Learn who's made it, and see why.
---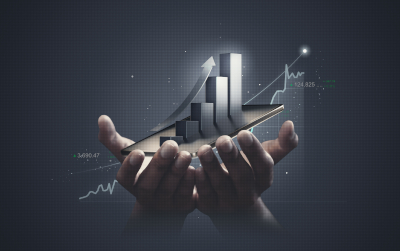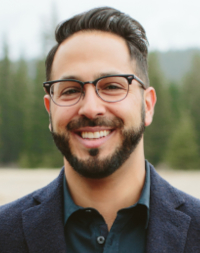 You know the statistics — it's easier and more profitable to build on the business you already have than it is to go out and start something new or seek never-in-the-door customers. There's low-hanging fruit at your fingertips, and with a little effort you can begin to grow what you've got so it carries you to the next level.
---
Love is in the Air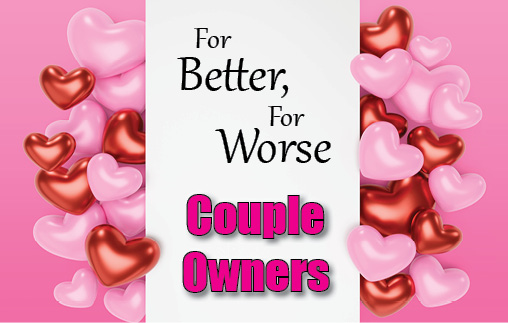 Chances are high that you work in a family-owned business. According to Statistics Canada, 63.1% of companies in the country are family-owned or -controlled. (In the U.S., the figure is 90%, according to the US Bureau of the Census!) In Canada, that accounts for 48.9% of the GDP–$574.6 billion per year.
This month, in honour of Valentine's Day, we are focusing on owning a business as a couple or working in one. Each week we'll highlight a different aspect and introduce you to couples who are making it work.
Couple owners put everything on the line: their livelihood, career dreams, and the most important relationship in their lives. What should you think about before you take that leap? And how can you backtrack and get on a better road if the two of you stepped off on the wrong foot in the beginning?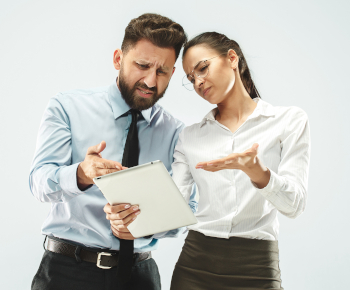 It's inevitable that vital decisions will have to be made in your business. When you are married to the person on the other side of the discussion, how do you ensure smooth progress toward your goals? And what happens when it all goes sour?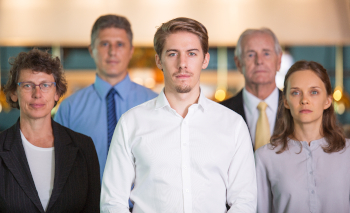 The couple who own the business are not the only ones who face tricky issues. The employees who interface with both halves of a couple throughout their workday become part of the family dynamic. They also have to take on some of the drama that will inevitably occur. How can the couple-owners take the landmines out of the way?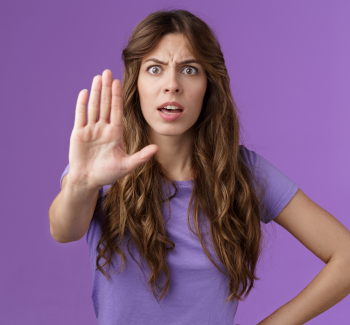 Obviously, family or couple ownership works for many millions of people. But what if it doesn't? How can you evaluate whether it's the best plan for you and your company, or whether you need to reconsider the path you're on? And is that necessarily a bad thing?
Check back each week to read the latest installment, or sign up for our eNewsletter so we can notify you when things are published. You can go straight to the stories you want to read from there.
---