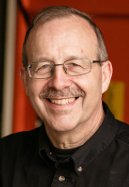 In most of my columns, I tell you what to do. This month I thought we'd do something different. The theme this month is training. So let me tell you how we do our training at Integrity Mechanical. After all, our guys are going to be training your people if we're called in.
There isn't a pool of trained dry cleaning technicians looking for jobs. If we want to hire someone, we most likely have to train them from scratch. All of our techs have worked in plants. They started with an understanding of the workflow and the urgency when there is a breakdown. To that we have added an understanding of the cleaning processes and the equipment needed to accomplish that. We want them to be able to solve whatever problem you have in the shortest time possible.
Crying Need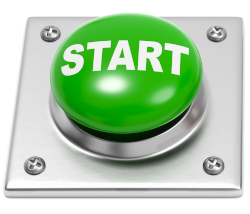 When I talk to plant owners and equipment operators, I am amazed at the lack of knowledge. Decisions are made on a guess and lots of hope, rather than a clear understanding of fabrics and cleaning processes. "Press the START button and walk away."
It used to be that an operator knew every step in the cycle, the sound the machine should be making and how to tell from across the plant that something was wrong.
When I send a technician out to solve a problem he needs to know:
How to run the machine.
How it should operate when everything is working properly.
How to figure out what is wrong.
What caused this problem.
And what you might have done in your misguided attempts to fix the machine.
On top of this he sometimes has to dig for information. You don't tell us the whole story because it might make you look bad. And when he is finished solving your problem, he probably needs to train you again on how to operate the machine properly. That's why we work hard at training our techs.
Formal Training
We have a formalized training program. We meet once a month at 6:30 a.m. for two hours. (Hopefully you don't have a breakdown on that morning.) The techs are given homework – handouts to read before the next training session. And, yes, there's usually a quiz on what we've covered.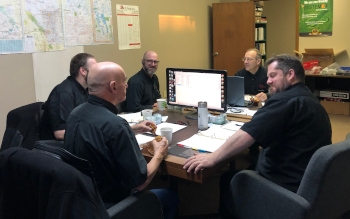 I do a lot of the training but we also use outside speakers as well. Chris White is scheduled to do a session on the science behind a wash cycle, and Richard Reese is going to do some training on adjusting shirt units.
Each of our techs are given the chance to share one thing he has learned in the previous month. We may watch a video, study product sheets for detergents or look at a failed part. The guys each have a tablet and we keep adding manuals and bulletins to it.
Content
Over the years we have covered many different topics: steam traps and regulators, boiler operations, padding for presses, detergents and additives, new machines or new features, ABSA regulations (boiler inspectors), cleaning and washing processes, electrical/air schematics, and even suggestions on how we can save our customers money.
Our techs have input into the training they receive. If we have an issue on a particular machine, we may go over what we have learned and what we need to do better next time.
We have to know more than the average dry cleaner. We give advice on how to clean garments, what cycle to use, what problems to watch out for.
Practical Training
We take things apart at the office. We practise disassembling parts and putting them back together, so when we get to your plant we are familiar with what we're doing – you don't have time for us to be fumbling around.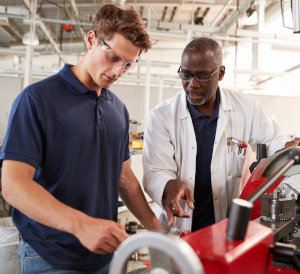 A new guy is partnered with a senior tech so he learns to do things the right way. We don't send someone out to experiment and learn at your expense – it's expensive to have your people standing around. If we send out a new guy, we have someone looking over his shoulder to make sure you get the best results possible.
Training isn't free
There is a cost involved in training. When you consider the loss of income and the cost of training materials, it costs us about $1,500 per month to train our guys.
Someone invested in me, so I'm investing in others. I've been to DLI for the three-week course. I've been to the manufacturers facilities in Italy and the U.S. So, yes, training is expensive – but so are mistakes.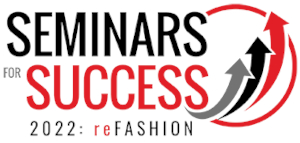 You spent $100,000 on that dry cleaning machine and now you have someone inadequately trained poking buttons and closing valves at random to see what will happen. Maybe one of you should read the manuals like we do.
We train our techs so they can get the repair done sooner – we have too much work and can't afford to work slowly. Plus, we are trying to save you some money – if we can diagnose and repair quickly then it's better for you.
We want to differentiate ourselves from our competition. We're going to have the best trained technicians in the industry.
---
Kevin Marois founded Calgary-based Integrity Mechanical in 2003 to service plants in western Canada. He writes on issues related to equipment, its purchase, maintenance and use. You can reach Kevin at office@imicanada.ca or via his website www.imicanada.ca