I went, I saw, I was impressed
|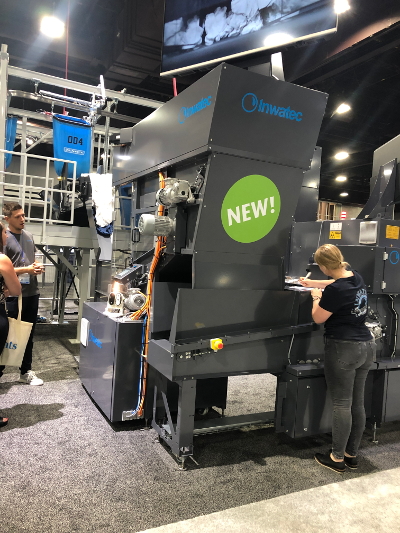 What an exciting Clean Show! I got to meet Thor and Odin.
Thor tirelessly pulls laundry out of a bin and sorts it – one piece at a time – into the correct loads for processing. Odin X-rays linen to check for foreign objects that might damage the equipment or injure a staff member.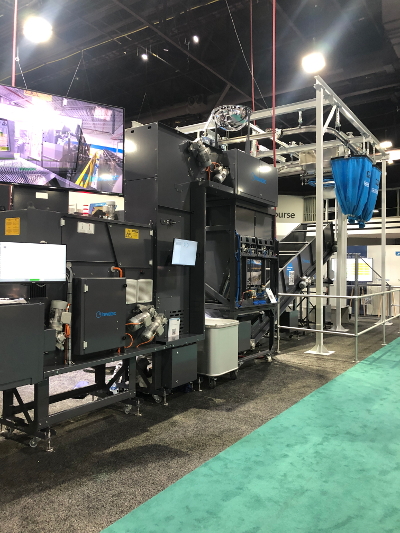 Both are part of the new Inwatec sorting system. Together they eliminate one of these jobs that no one wanted. And they show up for work every day!
Thor and Odin at the Jensen booth were not the only ones sorting linen. They were just the ones with the coolest names. Most of the linen companies had some form of AI that could recognize and pull individual pieces of linen. This is a huge technological advance for the linen industry.
Goodbye, poly
Something else new at the Show this year was a garment poly made by Organix. It doesn't contain any poly (plastic). It is made from potato skins – a waste stream item, so that no food is used to manufacture this product.
It's home compostable and works with automatic bagging machines. It is slightly opaque and kind of slippery, but it looks like it would work well.
Pay options without Wi-Fi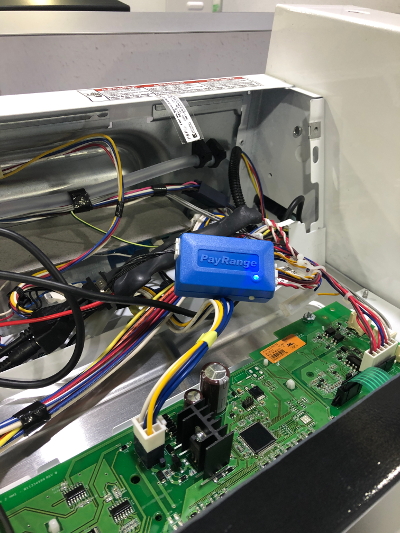 PayRange was displaying their BlueKey Pro. This small blue box goes inside the washer to provide coinless operation.
The difference between this device and others is that it uses the Bluetooth technology in your phone to do all the work. You don't need Wi-Fi or internet in your coin laundry to operate the machines. An app on the customer's phone takes payments from multiple sources and then allows them to turn the machines on. Plus the price is extremely reasonable.
Easy peasy
BandAll B.V. showed a machine that wrapped a strong paper strip around a bundle of garments or linen. The paper strips can be imprinted and are also recyclable. The machine was fast and the bands were surprisingly strong.
Hands-free
Clean Cycle Systems had a makeup air/exhaust fan control system that continuously monitors air pressure and adjusts the fan speed to maintain the appropriate static pressure. This will improve the efficiency of dryers. The system can be customized to match your equipment and building.
Most of the plants that I deal with are too small to benefit from it, but there were also many options for energy and water recycling. It used to be that you needed a large plant to take advantage of one of these systems. Depending on the configuration, you might even be able to use one of these on a dryer as small as 100 lbs.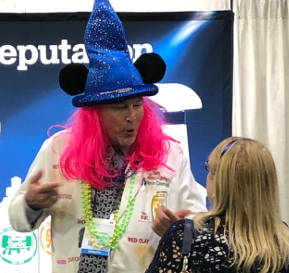 Seeing old friends never gets old
It was nice to see that Jeff Schwarz at A.L. Wilson has finally grown some hair. Not sure that it matches his tie though … but it's definitely his personality.
Seminars
All five of the sponsoring associations put on excellent seminars this year. I wish I could have attended them all. Here are some notes on some of the ones I attended.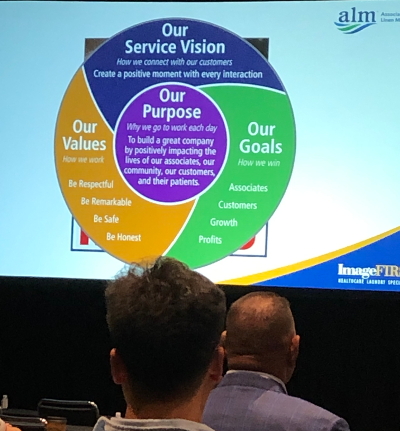 The Association for Linen Management put on a seminar titled Building a Business on Culture. The speaker was Jay Juffre, executive vice-president, ImageFIRST. He spoke about how they had created a culture that not only attracted employees but also customers. They don't have employees; they have associates. Their winning culture fuels success and growth.
Juffre referenced the book Start with Why by Simon Sinek. "Does each member of your team know your Why?" He said, "Values are to be used – not just displayed." You need to lead by example and reinforce things daily.
Dave Coyle (from Maverick Drycleaners) did a seminar for the Drycleaning & Laundry Institute titled 12 Profit Activators. The room was full and it was obvious that Coyle knew what he was talking about.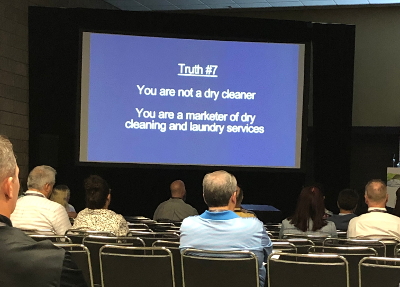 One of his points was that you are not a dry cleaner. You are a marketer of dry cleaning and laundry services.
DLI also did a seminar on Business Culture. Sean Abbas (of The Threads) talked about making a choice based on culture as being more important than prestige or money. He told how firing his best performer (a prima donna) improved the culture in his workplace.
If you missed it, you missed out
This is a small glimpse of some of what was at the Clean Show. If you didn't go, you better look out. Your competitors learned many things. You will have to work hard to try to catch up.
---
Kevin Marois founded Calgary-based Integrity Mechanical in 2003 to service plants in western Canada. He writes on issues related to equipment, its purchase, maintenance and use. You can reach Kevin at office@imicanada.ca or via his website www.imicanada.ca