In just over 2 weeks the industry will be gathering in Atlanta for the first Clean Show in three years. It's also the last one for three more years. This is a pivotal show!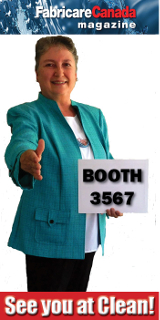 But just because it's important doesn't mean it can't be fun. I'm looking forward to seeing as many of you at Clean as possible, so look for our booth and watch for me all over the show floor. I don't expect to be still very often.
Use our booth (#3567) as a convenient meeting place when you are looking for other Canadians. Make appointments and come use our chairs. You're most welcome!
This is the first time we've come to Clean since becoming a digital magazine, so we'll have information available about what's on our website, and you can sign up for our weekly e-newsletter to be sure you know what's just been posted. If you have suggestions on stories you'd like to see covered, we'll be all ears.
Our popular mechanical wizard, Kevin Marois, will be appearing in the booth for Ask the Expert (schedule TBA). Bring your mechanical questions, ugly photos of major problems and ideas for things you'd like him to advise you on in future columns. We promise he doesn't bite.
In something new and exciting, I plan to be doing video interviews across the exhibit hall, with daily video reports being posted online. We're working out details for that, but will keep you advised. And if you're buttonholed, don't be surprised if your social media presence spikes.
Most of all, I'm looking forward to being face-to-face with so many industry colleagues once again. It feels like it's been far longer than three years. In the booth, at receptions, and even on shuttle buses, you can expect me to be looking for familiar faces–and meeting new friends. Let's make this the best Clean Show ever!
See you there!
Becca Anderson, Editor