Greatest Cleaners in the World
|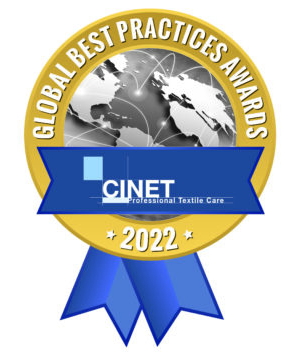 CINET, the European organization that works to promote the professional textile care industry by encouraging innovation and excellence, held its annual Global Best Practices Awards in Milan, Italy last week, in conjunction with the EXPO Detergo trade show there. Canada brought home some awards and recognition of which to be proud!
The Competition
A call for applications from companies wishing to be considered for the competition went out earlier this year. Responses came in from around the globe, and 46 finalists from 32 countries were chosen. Two were Canadians — TSC Wetclean from Mississauga, ON, and Premier Dry Cleaners from Ottawa. (Read about them in our previous story here.)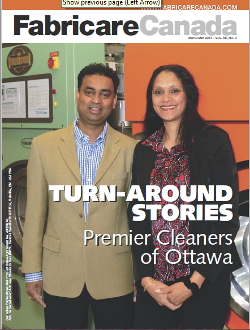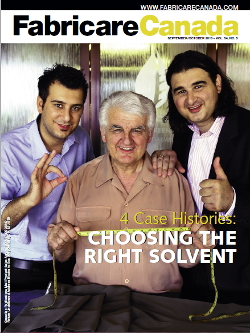 Applicants competed in three different categories — Industrial Textile Services (ITS), Retail Textile Cleaning/Small (based on company size) (RCB/S) and Retail Textile Cleaning/Big (RTC/B). Both Canadian finalists were competing in the RTB/S category.
Detailed information was submitted by each company, and had to demonstrate key areas of focus within the company. To be included in the Finalists was an honor. To win in a category is to be proclaimed Best in the World for 2022.
Judgment Day
A room filled with hundreds of presenters, judges, and observers bubbled with excitement. Thousands more people followed the event live online. Over the hours, 46 short pitches were made by the finalist companies, and scored by an international panel of industry expert judges, who also had copies of the written pitches available to them.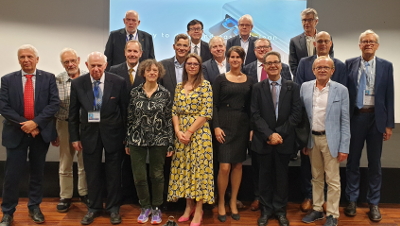 What were they looking for? Each judge had a complex scoring task. Every presentation was judged on the quality of the company and its practices, use of sustainable practices and equipment, the company's business model and service concept, its innovations to improve operations and advance the industry, and the quality of the presentation itself. That's a tall order!
After each presentation, the judges' scores were gathered and the next presentation began. Then everything was tabulated to determine the winners in each category.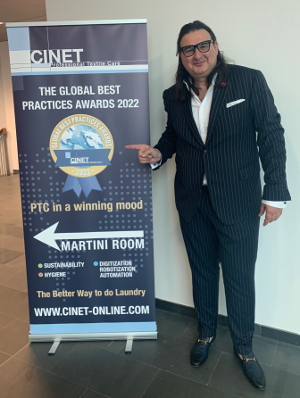 Who Won?
Industrial Textile Services (ITS): Lavans B.V. (Netherlands)
Retail Textile Cleaning/Small: Jan's Professional Dry Cleaner (USA)
Retail Textile Cleaning/Big: OXWASH (UK)
But that doesn't tell the whole story. Let's hear it from Dino Kantzavelos, representing TSC Wetclean, who was there.
"Just wanted to update you with all the events at EXPO Detergo and CINET in Milan." he wrote us in an email. "It was an incredible 3 days. to say the least.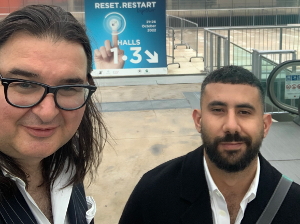 "First and foremost The Canadian Fabricare Association was well represented with me, Michael Gossio of Parklane Cleaners and Shobha Vedantam and Nitesh Naidu of Premier Cleaners.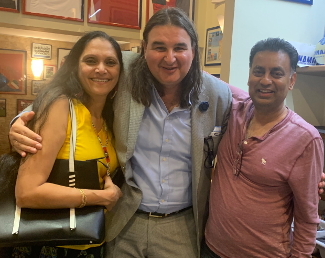 "Premier Cleaners was the big winner, bringing home 2 awards [Second Place in the Retail Textile Cleaning/ Small category, and an Innovation Award]. Both Premier and TSC Wetclean ranked ranked in the top 7 in our category. Very good to have two Canadian companies in the top 10 globally. A huge congratulations to Premier."
Indeed, Premier scored just one point lower than the category winner! TCS was only a little over 2 points behind them, and picked up 7th place. Obviously, competition was fierce. Well done!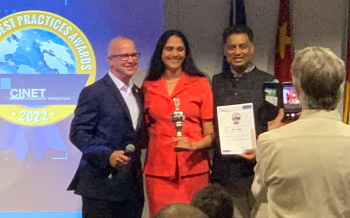 Does it make any difference?
A big part of the CINET awards process is the press coverage that comes after the awards are taken home and put proudly on display. Local media will receive press releases and be interviewing those who ranked highly. This will be a nice boost for them and their businesses, but even more important, it will raise the profile of the entire industry as people read or watch reports about the dedication to excellence that was demonstrated in this awards process, and every day in their plants.
If you would like to read more about the whole event, you can access a PDF newsletter here from CINET with more photos and information.