Virtual Clean Show 2021 — Part 3
|
This is the third part of a three-part series featuring products that are currently being promoted by companies who would have been showcasing their products on the Clean Show floor.
Editor's Note: We asked companies to give us their pitch, just as if you were standing in their booths. Therefore, our usual editorial standard of eliminating promotional statements has been suspended.
PRESSING EQUIPMENT/SUPPLIES
HiSteam CB-520 Collar-and-Cuff Press – European Finishing Equipment
This is a vertical collar-and-cuff press with a vacuum. There are two versions of this machine: (1) steam operated, and (2) electric (no steam).
For more information, visit: www.histeam.com or call 888-460-9292.
SPOTTING
HiSteam ES-2000AR Spotting Board – European Finishing Equipment
While this product is not 'new', it is not well known in the Canadian market and will be new to most. Unlike the traditional spotting board, this model features a suction hood to exhaust chemicals (so workers do not breath them in) and a light above the board for better viewing of the garment. It is also stainless steel construction.
Please see the attached brochure.
For more information, visit: www.histeam.com or call 888-460-9292.
STEAM
HiSteam EVG-369 and EVG-242 – European Finishing Equipment
HiSteam is offering two types of mini-boilers with iron: EVG-369 and EVG-242. Unlike the existing models in the market, these new ones have:
Stainless steel chamber;
Pressure cast external heating element;
Longer warranties: lifetime for pressure vessel; 5 years for heating element.
See the attached brochure for features.
For more information, visit: www.histeam.com or call 888-460-9292.
Vertical Water Wall Design Low NOx Steam Boilers – Parker Boiler Co.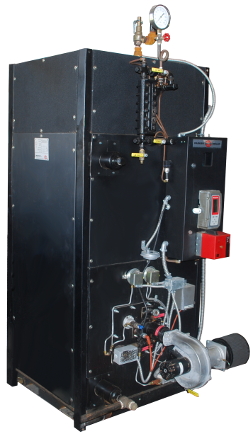 Shown on the right is our new 100-series WW (Low NOx) water wall design 9.6 h.p., 150 psi steam boiler. Parker Boiler has been conducting extensive testing on this new vertical water wall design from 2015 until today and have installed several beta sites to see performance in the field. Standard heavy-duty 1″ tubes are used with a 0.12″ thickness. The tubes are bent around the flame creating a water wall furnace. A large ½″-thick seamless horizontal steam drum is used for a steady water line and clean dry steam production. Footprint similar to vertical tubeless boiler.
The sealed combustion design raises efficiency with lower excess air and minimizes heat loss to the room. A low NOx metal fibre burner is standard for 20 ppm and pre-certified to AGMD 1146.2. Units to be available are 9.6 h.p. to 24 h.p. It also has up to 4″ of insulation, 5:1 Turn Down Ratio, Digital Pressure Control, Reflex Prismatic Sight Glass, 2 sides that do not require access, can be 6″ to combustible construction allowing it to be stuck in corner of room saving floor space. It is also ETL listed as a complete gas-fired boiler assembly per UL795.
For more information, visit: www.parkerboiler.com or email: sales@parkerboiler.com, phone 323-727-9800.
WASHERS
UniMac UWT065 Washer/Extractor – Alliance Laundry Systems
For decades, on-premises laundries that are focused on exceptional throughput and the lowest cost of ownership have looked to UniMac's 65-pound capacity UWT065 to carry the load. This on-premises laundry workhorse boasts a variety of features to produce quality results, while reducing operating costs. The UWT065's long-standing ultra-high 400 G-force extraction has the power to remove more moisture than many other hard-mount washer/extractors. In addition, the industry-exclusive OPTispray spray rinse removes more residual chemistry than conventional bath rinses – an equally effective asset for removing soil in pre-rinse steps. When equipped with the powerful and flexible UniLinc control, the washer/extractor's intuitive operation ensures all staff members can easily operate the unit, while it also offers access to cycle data, error codes, machine history and much more. Best of all, the UWT065 bares all the hallmarks of UniMac's industrial quality, including robotically welded frame, oversized bearings and four fast-fill valves. The end results are improved processes, better quality and the lowest cost of ownership.
For more information, visit: www.alliancelaundry.com
JENSEN QuickSoak – JENSEN USA
Increase the wash mechanics, boost the mixing of water and chemicals, intensify the soaking, and optimize the wash action and the wet-out of linens quickly and thoroughly with QuickSoak.
Watch how you can boost your production and quality with JENSEN's QuickSoak:
Contact David Netusil 850-271-5959 or visit www.jensen-group.com for more information.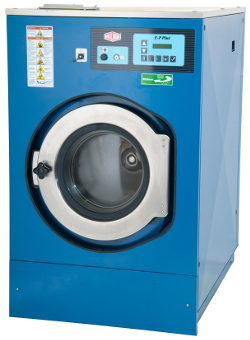 40-lb. (18 kg) MWF18 Washer – Pellerin Milnor
Pellerin Milnor is pleased to announce its newest addition to the value-priced suspended-mount MWF-Series, the 40-lb. (18 kg) MWF18. Like the other models in this series, the MWF18 is available with either EP Plus® or MilTouch™ controls, and features the exclusive RinSave® water saving technology, large cylinder perforations, tapered roller bearings and safe chemical injection ports. The machine, which fits through a standard 3′0″ door, also utilizes a four-point suspension system that isolates vibration and delivers smooth operation. All of these features combine to offer savings without compromising wash quality.
Milnor has also recently introduced the weigh cell with electronic flow meter option for their suspended-mount machines. This feature helps ensure that loads smaller than the machine's maximum capacity are washed in proper amounts of water and chemistry. The weigh cell captures the weight of the goods loaded in the machine and uses an algorithm to calculate the proper proportion of water and chemistry to the goods based on the weight.
For more information, visit www.milnor.com or call 504-467-9591.
Tunnel Systems – Kannegiesser ETECH
PowerTrans VARIO – Hygienically Clean and Versatile Batch Washer
The Kannegiesser PowerTrans VARIO is a modern batch washer that combines flexibility, performance and the lowest total consumptions. With the diversity to fit in any market segment, the VARIO is built to maximize washroom production efficiencies. The versatility of a complete standing batch washing and rinsing system allows for colour changes without the need for empty pockets. With the large drum volume and straight wall design, the PowerTrans tunnel creates the perfect hygienically clean wash environment while keeping each batch separate. In addition to performance, the reduction in resources provides advantages and savings in overall utility consumption. It is built to reduce waste with intelligent water management, maximized loading volumes and efficient rinsing times. Customers are also able to produce the highest possible output within the available space due to the efficiently designed footprint of the systems. Our sales team will be happy to advise you in a personal conversation or via email. Email info@kannegiesser-etech.com
ADDITONAL LISTINGS
eVue 6 Software – Kannegiesser ETECH
The first steps toward automation are information and integration. With merged capabilities, end-to-end automation and the new eVue 6 software suite, Kannegiesser ETECH has invested in both. Seamless data integration from soil to clean provides proactive informed decisions, hands-off operations and reduced labour and equipment downtime. Workflow management software will optimize your people's performance, and your equipment's performance. By looking at real-time PPH and dry times, equipment status and the flow between production points, we maximize equipment efficiency and plant balance. Powerful tools like the eVue Anywhere app, eText and e-mail reports deliver real-time data to help you answer key production and maintenance questions. eVue 6 will accommodate new modules as needs change and technology evolves. Our in-house development team, coupled with our Systems Performance Team, will keep your system up-to-date and running automatically. Our sales team will be happy to advise you in a personal conversation or via email. Email info@kannegiesser-etech.com

Finishing Equipment Feeders/Ironers/Folders – Kannegiesser ETECH
High-end quality equipment combined with versatility without making any compromises on productivity! These are the characteristics of our small-piece finishing machines and ironer lines. They give a boost to your finishing division that will increase your textiles lifetime with low-temp finishing applications. All products on one system do more in less space and provide integrated automation that deliver the most sustainable outcomes. Surprise your customers with a new level of quality with Kannegiesser feeders, ironers and folders. Our sales team will be happy to advise you in a personal conversation or via email. Email info@kannegiesser-etech.com
Material Handling & Sorting – Kannegiesser ETECH
Because every detail matters, a well-designed internal laundry logistics operation helps you realize efficiencies at every step of your process. That is why Kannegiesser ETECH has continued to innovate for over 50 years. That innovation is built into every aspect of Kannegiesser ETECH's newest generation of products. Our eRail systems, garment sorting and eVue software systems are designed, customized, programmed and supported by people who understand the daily challenges of all types of laundries – health care, hospitality, linen supply, industrial and textile manufacturing. The result is innovative, seamless, optimized, integrated, end-to-end material handling solutions shaped by our experience and built around your workflow. Our sales team will be happy to advise you in a personal conversation or via email. Email info@kannegiesser-etech.com
A special thank you to all the companies that participated in our virtual Clean Show. Please follow the links in the listings to contact them for more information, get your questions answered or schedule time for a demonstration.