It's over. We all anticipated it for so many months, and it's in the rear-view mirror now. But the 2022 Clean Show will have lasting impact.
On a personal note, having worked from home for over 20 years, past Clean Shows have been a bit of a trial for me. Suddenly, I'm taken from my cozy office and dropped into a multi-day swirl of activities, information, noise, and people. It's a shock to the system. But this time, after being locked down for months and denied a Show for three years, it was a welcome experience to see and touch and listen to live people once again. I got the same feedback from nearly everyone there. And now, we have three years to wait for another Show. But I hope our days of isolation are over and we'll have meet-ups in the meantime.
Clean Show Diary
I posted a diary of some of my experiences each day of the show, and you can read that below if you missed it. Then look over the additional articles we'll be posting, and video interviews I did, to get the full picture of how the Show went. Even if you were there, you didn't see everything!
Clean Show Day 1
I promised you a video report each day, but frankly, I'm just too tired. I've walked miles (I won't show you my feet, they'd just make you weep!) I've met so many people and greeted old friends. The show is off to a great start!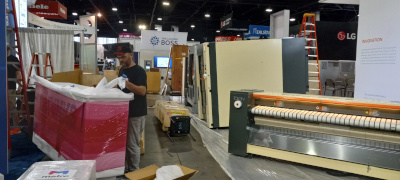 As usual, the day before the show looked like there was NO WAY the exhibit hall would be ready in time. There were boxes and crates everywhere, lots of people hooking up plumbing and transporting chairs and tables to booths. It looked like chaos.
Hundreds of people worked through the day and night to get it all done. Our booth is up and ready to welcome you to Clean!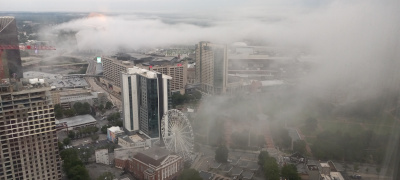 Day 1 began foggy, but it cleared pretty quickly. Educational sessions started bright and early, at 8:00 a.m., and ran until the Show opened at 10:00 a.m. Then, it was a rush to the floor to take in the exhibits, talk to the manufacturers and sales people, and soak in the ambiance of just being with industry colleagues after a hiatus of three years. Other seminars took place on the show floor in the afternoon.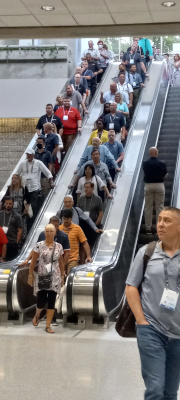 It was clear from the beginning that enthusiasm was high. The Clean Show management team at Messe Frankfurt says registration levels are almost to pre-Covid levels — a remarkable achievement. The same goes for companies exhibiting, with over 90% of the usual complement of companies. There are some new ones, many well-known ones, and plenty of time to see everything with the Show going on through Tuesday.
CHECK OUT OUR REPORT ON THE CLATA RECEPTION HERE!!!
And I promise to do my best to bring you a video report tomorrow showing some of the activity on the floor, equipment in action, and more.
Thanks for following our Clean 2022 diary. More to come!
---
Clean Show Day 2
What a busy day! Thanks to all who came by our booth. It was great to see you.
I started the day with a video interview with Tim Maxwell, president of GreenEarth Cleaning. He talked to me about the acquisition of GreenEarth by Greybull Stewardship, and what it means to current and future customers of GreenEarth. I worked on the video to add some bells and whistles, but then inadvertently uploaded the raw file instead of the fixed one. Again, cut me some slack. Learning curve here!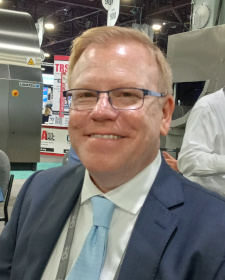 Other interviews throughout the day included one with Mark Thrasher of Lavatec on the current state of the industry, and a tour of the latest and greatest in their booth. (More about that in a future report.) Later I spoke with Josh Lilley (CEO of UNXChristeyns) and Rudi Moors, (president of the newly merged company) about how their merger came about, what it means for customers, and what is in the future. I'll be editing and uploading that interview in the next few days. (The difficulty of transferring videos from phones to laptops to editing software to YouTube with spotty internet connections can be a bit daunting, but we're getting there.)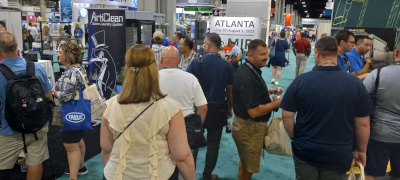 The show floor was busy. It was a typical show with people stopping to examine some aspect of a machine, reaching inside to compare it to the one they have back home, asking questions, and soaking up information. I visited a lot of booths, and will be sharing what I learned there in reports later this month as we highlight the laundry industry in some feature articles.
Some of those booths included: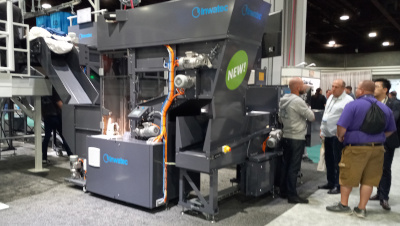 Jensen, where the Artificial Intelligence (AI) component of one of their latest systems was stopping traffic.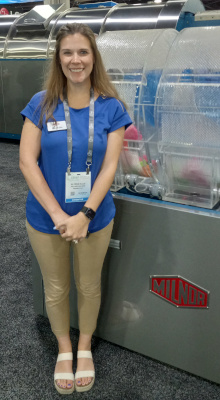 Pellerin Milnor, where Alyssa Ellis gave me a tour of some of the equipment and showed off their see-through display machine where potential buyers (or current ones, for that matter) can get a better idea of what's really going on inside the tunnel machine as it moves items from one section to the next.
I stopped in to see Gilbert Strassguertl at the SRS Conveyors booth, and the nice people in the JP Equipment booth. Cleaner's Supply is having its usual array of experts in their booth, and other booths had active demonstrations going on, too. I had chats in the Sanitone booth and EZPi, among others.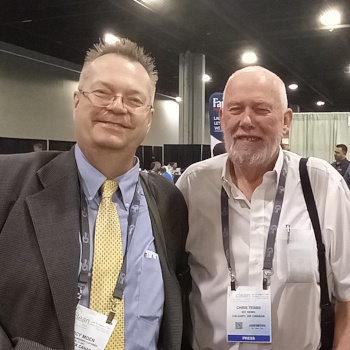 Friends who stopped by the booth yesterday and today included Darcy Moen and Chris Tebbs. I was so busy running around the floor that I may well have missed some of you who came over, so I apologize. I hope you entered our drawing for a $100 Amazon gift card, in exchange for giving us an email address and permission to send you our weekly email newsletter updating you on what we've posted that week.
Tomorrow is sure to be as busy as today, so check back for a report on it after I return from the Jensen reception in the evening. I appreciate suppliers and organizations that have invited me to spend time with them as we all come down from these hectic convention days.
---
Clean Show Day 3
As in the past two days, the Clean Show shuttle buses pulled up at the hotels and transported us through the confusing streets of Atlanta in style to the Convention Center. It was much appreciated, as we're all beginning to get pretty tired!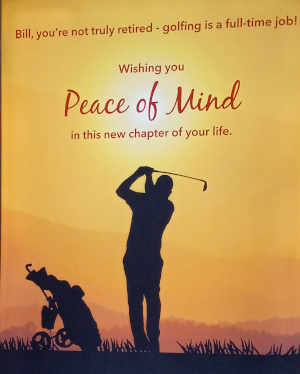 If you are familiar with Sankosha, then you know Bill Odorizzi has been a fixture with the company for years. Bill retired in January, and so the Sankosha booth is featuring a large graphic salute to him. Bill once promised to teach me how to press a garment, but over the years of attending Clean Shows, the booth was always so swamped it was impossible to get near him, so I never got my lesson. Enjoy the links, Bill!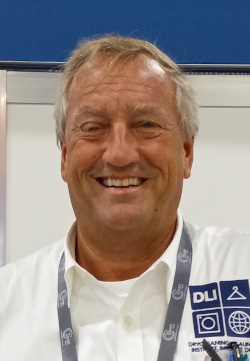 I didn't get to see as much as I hoped I would today, due to my own clumsiness. I took a fall and landed on an arm that I broke a couple of years ago. (I think I also landed on my phone, which is more resilient than my ribs!) Special thanks to DLI's Jon Meijer who helped me back up, Leslie Schaeffer of TCATA who dusted me off and the other people around who made sure I was OK.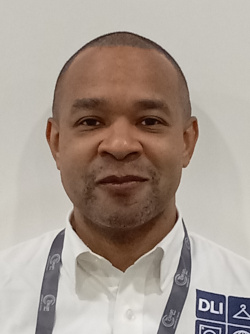 I had a good chat with people in each of the allied trades association booths while I was in the area, including Brian Johnson in the DLI booth, who teaches the fantastic courses held at their facility in Maryland.
For those who need to know, conventions have a first-aid station. I found the one here, but though the nice EMT could have helped me with chest pain, he didn't have any ice for my wrist. I ended up stealing all the remaining ice in the Press Room. There's always a way!
I spent time in the booth greeting people, and we may have a new columnist coming on board. If it all works out, we'll have another fresh perspective to add to those we already feature each month that I think you'll enjoy.

The kind folks at Whirlpool supplied me with a cold pack from their first-aid kit, and later a bag of ice. What great people! The Diet Coke went down well, too.
We discussed their agenda for the Clean Show and also what sets them apart in the marketplace. I spoke to Matt Conn (Global Marketing Director, Commercial Laundry Product Development and Marketing) and Amy Gardner (head of Sales, Service and Parts). Both are enthusiastic about the quality of the leadership team at Whirlpool, and also the commitment to helping their customers capture growth opportunities.
We had a frank discussion about gender-bias in the industry, especially in management roles, and I was happy to learn that Whirlpool has been acknowledged by Fortune as one of the top companies for advancing women's opportunities. The company focuses on "diversity of experiences" rather than on the number of people in each gender or race group, Conn said.
There's a lot of pride among the people who work for the company and from their customers. Citing its 61st Annual Customer Achievements Awards at a dinner on Saturday, Gardner said it was moving to see how people feel about what their products have allowed them to achieve.
As for their agenda at the Show, it's all about renewing relationships. Conn said they weren't focused on launching new equipment (though there is some) but on reconnecting with people who've been hungry for information and interaction because of the business pause of the pandemic. There's been a shift over the past several years in technology acceptance, as well. He said it used to be they had to encourage their customers to embrace some of the new technology, such as monitoring equipment and other efficiency devices. But once they tried them, they wanted more. Now it's more a case of customers asking for more.
By the time I finished my meeting with Whirlpool, I'd begun to feel all the places that had hit the floor when I fell, so I left the floor (ice bag perched on my wrist). But tomorrow is another day, and I'll file one last report when the Show ends.
The general mood is that it's a good show with serious buyers and lots going on!
---
Clean Show Day 4
The last day of the Show was pretty quiet. It gave the exhibitors a chance to catch their breath as things wound down. Due to my stupidity the day before, I was not feeling in top shape and so elected to leave the floor a little ahead of the crowd. But I took with me a sack full of information and ideas, as well as notes from various conversations and interviews that will be presented in our pages in the coming weeks.
One thing I made time for on Day 4, however, was selecting the winner of our $100 Amazon Gift Card. We asked attendees to share their email address and be added to our list for the weekly email newsletter. Columnist Kevin Marois was on hand to close his eyes and pull a name from the bowl. And the winner was…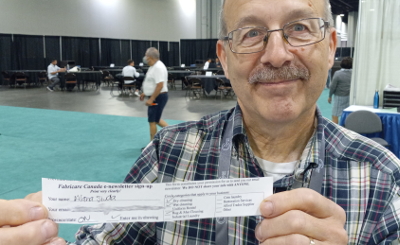 Alana Siuda, of Gibson's Cleaners in Toronto. Congratulations!
If you came to the Show, I'd be interested in your comments. Send me an email and let me know what struck you as important or interesting. If you missed the Show, you missed a lot. Not just putting your hands on new tech or hearing exciting presentations in the seminars, but just being with like-minded operators intent on pulling out of the last three years with purpose and strength. Hats off to those who made the effort!