Branching Out for Continued Success
|
Let's face it, it's easy to get into a rut. And once you're in, it takes extra effort to jump out of the rut and go in new directions. But having various avenues in which your business provides services can help ensure steady income in times of economic downturn – like the current pandemic. That's the secret of SRS Conveyor's continued growth.
In the beginning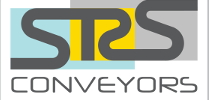 Well Products (later renamed SRS Conveyors) was founded in 1962 by Joseph Strassguertl. The company focused on manufacturing garment conveyors for the dry cleaning industry. Joseph's son, Gilbert, joined the company full-time in 1994.
Gilbert worked alongside his dad from a very young age and was exposed to the manufacturing, sales, installation and servicing of projects. His engineering knowledge, and constant development and marketing of the company, enabled the company to expand sales worldwide.
Well Products changed its name to SRS Conveyors in 2003 to better reflect the scope of the business. SRS stands for Storage and Retrieval Systems, and Gilbert had ideas that went beyond just dry cleaning and laundry plants. Joseph retired from the company to pursue other ventures, and Gilbert looked for new opportunities to take SRS into other industries that required conveyor systems.
In 2011, he expanded the company portfolio by purchasing All-Flex Overhead Conveyors. This was a doorway for the company into more diverse markets around the world, and Gilbert embraced the opportunity. SRS Conveyors became a leading garment material handling equipment manufacturer, and installer of a range of products that included garment conveyors, overhead conveyors, power and free conveyors, laundry monorails, sorting systems, carousels, garment rails and mezzanines.
Today, the company is located in Markham, Ontario.
Interesting projects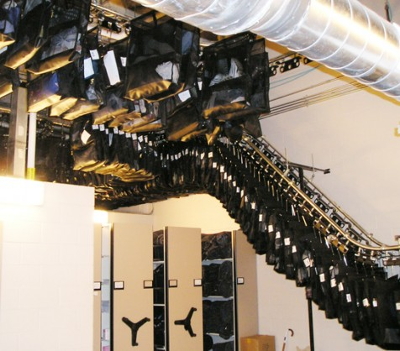 As business expanded around the globe, SRS received contracts to install equipment in novel locations.
The Macau City of Dreams resort and casino in Cotai, Macau, China is host to a number of entertainment experiences, including a Water Show (similar to Cirque du Soleil) produced by Franco Dragone. The acrobats and actors in the show needed an organized place to house their various show costumes, and SRS put in a uniform conveyor system that met their needs so the show could go on.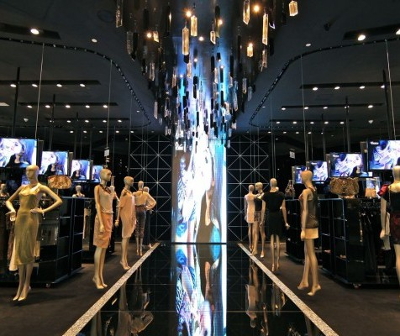 Another interesting installation was at the Dubai Mall in Dubai (the largest mall in the world). An All-Flex Overhead Conveyor System was set up in the 'I Love Fashion' store. In a unique twist, the conveyor moves mannequins dressed in the latest outfits throughout the store for customers to view, almost like a runway show. Dramatic lighting and beautiful store displays complete the experience.
A venue most wouldn't think of for conveyor systems is detention centres, and SRS has installed many across North America. The most memorable was in Las Cruces, New Mexico. The jail required extremely high-security clearances and Homeland Security approval, as the jail houses high-level inmates. SRS put in an All-Flex Overhead Conveyor system with locker bags. When inmates arrive at the facility, they place all their street clothes and belongings in a locker bag on the conveyor system. It is returned to them when they are released.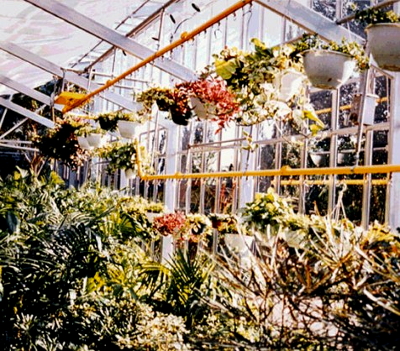 In true thinking-outside-the-box fashion, a conveyor was put into a plant nursery. It not only moves the plants around for better sunlight absorbtion and accessibility, but includes a watering system to keep them thriving.
Word gets around
Excellence in business is rewarded with good word of mouth. The other side of that coin is that a company that doesn't live up to its promises will find the reports on the grapevine getting to their next potential customer before they do. SRS is dedicated to customer satisfaction and word of mouth referrals are integral in their marketing plan. They also do direct marketing, attend trade shows, and advertise in magazines pertinent to the markets they hope to work in.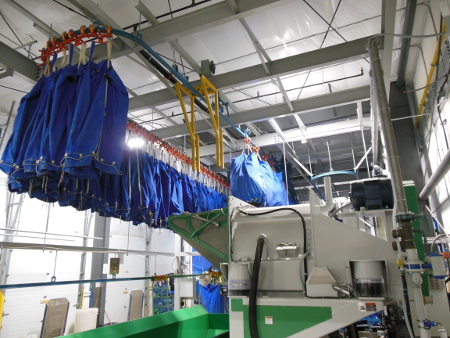 Because of the diversity of installations, SRS has had steady business despite the Covid-19 crisis. Different industries around the world, many of them deemed 'essential', have continued to require conveyors and service.
This might not have been the case had SRS stuck to just dry cleaning conveyor systems. With many plants struggling, and most not investing in new equipment right now, SRS could have seen its workload dwindle. By planning ahead, diversifying into other industries, but sticking to what they know best, they've been weathering the storm.
How can you apply this to your business? Think about it.