2022 Canadian Industry Person of the Year
|
Carlos Fernandes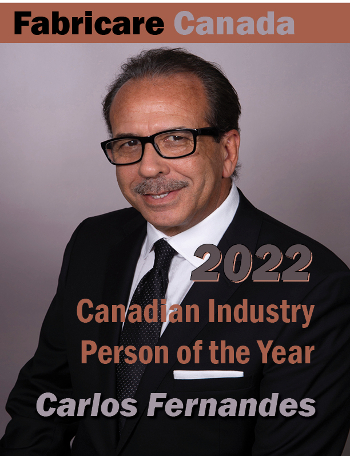 Recognizing someone as the Canadian Industry Person of the Year has become a tradition for Fabricare Canada since 2008. This year, we are saluting our first Allied Trades member: Carlos Fernandes, Jensen Senior Vice-President of Sales. The allied trades members are the backbone of our industry, and Carlos is a fine example to which anyone could aspire.
We are delighted to highlight Carlos for his decades-long commitment to the industry. He is the kind of person who gets the job done professionally and without drama. He's quick to shine the spotlight on his customers rather than himself, and yet his hand is evident in every installation he oversees.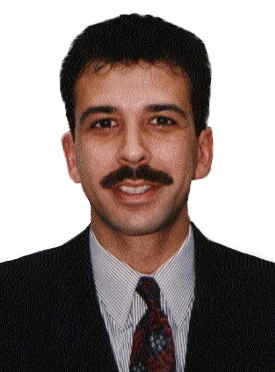 It was Harco Company Ltd., ON, that gave Carlos his start in the industry in 1987. Five years later he joined Central Finishing Systems, which was renamed Jensen in 1999. He has stayed with the company ever since, and was recently moved up to his present position. Fortunately for the Canadian industry, he will not be relocating to the company's North American headquarters in Florida.
The Fernandes Fan Club
There is no shortage of applause for Carlos and his work over the years. Here are a few comments from some of his biggest fans.
Myles Noel
Comtex
CEO (retired)
When thinking about my career in the health care laundry business, I remark on my good fortune to have encountered Carlos Fernandes. He called on me for over 7 years before I ever signed an order. I can only thank him for his persistence.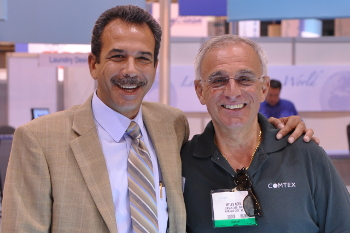 Throughout the construction, installation and commissioning of two full plants in Ohio, Carlos was the one person I relied upon the most when it came to the equipment and layout. Whether it was to continually review every detail with our team, or just to provide moral support throughout the process, Carlos was available day or night to help move the project (and my confidence) forward. He gained the confidence of key managers, staff and board members with his straightforward responses and humble confidence.
There is an old saying that I believe describes Carlos very well: No one succeeds without effort. Those who succeed owe their success to perseverance. There is no question in my mind that I owe a huge part of my success to Carlos.
Simon Nield
Jensen Group
President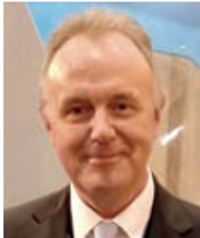 Congratulations Carlos, this award is well deserved! You have devoted much of your working life to supporting Jensen's customers in Canada, and in doing so you have earned the respect of the Canadian laundry industry as a whole.
Brendan O'Neill
London Hospital Linen Service Inc.
Chief Operating Officer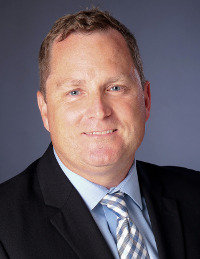 I am honoured to be asked to provide some context to the special person that Carlos Fernandes is.
I met Carlos for the first time in 1992 during the installation of new feeders from Central Finishing. I was a supervisor on the floor at London Hospital Linen Service Inc. (LHLS), and Carlos treated me like I was one of his most important customers (even though we both knew I wasn't). To this day, the relationship we have built through some of the most complex renovations and equipment installations has formed the bedrock of an extraordinary partnership with Jensen, nurtured by Carlos.
If I could use one phrase to describe Carlos it would be a 'fierce advocate'. LHLS has been the benefactor of his advocacy over the years for support with equipment, software, service and parts. There have been many late-night or weekend calls where he has literally 'answered the call' to assist, when we were in need and there was no other option. His fierce customer advocacy is a quality that I have attempted to emulate in dealings with my customers.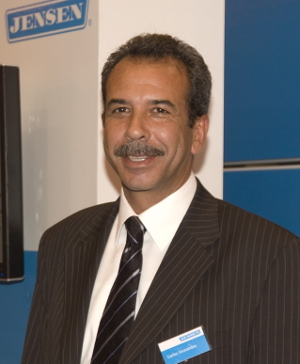 On the other side, I have also seen Carlos be a fierce advocate for Jensen. There have been times when difficult decisions needed to be made and, due to the complexity of the issue, the result was not in our favour. Carlos was able to engage in the difficult conversation with us, explaining why the responsibility was not that of Jensen, but that of LHLS, and we were on the hook for the costs.
Finally, I believe Carlos is a fierce advocate for our industry. He and Jensen have supported many – if not all – of the industry associations we are all part of. Whether it is CLATA, ARTA, IAHTM, TRSA or ALM (among others), Carlos is a presence, representing Jensen and, sometimes, representing the reusable textile industry.
I have been truly fortunate to know Carlos, learn from Carlos, be the beneficiary of his advocacy, and today call Carlos my friend.
This recognition could not have happened to a more deserving individual!
Marcia Todd
Fabricare Canada magazine
Publisher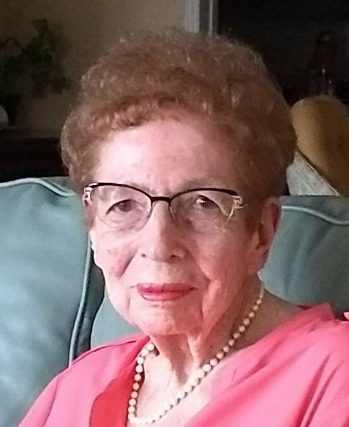 It was always a great pleasure to do a laundry story with Carlos.
The plant managers greeted us very warmly and had nothing but praise for Carlos and the equipment he had installed for them.
Sean Curtis
K-Bro Linen Systems Inc.
Senior Vice-President
Over the past 35 years, I have had the great privilege and honour to work closely with Carlos on many new plant projects and various equipment purchases. His professionalism, extensive knowledge of laundry systems, and his valuable input have made our partnership with Jensen exceptional.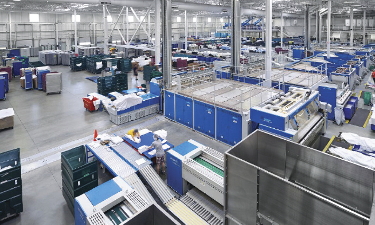 Carlos is as genuine as they come, and I am grateful for the business and personal friendship that we have developed over the years. Congratulations on being named the Canadian Industry Person of the Year!
Why Carlos?
You might be wondering what makes a Canadian Industry Person of the Year. Several words come to mind: integrity, diligence, excellence, determination, humility, commitment. Carlos Fernandes demonstrates all of these, and more, every day.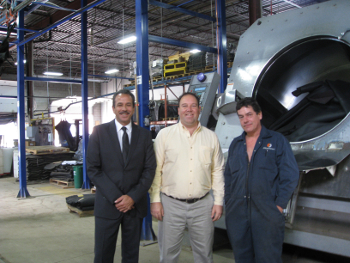 In addition, he's not just interested in promoting Jensen, but the whole industry. He knows that when the Canadian industry succeeds, so will his company. It does no good for him to install equipment in a sector of the economy that is not sustainable. His willingness to give time and expertise to so many associations and activities shows his true purpose and strength.
Congratulations, Carlos. You've deserved this for many years.