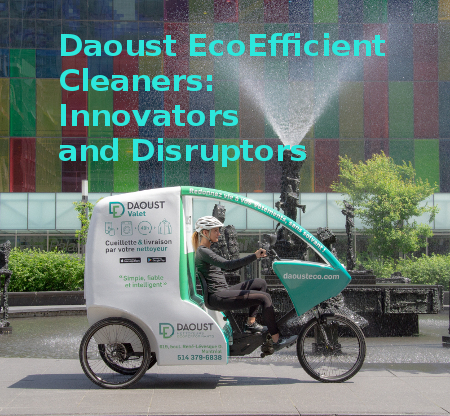 By Becca Anderson
We hear it in movies all the time: the screech of tires as the vehicle the hero is riding in swerves in a dramatic turn and heads off in a completely new direction. We expect it in movies, but when it happens in business, it's jaw-dropping. Yet that is exactly what Daoust EcoEfficient Cleaners has done in Quebec.
Quick history
Daoust Cleaners was founded in 1979 as a traditional dry cleaning company and grew to multiple locations. In the 1980s, the brand merged with Michel Forget Cleaners and became the Groupe Daoust/Forget, the largest dry cleaning chain in Canada. Since that time, the company has grown to 130 locations, all in the province of Quebec.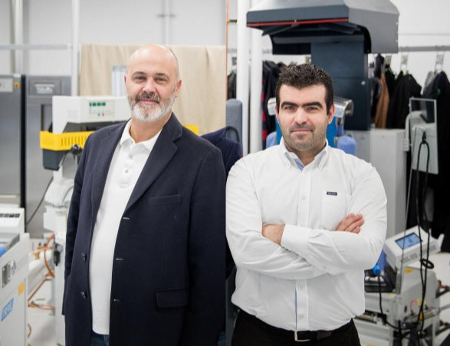 The company was bought out in 2015 by Lionel Frérot, who wanted to do something new. "He couldn't accept that in the 21st century we were using basically the same techniques as in the '60s," said Hugo Cerqueira, vice-president of operations and development. "He wanted to do something environmentally friendly, sustainable, and that would make sense economically – meaning it would have to be more profitable than regular dry cleaning so we could attract investors."
His plan was to convert every location to 100% wet cleaning, and to do it in a staged and uniform manner. "The biggest milestone in our company was the 2015 buyout that brought to the company our president, M. Frérot, with a completely innovative and visionary plan for our brand, and cemented our position in the industry as innovators and disruptors," said Cerqueira.
Overnight
Frérot asked his team if it was possible to convert to successful wet cleaning of 100% of the garments.
"I don't know, I might be able to create something that would allow us to clean 95% of the garments, but I'm not sure if we can reach 100% of those currently cleaned with solvents," Cerqueira told him at the time.
"No problem," Frérot said. When asked about the other 5%, he said, "We will not do them. We will explain to our customers that in order to respect our engagement to a clean and environmentally responsible operation, there are some garments we will not clean."
Then he left the team alone and they were able to develop a system that actually does more garments than what they previously did with perc – such as leather, shoes, wedding gowns and other fabrics they had been unable to process.
One night in September 2015 the team moved in on its first store. Overnight, they removed the dry cleaning machine and put in all new equipment. "When the operators arrived in the morning, there was no dry cleaning. We all were nervous, but that would become the first of many," said Cerqueira.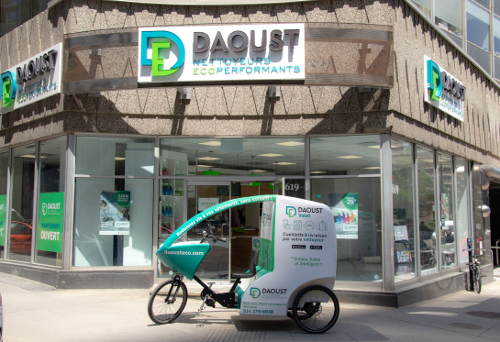 It takes a team
More than just equipment changed. In each location, construction was done to bring the call offices and plant up to standard. Ceilings, floors and furniture were upgraded, walls were painted, and the branded look of the company made uniform, usually without closing the store.
"The majority of the converted stores were old and in need of a facelift," said Cerqueira. "When the work was too large to keep the store open, we installed containers outside to receive customers while the work was done in the store. In order to be able to do this, we have built a team that supervises everything. We have our own technicians, training staff, delivery and logistics, and we work closely with the contractors to make sure everything goes well. It's teamwork."
Staff resistance
"Resistance to change is part of human nature, but as soon as you show them something new that will improve their work and life quality, it's almost impossible for them to reject," said Cerqueira. He cited the example of a presser at the first store that was converted.
He had been pressing for over 50 years, and he kept saying "This is not for me," he said, referring to the new tensioning equipment. "I will keep working on my press." However, a week later he was happily working with the new equipment. When teased that he'd sworn it was not for him, he said, "This is so easy. I do way more with so much less effort that it is amazing. I never imagined seeing this in my lifetime."
Cerqueira emphasized the importance of quality training of staff. "The process is so easy and flows so well that everybody jumps in. Our trainer has over 35 years of experience as a cleaner. He worked mainly with perc for over 30 years, so it's easy for him to train the staff. The staff respects the trainers because they recognize their competence."
Didn't lose a partner
Each dry cleaning location partner needed to make a $200,000–$700,000 investment to move up to the new branding and methods of cleaning. That's a big gulp to take in, and so it was critical to lay out the potential gains so each cleaner could choose wisely. Not a single cleaner said no.
"We actually gained new franchisees, because it's a business model that is more interesting than traditional dry cleaning. Being a very automated and standardized operational concept, it attracted investors that usually would not invest in the industry," said Cerqueira.
Lionel Frérot worked closely with several partners to open new lines of credit and make them available to the franchisees and partners. Investment firm Fondaction was among the first to unlock funds for the project. "You can have bright ideas, but if the financial institutions don't chime in, it's very difficult," Cerqueira said.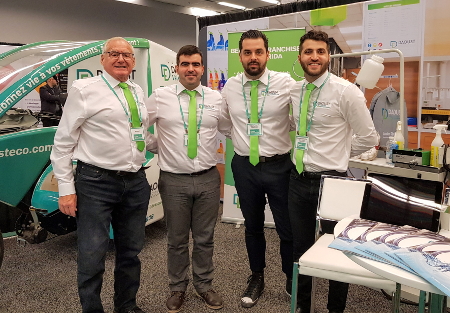 The pitch to each franchisee was straightforward. "If you take a regular medium cleaner that does $450,000 a year, and it needs a $250,000 investment to do the full conversion, a turnkey solution with machines, installation, construction work, new signage, etc., the loan will only represent 10% (sometimes even less) per year of existing sales. Normally, even if you didn't improve the quality of cleaning, only did a facelift of the store, you would generate 10% more in sales easily. But when you bring to the table the radical improvement in cleaning, lower labour costs, new products and services to sell, a medium growth of 15% in sales is easy to attain, so it pays for itself."
New equipment, new processes
The company started a research and development program in 2015 that continues to this day. The program developed technologies and solutions that were tailored to the new direction of the company. Groupe Daoust/Forget also worked closely with textile labs in Canada and Europe, including CTT Group in Canada and CITEVE in Portugal. The group has an ongoing project working with the textile industry to develop a cleaning label that would allow garments and fabrics to be labelled as 'wet clean' and at the same time assure manufacturers that the wet cleaning process would be standard and safe to recommend.
"There are a lot of variables in wet cleaning, and it's where we will try to do something by presenting our technology, which always uses the same machines, the same products, the same programs everywhere, every time," said Cerqueira.
Miele washers and dryers were chosen for the conversions, and they are modified with proprietary programs and dosing systems. Miele understood what the company was trying to do and offered exclusivity for the market in Quebec, so only Groupe Daoust/Forget would be allowed to sell Miele Professional laundry equipment in Quebec. Machines range in size from 20 lbs. to 75 lbs.; larger-capacity machines are savailable for industrial installations.
Proprietary detergents are manufactured in Germany and branded with the company's name.
Finishing equipment is Trevil, due to good relations between the two companies, and Trevil's ability to modify the machines according the Daoust/Forget's needs.
Cerqueira has considerable technical experience in dosing systems, and felt regular dosing systems were not adequate for what they were trying to do. "Traditional systems are peristaltic or membrane types. These pumps are not precise enough to do a consistent dosing. Each day the peristaltic pump slowly loses its precision, and in three months it is dosing half what you predefined."
The R&D section created its own system from the ground up. Manufactured in Portugal, it uses a piston-type pump that is said to be able to maintain precision without maintenance for years. "We don't have to send a technician every three months to change squeeze tubes." The pumps are also Bluetooth enabled, so the operator can log in and know what time the machines worked, what programs were run and what quantity of each product was pumped. The system can run up to four machines at once. All electronics and software were developed by Groupe Daoust/Forget, and spun off as a company called Dosage Control Technologies (DCT). (For more information see www.dosagecontrol.com.)
Even stain removal technology got an overhaul. "We wanted something so easy and powerful to use that we could teach someone without experience (in an hour) how to remove stains safely and effectively. One of the challenges of the industry is labour, especially finding someone with a good amount of experience in removing stains," said Cerqueira.
To handle this difficulty, they developed procedures using their products and an ultrasonic gun. Cerqueira jokes about how easy it is to learn, and puts people coming to visit the operations to work on stain removal, even if they never did it before. "We are starting to be known as the ones that remove the stains other cleaners can't, so you have an idea of the efficiency of the method," he said.
The ultimate goal
In a customer's eyes, you are only as good as the last item you cleaned. At Daoust/Forget, quality control is elevated to a full-time job. Called 'Path to Quality', the program involves monthly visits by inspectors with iPads and detailed checklists. Everything from cleanliness of the store and equipment to procedures for cleaning, pressing and stain removal, display of marketing materials and availability of MSDS is reviewed and scored.
"We even check the pads in the pressing equipment, and we register everything on the form, with photos included. We want to make sure all procedures are followed and that nothing is left without attention. The ultimate goal is consistency in the service we provide so the consumer always has the same service, no mater which store serves him," said Cerqueira.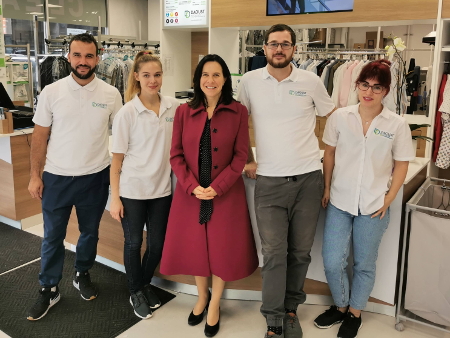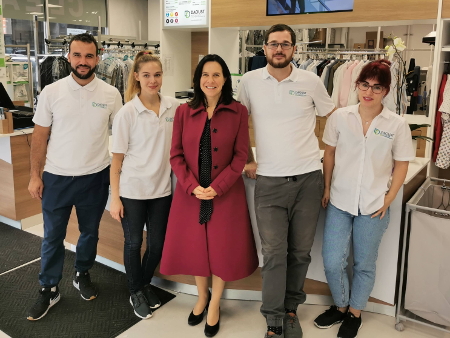 Customer reaction
Customers were wowed by the changes, from the upgraded look of each location, to the new feel and freshness of garments after cleaning. The new machines are proudly visible to customers, and new services like anti-stain and superwhite have been offered. They have been educated about the change from solvents to wet cleaning, and the improved quality seals the deal.
The company has been testing a 'Prestige Card' program that it hopes to roll out in 2020. The consumer buys the card and receives a fixed discount in a majority of the products and services, free unique suit bags, priority access with no need to wait in line to bring or collect their orders, and valet service (coming in the future). "It's going very well. We will finish our beta test program in the first half of this year and, after analyzing the data, we will launch it in all locations."
Quebec is just the beginning
For now, all 130 locations are in the province of Quebec, but the company is in the process of expanding its concept to other provinces in Canada. "We foresee the opening of our first store in Toronto in 2020, and we are looking for partners who wish to integrate our concept in Canada and USA. We have plans to open in Florida very soon, and we have our first store in France, which will open this year, as well as our first store in Shanghai, which should be ready in 2021," concluded Cerqueira.
As wet cleaning continues to blossom, it is inevitable that improvements, standardization and innovation will also follow. Groupe Daoust/Forget will be one to watch.