An interview with Josh Nye, SMRT Head of Product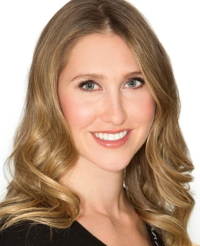 If you haven't met Josh Nye, you may have heard his name or 'Josh from SMRT.' I met Josh at the recent Clean Show in Atlanta and was thrilled to meet another young person in the industry! Josh was one of the first employees at SMRT and was the original 'guy' to do customer service, program fixes, sales and training. In the last eight years he has been to over 200 dry cleaners, assembled thousands of items, and made amazing relationships in our quirky industry. Josh is currently SMRT's Head of Product and works with the team to envision a better software program for the industry – although he still has to correct his mom when she says he works in the 'laundromat industry.'
How did you get involved and start working at SMRT?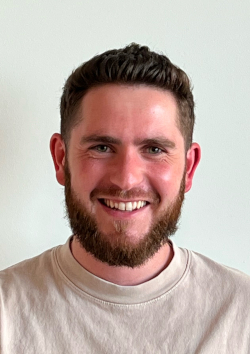 When I was 19, I dropped out of UC Santa Barbara to start a tech company with two of my best friends. While we raised $250,000, we were green, naïve, and failed – though it was a great learning experience. Because we weren't programmers, we couldn't create the product we imagined without spending lots of money. So, I began teaching myself to program. I figured that the next time I had an idea for a business, I could build it myself.
Fast forward to 2015, I was a few months into learning programming, and wondering if I should go back to college. Then, I got a call from Bill Alber, SMRT's CEO and founder. I knew Bill from a previous summer job, stuffing mailboxes in San Francisco's wealthiest area with promotional dry cleaning material for his dry cleaner, SF Green Clean. Bill asked me what I was up to, now that my attempt at starting my own company was over, I replied, "Nothing really, teaching myself to program." Bill said "Great, come work with me!"
The next day I had a job at SMRT. I was excited to be back in what I thought was a tech start-up type role and put my new programming skills to use. Instead, Bill had me start working behind the counter, pressing clothes, and running routes through the winding roads and steep hills of San Francisco. Right as I was considering quitting and going back to school, Bill had me begin working in the office. I realized that he had me work in production, so I understood how our software was used and what challenges dry cleaners face. Our first big client was Meurice Garment Care in NYC in 2016 and took just under two months to finish the installation! Today, we are doing 10 installs a week and have around 60 employees.
So, what interested you about dry cleaning?
When I started, nothing! To be honest with you, I didn't even know what dry cleaning was, and I just needed a job and didn't want to go back to college. During our first install, I was shocked that their existing computer software looked like something on my grandmother's old computer. It was surprising to me that not all software was user friendly or nice to look at, especially growing up in the Bay Area surrounded by tech giants. This realization gave me a lot of confidence in our product and fuelled the passion that I have for making great software. What's kept me in the industry is the following:
How many flavours of a dry cleaners there are, how two companies doing the same thing on paper had drastically different processes.
How technologically underserved the industry was.
The need for creativity to not only solve complex operational problems but to make dry cleaners' lives easier.
What's been your biggest challenge since launching SMRT?
Scaling! Before Covid I was on a plane two to three times a week doing installs, sales and visiting clients. I 'technically' still lived at home with my mom but felt like I was living out of my suitcase, jumping from hotel to hotel. After growing the company successfully, hiring more employees, and maintaining a constant stream of clients, we had a new scaling problem. I was still the centre point for support, onboarding, data, and product development. Training new managers to take over different areas of the business was and is my biggest challenge but essential to scale.
What makes SMRT different from other POS's?
Who we are and how we've built our product. From a macro perspective there isn't a difference between POS systems in the industry. We're all inventory management, cash register, reporting, logistics, billing and CRM software companies designed to serve the dry cleaning industry.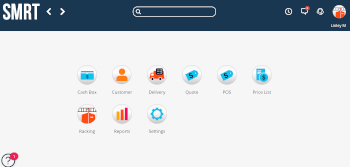 What sets SMRT apart is who we are, what we're doing, and how we're doing it. We've streamlined and simplified processes for owners and employees. I'll give you an example – a large route cleaner shared that it used to take two weeks to train a new driver, after SMRT that time dropped to two days. Sure, you can send and receive a text in most systems, but the way SMRT maintains a consolidated contact log and alerts you of new messages is much easier to use than other POS systems. At SMRT, we're also dry cleaners ourselves. The software was born and built out of our dry cleaner in SF, and we're passionate problem solvers with a love of technology.
If someone is considering switching their POS, what advice would you give them ahead of time?
Changing a POS means change, so be open to changing processes or 'rules' your company is used to. Make sure to involve all relevant stakeholders. It's important to involve everyone who is a knowledge silo in the transition process. Next, accept that it's not going to be painless, but have a positive attitude. Look, you're basically doing open heart surgery on your operation. If you approach the transition with a negative outlook, that will trickle down to your staff and make it harder for them to learn the new system. This is easier if you communicate the nuances of your operation to your new POS company. It's not the simple things that make an installation go poorly, it's the exceptions to the rule. Lastly, use the software. If you're an owner, work the counter for a day, assemble items, go out on the route with a driver. This won't only help you understand the software better, but it may also give you ideas to improve your business.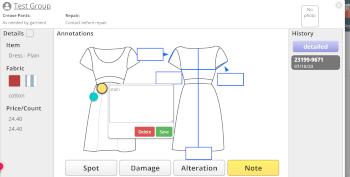 What is the most requested service feature or function that you don't agree with or question why businesses need?
Highly requested features these days are few and far between, but if they are highly requested, I wouldn't be good at my job if I didn't work through the request to understand why it's valuable to the operators. In our early stages we got far more feature requests than we do now, and built the system up based on those requests with our own twist on them. For example, a large customer took one store live on SMRT, and before they added their other 11 stores they wanted us to create six reports that the system didn't have. Instead of just creating those six reports, we decided to create a system that would allow you to create a report on almost any dataset in the system. So not only did they get their six reports, but they got our current KPI and Reporting system.
What is a feature that you're excited about?
In the short term I'm really excited about a set of Reporting & KPI enhancements that we're making progress on. With the new functionality, our already robust reporting dashboards and tools will be even more powerful and streamlined. For new customers, we've created and are continuing to add an intelligent configuration data pipeline to make converting to SMRT easier. In the future, we're looking to redesign our software and user interface, which is going to echo the same level of improvements that our last redesign did in 2020.
I know you've been travelling a lot, has SMRT gone 'global,' and what are your plans to expand?
Thankfully I'm not travelling as much as I used to. As you know, SMRT is available in Canada, the U.S., Mexico, Norway and the Caribbean. In Q1 of this year we launched in Oceania and now have customers in Australia and New Zealand, and plan to work with cleaners in Singapore and the Philippines soon. With this expansion we added new language components. We were able to do this for Norwegian, Swedish, Spanish (Latin American), French (Canadian), Hindi, and Australian English. Another example of how being truly cloud based and being built on cutting edge software architecture allows us to utilize advancement in technology from other industries.
SMRT Marketing rolled out recently and is catching a lot of attention, why do you think a business should switch to SMRT Marketing vs. other options in the market?
Whether you use SMRT Marketing or not, every cleaner out there should be engaging in some sort of marketing and digital reputation management. In today's digital world, customers turn to online reviews when deciding where to take their business. You keep your store front clean and inviting for customers in person, you should be doing the same for your digital storefront. This will drive customer acquisition, retention and overall business growth.
The advantages of SMRT Marketing are a seamless integration, real-time connection between your SMRT POS and SMRT Marketing services. You also get dedicated in-house staff (so you're not relying on another vendor), advanced analytics, and our passion for creating amazing software and products.
We currently have three products available with SMRT Marketing: Reputation Management/Review Generation; Insight Based Targeted Email and Text Marketing Campaigns; and Social Media Management. We're working on some new offerings that I can't get into details on yet, but that's another advantage – we're always thinking of new ways to create value for our customers.
I met your team in November 2022, and was super impressed by the calibre and passion of your team members. How does SMRT attract its talent?
I think it's a mix of luck, hard work, and passionate people wanting to work with other passionate people. From the beginning we were lucky to have great people. Johan Baversjo, our CTO, was fresh out of Lund University in Sweden. Lund is a top-100 ranked university in the world, and so we recruited other computer science graduates who were friends of Johan to come work at SMRT. Ross Medina, currently a Support and Onboarding Specialist/Manager, had been managing SF Green Clean before Bill acquired it, and her years of experience in dry cleaning were key to our early growth and continued success. In 2019 we acquired a competitor, Liberty Computers out of Raleigh, NC. The management and staff of Liberty were great and already veterans of the dry cleaning industry. As we've grown, SMRT has felt like one big family, both internally and with our customers.
That said, it's not like we don't have the same challenges any business does when it comes to finding good people. I think it's important to cut your losses early on if things don't fit well, and also to give employees the ability for advancement when they show promise.
What's something dry cleaners should have on their radar right now? (AI, Sustainability, etc.)
Automation! Whether it's automating labour by purchasing an auto bagger (every cleaner should have one of these in my opinion), automating your cash flow by switching statement customers to card on file, and having your POS automatically charge them when their orders are ready, or automating assembly by using an assembly conveyor – automation will change your life!
Automation should complement customer service, not replace it. When you automate the things you can, it gives you more time to provide your customers with excellent service and the ever-so-precious – in this day and age – human touch.
Since AI is such a widespread talking point these days, I'll give my thoughts. From my perspective, AI isn't going to replace jobs on a mass scale anytime soon. I see it as a powerful tool that will enable people to be more efficient by automating parts of their work and pairing it with their human touch. Just like with automation in dry cleaning. From a technology standpoint, it's going to accelerate the creation of useful and powerful new technologies around the world. I'm excited to see what comes out in the next 12 months and how SMRT can take advantage of this technology.
If you could have dinner with one person, dead or alive, who would it be?
Sappy answer: My dad, who passed away in 2014 after a long battle with ALS.
Fun answer: Lewis Hamilton, the joint-record holder for most F1 World Drivers' Championship titles. I'm not a big F1 fan at all, but Lewis' story is inspiring. I imagine the meal would be amazing, and the conversation both intriguing and entertaining.