Prior to the Clean Show, many companies chose to keep their newest innovations quiet, so they could debut at the Show itself. As expected, we received a lot of press releases right after the show giving details of new products and services. We also received reports from some of the events.
Here we present selections from those reports, in the companies' own words, as our final article on the Clean Show. We have edited for brevity and clarity, and listed them in alphabetical order with the exception of the Clean Show itself.
THE CLEAN SHOW – Messe Frankfurt
Clean 2022 Lives up to the Hype, Receives High Marks from Across the Industry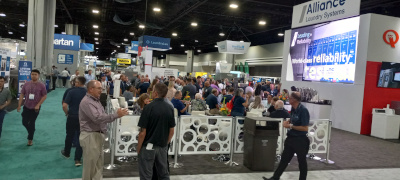 After a year-long postponement due to Covid-19, the excitement to meet, in-person, with industry peers and experience the latest technology and innovations could be felt throughout Downtown Atlanta throughout the Show.
"These industries have been through a lot these last two years," said Greg Jira, Show Director for The Clean Show, "and Clean's goal is to serve as a global platform for knowledge and idea sharing so that companies may walk away with the tools they need to recover and, ultimately, thrive. With the feedback we are receiving from this year's event, it is clear that we were able to accomplish that and so much more."
This year, the 216,400-sq.-ft. exhibit hall brought together 347 exhibiting companies from across the industry spectrum (including 51 first-time exhibitors), showing the latest technology, machinery, equipment and other products and services for the commercial laundering, dry cleaning and textile care services industry.
Nearly 10,000 industry professionals from North America and beyond were there, and had the opportunity to attend seminars addressing today's most pressing topics, with access to over 30 hours of complimentary education.
Exhibitors were pleased with the overall attendance of the event, and the quality of the attendees present on the show floor.
The next edition of The Clean Show will take place in Orlando, Florida. While specific dates are to be announced, the event is slated for mid-August 2025.
For more information, please visit: www.thecleanshow.com.
---
ASSOCIATION OF WEDDING GOWN SPECIALISTS
AWGS is a Canadian not-for-profit trade association with members in eight countries. Members are certified to ensure that wedding gowns and heirloom textiles of all kinds are cleaned according to established museum standards and preserved in archival-quality materials.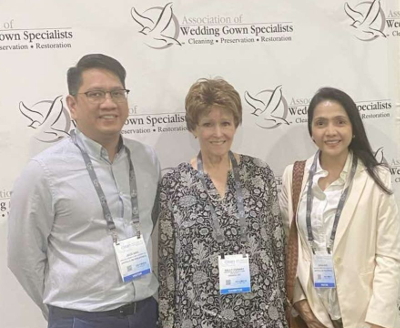 Photo from The Clean Show: Our newest members Dominador R. Asis III, president of Absolute Laundry and Dry Cleaners, and his wife Zaida. They are from Manila in the Philippines, the eighth country in which we are represented.
For more information about training and membership, call the Association office at 203-878-3005 in the U.S., or go to WeddingGownSpecialists.com/about-us or WeddingGownSpecialists.net.au/about-us.
---
B&C TECHNOLOGIES
B&C Technologies Introduces an Innovative New Line of Washer/Extractors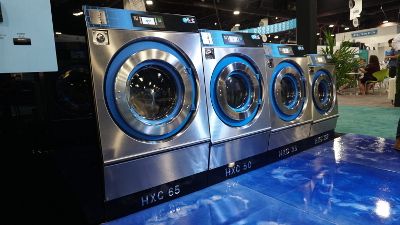 B&C Technologies, based out of Panama City Beach, Florida, premiered their newest line of machines at the Clean Show in Atlanta, Georgia. B&C has been providing a complete line of commercial and industrial washers, dryers, ironers, folders and feeders for over 20 years; they've recently expanded their offerings to vended equipment and a new line of high-extract 400 G-force hard-mount washer/extractors.
The on-premise HX Series features FM7 control, which is capable of handling any custom wash program requirement. The CARB bearings are housed in a cast iron trunnion, with the seals physically separated from the bearing housing, meaning that the wash solution cannot enter the bearings and cause premature failure. A solidly welded powder-coated steel frame ably transfers extract forces to the foundation.
The vended HX Series features our new simple control, which interacts with our line of Münzprüfer acceptors. Three different versions of coin acceptors are available that can be used with a wide variety of coins. These meters also accept wireless payments though a smartphone app as well as an exclusive card system.
Al Adcock, vice-president of sales and marketing, says, "We've worked for the Bruce and Cowen families for over 30 years, and this is a true game changer for our industry. The innovative design is capable of extremely long life with minimal maintenance and will be surprisingly affordable."
---
HYDRO SYSTEMS
Missed us at the Clean Show? Here are some of the products we displayed at our booth: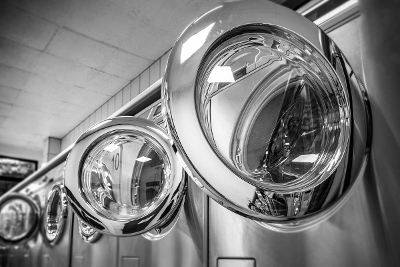 The LM200 dispenser system is a compact, low-cost, easy-to-use dispenser for on-premise laundry applications. It includes a washer-mounted controller, a super-isolated machine interface, and a wall-mounted pump module. It can handle up to 6 laundry chemicals and up to 20 different formulas.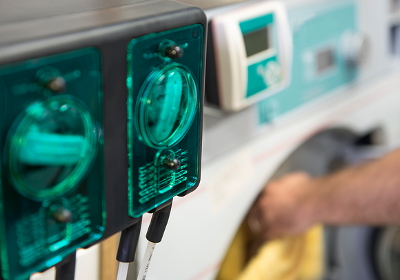 EvoClean is the world's first venturi-based, water-powered laundry dispenser. It is compatible with the Total Eclipse Controller and includes an integrated flush manifold. The system is available in 4, 6 and 8 product configurations with either low or high chemical flow rate. This covers a full range of product configurations and washer sizes used in OPL accounts.
Designed to manage chemical dispensing for on-premise laundry sites, the Multi-Washer 3000 Series with EvoClean offers cost-saving potential and cutting-edge reporting. The Multi-Washer 3000 Series with EvoClean provides reliable and accurate dosing that can support up to 3 washers and dose up to 8 products within a single system.
Designed to manage chemical dispensing for commercial/industrial laundries, the Multi-Washer 10000 Series offers reliable dosing that can support up to 10 washers and dose up to 10 products within a single system. Flexible and easy to configure, the Multi-Washer 10000 Series utilizes an accurate flowmeter for precise control to reduce rewash and prevent costly overdosing.
For more information, visit: www.hydrosystemsco.com.
---
JENSEN
Strong Revenue Growth
The Jensen-Group reports a revenue of €171.2 million for the first half year. The increase of 37.8% compared with 2021 is attributed to a higher order backlog at the end of 2021 and continuous strong order intake during the first semester of 2022.
The Jensen-Group has been strongly investing in smart digital solutions for heavy-duty laundries. By introducing robotics and AI, the Jensen-Group and its partner Inwatec have pioneered a totally new approach in laundry automation. Launched at the Jensen Performance Days 2018, many laundries around the globe have embraced this new technology, which improves sustainability along their value chain. By automating such processes, the health and safety of the workers is improved, and the lifetime of textiles and equipment is prolonged.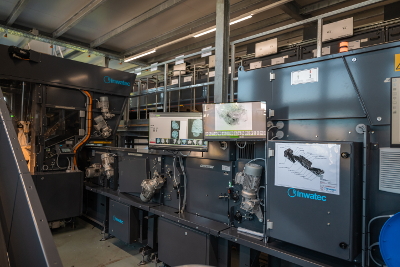 The Basel Branch of the German Bardusch Group recently installed a fully automated sorting system for soiled linen, a new washroom section, and a highly automated garment handling system. The upgraded laundry incorporates technology from Inwatec and the Jensen-Group, and is extensively used as a reference installation for interested customers.
Supply Chain Issues
The production constraints due to shortages of critical components and higher material prices are a major business risk. Our management, together with the local procurement teams, form a core team that evaluates the challenges on a weekly basis. Unfortunately, many suppliers have increased their prices, which is why we have to pass on price increases. We are increasingly looking for alternative options from other manufacturers, as well as alternative products with the same performance. In project discussions with our customers, we ensure transparency and regular updates: This partnership approach ensures understanding and allows constructive approaches. Our customers appreciate that we do everything we can to support them in these challenging times.
Outlook
The Group management foresees an increased demand for automation and material handling solutions as hygiene requirements and personnel shortage become a global concern. Also on a global level, the health care sector remains stable and continues to invest. A bit more fragmented is the tourism sector, which is gradually picking up. Whereas most European and American countries will soon approach the levels of 2019, countries in Asia and the Middle East strongly depend on the reopening of borders and easing of measures.
For further information, please contact: Jesper Munch Jensen, Chief Executive Officer, Markus Schalch, Chief Financial Officer, T: +41 34 426 1646 – marketing@Jensen-Group.com
---
KEMCO
Kemco Systems Receives Patent for Water Recycling Process Kemco Kleenwater™ System
Kemco Systems, a long-time innovator of water and wastewater treatment within the laundry industry, announced the award of a patent for their Kleenwater™ system. The patented process employs the combination of Kemco's ceramic membrane filtration system and specialized reverse osmosis technology, which conserves water and thermal energy. Kemco is the only company in the industry with the ability to combine these treatment systems while maintaining thermal energy.
The Kleenwater™ system presents a cost-effective means of combating rising water, sewer and energy costs by removing emulsified, suspended and dissolved contaminants including PFAS and microplastics from wastewater without utilizing high volumes of chemicals. The well-established process has demonstrated consistent reuse of 75%–85% of a plant's water and thermal energy in the same process, all while reducing their consumption of wash aisle chemistry.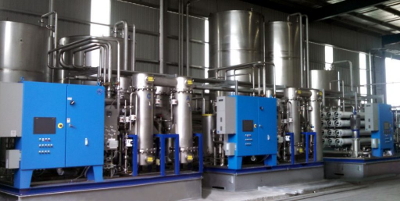 Kemco's ceramic membrane process is based on high-velocity crossflow filtration, with wastewater being filtered through ceramic ultra-filtration elements. The result is a filtrate free of oils, greases, suspended solids, viruses, bacteria and microplastics.
The high-temperature reverse osmosis process uses specially designed and purpose-built membranes to remove remaining dissolved constituents, colour and PFAS from the filtrate. This innovative approach allows laundry facilities to return the highest quality water to their wash aisle, reducing chemical usage, and ultimately delivering softer goods and whiter whites.
---
LAVATEC
New LAVATEC Tunnel Washer purchased by Emerald Textiles to be installed later this year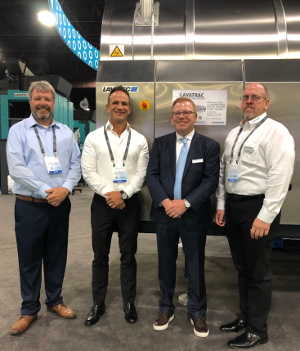 In this photo, leaders from Emerald Textiles™ stand next to a similar LAVATEC tunnel washer they purchased prior to the recent Clean Show in Atlanta. From left to right is Robert Hines (Emerald vice-president of sales), Andy Kratky (Emerald CEO), Mark Thrasher (LAVATEC president), and Jim Slatcher (LAVATEC western regional sales manager).
Installation of Emerald's new LT100, 12-compartment tunnel washer with 220-pound capacity is expected to take place at its Colton, CA facility later this year. One of the largest commercial health care laundry and linen service businesses in the western United States, it is a continuation of Emerald's multi-million dollar investment in capital equipment.
---
MAYTAG
Maytag® Commercial Laundry Celebrates Customer Achievements at 61st Awards Ceremony in Atlanta
Northwest Laundry Supply awarded prestigious Fred Maytag Award; Dependable Laundry named International Distributor of the Year
For 61 years, Maytag® Commercial Laundry has honoured the hard work, commitment to tireless service and dedication of its customers with an annual awards ceremony. More than 200 people gathered at The Westin Peachtree Plaza in Atlanta to celebrate the achievements as part of The Clean Show. This includes more than 40 customers from around the world in attendance.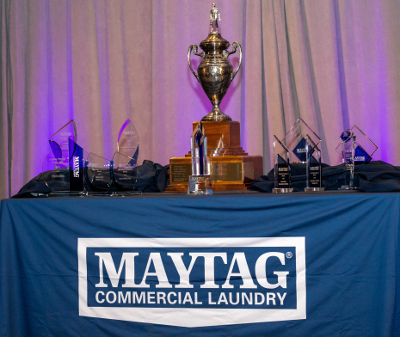 Maytag Commercial Laundry announced Northwest Laundry Supply as the winner of the prestigious Fred Maytag Award to cap off the night's awards ceremony. This esteemed award is presented to a company that not only excels in all three segments (Multi-Housing, Vended, OPL) but also showcases their commitment to their partnership as a loyal Maytag ambassador.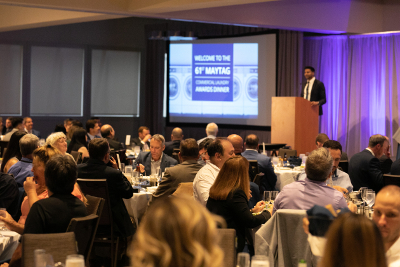 Northwest Laundry earned the Fred Maytag Award as it was one of the first companies to purchase the new line of multi-load machines and promote them heavily. They achieved great results, with excellent and significant year-over-year growth with multi-load machines in the vended and OPL segments.
Australia-based Dependable Laundry has been named the Maytag International Distributor of the Year. This award is bestowed on a company that substantially grows its business and deserves this level of recognition.
Maytag Commercial Laundry honoured and recognized 10 outstanding additional customers during its awards ceremony.
---
METHODS FOR MANAGEMENT
Methods for Management celebrates Clean Show Review Breakfast with fellow industry professionals from around the world.
Methods for Management (MfM) hosted their Clean Show Review Breakfast, attended by 50 members and industry professionals worldwide, including the U.S., Canada, Australia, Mexico and Germany.
The speaker lineup included Francis Flair (Flair Consulting Group), who discussed the importance of improving Customer Experience. Sandra Haralson (Sandra Haralson Dry Cleaning Consulting) with a short discussion on the importance of equipment and plant maintenance with productivity. Josh Nye (SMRT Systems) with an update on the current market and owner must-dos.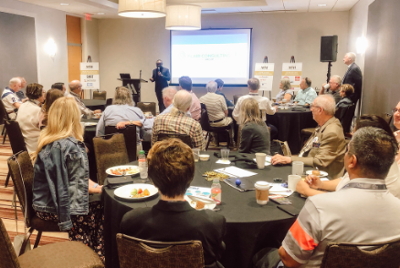 Members also enjoyed updates from industry-leading vendors and breakfast sponsors, including Toran Brown (SPOT POS management) discussing their progress with integration with MfMBI financial platform; Sally Conant (The Association of Bridal Gown Specialists) discussed membership; Diane Rue of EZProducts International; and Kurt Wichizer with Seitz.
Member Nadine Rana (Style & Grace Cleaners in Toronto, Ontario) summed up her experience by saying, "Relationship building with our non-competing peers has been instrumental in our growth. Coming together as a group at The Clean Show was a great opportunity to reconnect face to face as we move into a post-pandemic world. And more importantly, the panel of MfM industry consultants was one-stop shopping! As business owners, we are time-poor, and connecting with these industry leaders in one jam-packed session saved us many hours of virtual chats, emails and phone calls. There was so much to cover at The Clean Show, and MfM made it possible to maximize our learning opportunities in just a few days!"
---
MIELE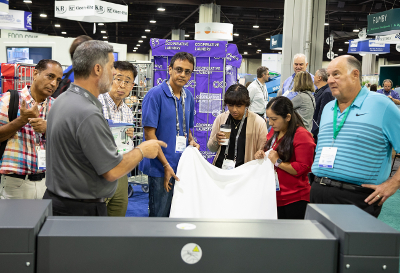 Miele Professional provided Clean Show attendees with a live laundry demonstration on the show floor. Miele, in partnership with America's Best Cleaners and Kreussler, held nine demonstrations, each with an engaging question-and-answer forum at the end.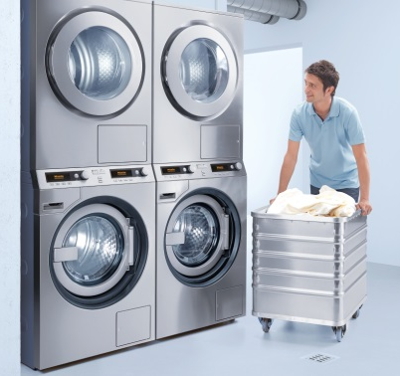 "The assumption among dry cleaning professionals is that washing these higher end clothes with water will somehow shrink or damage them," said Paulo Rocha, Head of Sales, HCS Business unit, Miele Professional. "It was so beneficial to not only tell them the story of wet cleaning, but to show them live and in-person how it works. That really helped to clear up some of the false narratives."
Miele displayed equipment including large and small washers, vented dryers, stacked equipment, electrically heated washers, low-energy consumption heat pump dryers and an electric rotary iron. All equipment is available for order by contacting an authorized manufacturer representative/dealer or reaching Miele Professional directly at 1-800-991-9380.
---
MILLER BAGS
Hot water-soluble laundry bags now available in North America
Hot water-soluble infection-control laundry bags (made from Aquapak's trademark product, Hydropol™) are now available to buy from their North America sales partner and distributor, Miller Bags.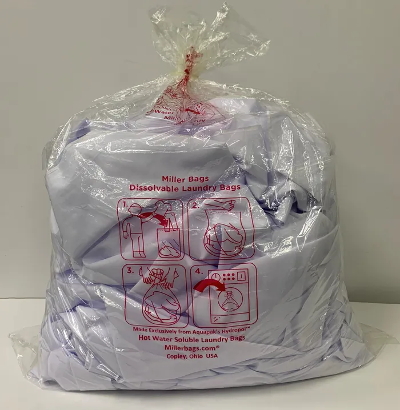 The bags are made for use in industrial/commercial laundry cycles and dissolve at >150°F/65°C.
Health care and skilled nursing facilities, correctional facilities, commercial property management and the hotel/hospitality industries are using these products to bag up soiled linens from the workplace. Soiled laundry gets put directly into bags and does not need to be handled again prior to commercial or domestic washing. This ensures minimal handling, lowers the risk of cross-contamination and prevents the spread of infections (especially in light of Covid-19) in the workplace.
The bags dissolve completely during the wash cycle without leaving any residue on the laundry or in the machine and are plumbing-safe. The Hydropol then safely and completely biodegrades in the wastewater system, leaving no microplastics.
These bags can be purchased by North American customers by visiting: https://millerbags.com/or by calling 866-312-0603.
---
TRSA
TRSA Announces In-Depth Consumer & B2B Research Report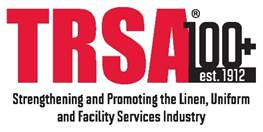 TRSA announced it will offer to the public the TRSA Market Recovery & Research Report. The research, collected in the fall of 2021, utilized focus groups and an online survey to collect data from 1,000 consumers across the U.S. who had recent experience with four key target industries: hospitality, F&B, health care and industrial/uniforms. The business-to-business (B2B) quantitative online survey reached 200 decision-makers in the four key targeted industries.
"The goal of the research was to explore and understand the value that professionally cleaned linens and uniforms add to industries," stated Joe Ricci, TRSA, CEO and president. "By understanding the context of what decision-makers are facing helps frame the added value that textile services can provide relative to what they need most: ways to reduce costs, enhance cleanliness, simplify operations, and improve the customer experience."
Consumer research discloses what end-users of textile and linens feel are essential for their experience. Demographic and psychographic data is included as well.
The comprehensive B2B research dives into what matters to each target industry.
The 100-plus page research report will be available for TRSA members for $495 and $1,995 for non-members. To order the report, please email sjackson@trsa.org.