Passion for Laundry — UPDATED STORY
|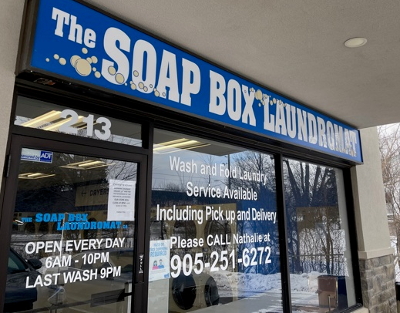 "Never in a million years did I think I would own a laundromat and be an entrepreneur," said Nathalie Beaubien, owner/operator of Soap Box Laundry Services in Newmarket, ON. Now she works full-time running two locations.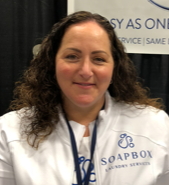 "Our story is a rather funny one because one night 13 years ago my husband turned to me and asked, 'Do you want to buy a laundromat?' I promptly turned and asked him, 'What's a laundromat?'" Nathalie was about to learn.
Prior to purchasing the first laundromat, Nathalie was happy working at her local school board, working with children with varying disabilities. She started spending part-time at work, and taking care of the kids, and in her 'spare time' maintaining the laundromat, but it got out of hand after a while. "At one point, I told my husband, 'It's the laundromat or us!'" By then they had three locations, and they sold all three. "The day of the transaction, we knew we had made a terrible mistake!"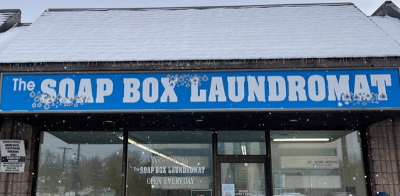 Fortunately, less than two years later, two of the locations were offered back to them, and they couldn't have embraced the opportunity faster. Now Nathalie works full-time on the business. "I love the work I do! I get up every morning and am thankful for what I have worked hard for. I have spent years building relationships, networking, calling, putting out ads, helping our community and so much more. It's been so fulfilling," she said.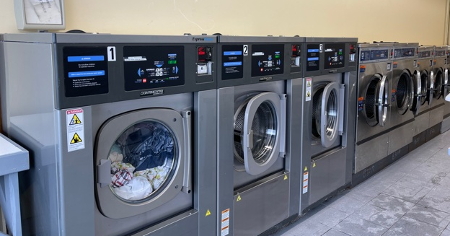 And yes, she's learned the nitty gritty of what a laundromat is. She has learned about machinery and can handle small fixes on her own. She loves talking to clients and supporting her community. "And I am not going to lie – I like the money," she said. "Had I continued to work for the school board, I would not be able to provide my family with the life we have now. Both our sons play competitive sports, and we're able to travel (when permitted). We invest in ourselves and in our business, so what could be better?"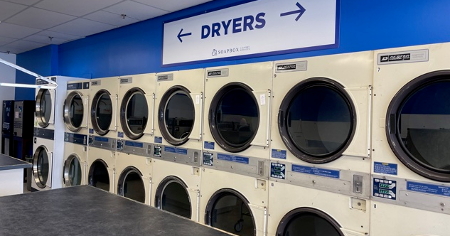 Both locations are equipped with 30- and 40-lb. Dexter washers and 30- to 50-lb. Dexter dryers, all purchased from Onward (TA Appliances) of Kitchener, ON. In the past five months they have purchased two 40-lb. and two 50-lb. dryers of the same brand. "We are so pleased with them!" she said.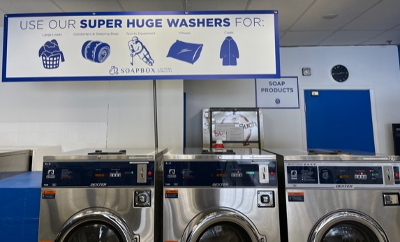 Soap Box uses one location as a self-serve laundromat, and processes 40 to 50 orders per week of wash-and-fold laundry for customers, as well as serving as a traditional laundromat. Over 80% of their orders are over 50 lbs. each, and they charge by weight: $1.70/lb., with a 35-lb. minimum. This price includes pickup and delivery. Some commercial clients have a fixed rate, and oversized items (comforters, duvets, pet beds, rugs, pillows, etc.) are priced individually.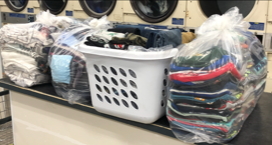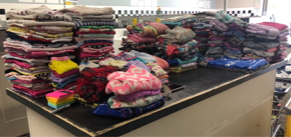 The Nitty Gritty of Wash and Fold
98% of their W/F/ orders have pick-up and delivery involved.
They offer same-day or 24-hour turn around.
Rush orders include an extra fee (usually about $20, depending on the job.
They start W/F at 8 a.m. when the laundromat is quiet, using 5 40-lb. machines. They keep one machine open in case a customer needs one.
They use efficient machines that take 20 minutes per load, so they are rarely without a machine.
They don't designate any machines as W/F only — they use any available.
They have 2 staff members that help run the laundromats, in addition to the two owners' hands-on involvement.
The wash-and-fold aspect of the business began by accident about four years ago. "It started with people calling me and asking if I would do their laundry," Nathalie said. "I said, sure, if I can do mine, I can surely do yours!" Since then, she's used social media to obtain clients, their website (www.soapboxlaundry.ca) and word of mouth. "It's been an amazing ride," she said.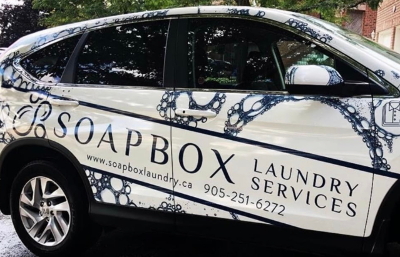 When the pandemic hit, residential laundry slowed down a bit because people were staying home, obeying restrictions, etc. So Nathalie jumped on the commercial side of the business to fill in. "We called dental, medical and senior homes and found ourselves a lot of new business. What we may have lost for the time being in residential laundry, we have gained in commercial laundry. The pandemic has opened a few more doors for us, unfortunately or fortunately."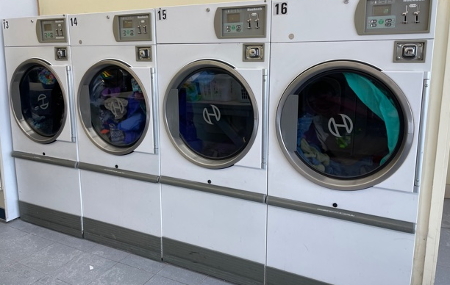 It's safe to assume that Nathalie and her husband will never make the mistake of selling their laundromats again. Her passion for the work and the fulfillment it brings, the contact with people and the ability to provide a needed service keeps Nathalie happily spinning.