Everything you need to know about Google My Business
|
You see the results every time you Google a company, but how did the information get there? They posted it — and you can, too. Here's how.
Your Google My Business page is the source of truth when it comes to your business's online presence. A Google My Business page (GMB) is a free listing or profile for your business's locations integrated with Google Search and Google Maps.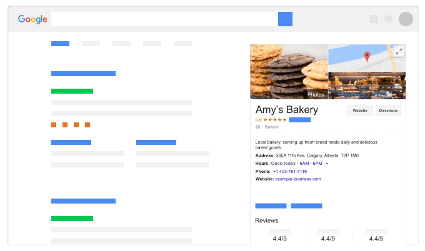 If it's your first time hearing about Google My Business, don't fret – it's likely you interact with Google My Business pages on a daily or at least weekly basis. You know that business profile that pops up on the right-hand side of your browser when you search a business or industry? That's a Google My Business page.
Originally, Google My Business was a simple tool for business owners to inform potential or existing customers of their business hours or services. Now it's become much more robust. Read on below to learn how you can take advantage of Google My Business's latest capabilities to elevate your business's profile and attract new customers.
Getting Started
First, it's important to note, if you own several depots, you need to create separate Google My Business pages for each of your locations. GMB is linked with Google Maps, which makes it critical to have unique listings so new customers can get directions to their desired location. If you're new to Google My Business, you can learn how to set up your account here. You'll likely have to claim your business through a verification process like answering an automated phone call or completing a quick security check. This HubSpot article goes more into depth about Google's various verification options.
Time to Optimize
Next, it's time to optimize your GMB page so it has a higher likelihood of being found by new customers! Log into your GMB dashboard using your credentials to fill out key information like store hours and service offerings. You can also add photos and videos to your page to make it more aesthetically pleasing. While adding video is not necessary, I highly recommend adding at least two images as customers are more likely to engage with a business with high-quality photos that show an inviting space.
Throughout Covid-19, Google has even added extra features for businesses to upload information about service availability and safety precautions. My advice – reserve an hour of time at the end of each month to review your GMB page so you can ensure your information is up-to-date for the next month.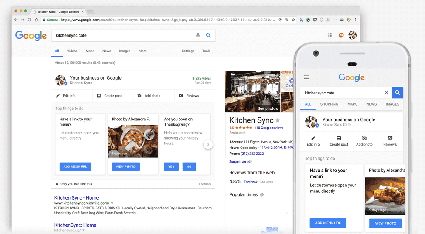 Respond to Your Reviews
We all know reviews play a key factor when deciding to try or buy from a new business. Your Google My Business page is a record of all your customers' reviews. The golden rule of reviews? Always, always respond – especially when they're negative.
The way your business responds to reviews shows potential customers how your team tackles problems and deals with difficult situations. Staying on top of your Google Review responses is a quick, yet effective, way to manage your business's online reputation. This article goes more into depth about response etiquette and can be a reliable tool to share with your team members.
Create a GMB Website
In 2017, Google announced businesses could create a micro-site or webpage through Google My Business. This free, professional-looking website can be set up in minutes and can include more in-depth information about your services.
At Gibson's, we use a GMB website for a depot location that goes by a different brand name. This saved us the start-up costs associated with creating and designing a website from scratch. Google's pre-existing templates make it easy to 'drag and drop' necessary information while still looking organized and professional. I highly recommend a GMB micro-site if your business does not have a current website, as it makes for a high-quality and no-cost alternative to companies like Wix and WordPress.
Posting – Offers, Updates, Events and More
Your GMB dashboard also includes a list item called 'Post'. Posts allow you to post exclusive offers or specials, updates, events and even products to your business's page. At Gibson's, we've experimented with creating deals for first-time customers. The GMB platform makes it easy to test different specials before buying ad space on social platforms like Facebook and Instagram. I encourage you to get familiar with these offerings to better educate yourself on the platform's marketing capabilities.
A few final features to touch on…
Once you have your GMB running for a few months, check out the 'Insights' section on the main dashboard to view data on customer behaviour, visit history and page views. The Insights page is a way your team can make data-driven decisions, like whether to include more deals or update your company information. If always on the go, consider downloading the Google My Business mobile app, which allows you to respond to reviews and monitor page activity from your phone.
Google My Business is a robust tool intended to elevate the presence of local businesses. Invest time into making your listing(s) attractive and inviting; it will pay off in the future.