Hallak Cleaners, New York, NY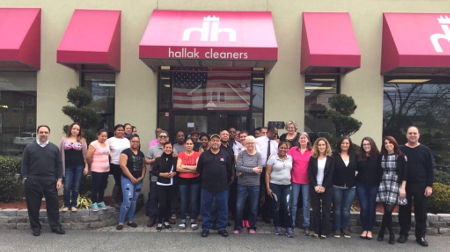 Covid-19 hit everybody hard, no matter what branch of the industry they specialized in. Some closed their doors (temporarily or permanently). Others hunkered down and made the best of whatever cleaning came in to be processed. Hallak Cleaners of New York took stock, pivoted and kept going.
Who are these guys?
Joseph Hallak Sr. opened Hallak's initial storefront on Second Avenue in Manhattan in 1966. The company opened a second location in Hackensack NJ in 1983. Joseph Hallak Sr. passed away in December of 1993 – but Joseph Jr. and John-Claude Hallak continue to keep their father's vision alive. The New Jersey location houses the company's award-winning production plant, New Jersey storefront and administrative office.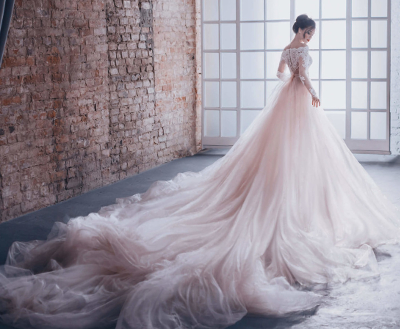 What sets Hallak Cleaners apart is that it is a Certified Couture Cleaner (so designated by Leading Cleaners Internationale). The company is one of about a dozen dry cleaners in the world that have passed the rigorous requirements to receive that designation, indicating they are trained to handle couture garments and accessories properly. Over the decades (55 years and counting) they have handled some of the most expensive and exclusive labels in the world.
And then came Covid
The pandemic is unique in modern history in that it affected all levels of society and the economy. Overnight, everything from office buildings to restaurants, from shopping malls to houses of worship closed their doors in an effort to stop the virus. New York City became a ghost town – news footage showed empty streets, darkened buildings and no pedestrian traffic. Hallak's high-end couture cleaning dried up in an instant, and regular cleaning screeched to a halt.
If any company would contemplate taking a break from business until the pandemic is over, one would assume Hallak would be it. Not only were their customers not going to work in Manhattan, or travelling overseas for business or pleasure, many left the city entirely. Business dropped like a rock.
Pivot, anyone?
"When the lockdown began, we realized that we had to pivot to meet our clients' (new) needs," said Donna Serino, marketing director. "For starters, many of our Manhattan clients left for their homes in the Hamptons, or other summer homes. To accommodate them, we created another free delivery service area to the Hamptons. There was certainly also an increase in our shipping orders."

The company also brainstormed ways to serve customers that were outside the dry cleaning box, and as a result, they formally introduced a wash-and-fold service. "In the past, a few clients would request it," Serino said. "During the lockdown, there were several reasons to truly add laundering to our menu of services: laundromats closed, household staff reduced, everybody was home, etc." Having everything clean and, above all, sanitary was at the top of everyone's agenda last year, and so Hallak expanded its home furnishing cleaning. "We invested in new disinfecting equipment and solvents," said Serino. "It was important that the disinfectant was both effective and safe to our clients. In addition, we offered this service to local schools, our boutique friends, and others."
Marketing also took a turn toward the personal. "Typically, we do not want to bombard our clients with emails. During the spring and summer, we were sending regular emails checking in on our clients. We felt it was important that they knew we were there for them, and that they are truly a part of the Hallak 'family'," said Serino.
Things are opening up
Though Canada is locked down tight, it is encouraging to see what things may look like as restrictions ease. Hallak reports that they are back to about 60% of their pre-Covid levels of work, and it's holding steady. Last week they announced a Household Sale for area rugs, carpets and window treatments that brought in some business as well.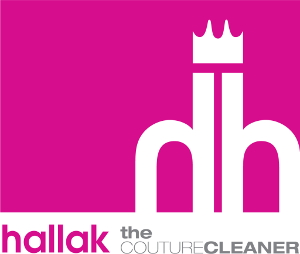 Hallak had opened a commercial linen company, Bergen Linen (named for the New Jersey county their plant is in). Of course, this arm of the operation was hit particularly hard when restaurants closed and hotels ceased to serve meals, have guests, etc. "The city has plans to reopen fully by July, so we do expect to see further increase in designer label options," said Serino – and, of course, linens. "Summers can be a little slow because people travel all over the world. Currently, it's hard to predict what this summer will look like."
There are rays of hope, however. "I believe one interaction with a customer sums it up best. Throughout the lockdown, this customer would schedule her wash-and-fold pick-up request. In her emails, we had an ongoing chat about one day having a reason to wear our 'real clothes' again. Two weeks ago, she requested a return to dry cleaning pickup, with a sweet note attached. She'd just returned from a business trip and has a few more trips in the near future."
Assume the light is good
There's an old joke about seeing a light at the end of the tunnel, only to realize it's an approaching train preparing to run you down. Let's keep our chins up and assume the light we're watching is good, and it's coming. The pandemic will end. Things will open up again. Your customers will be the first to let you know about it, so stay in touch with them to be sure they know you stand ready to serve when they are ready to get out of sweats and get back to life.