Bob Wong is still having fun
|
Bob Wong is the owner of Quality Cleaners Ltd., founded in 1951 in New Glasgow, Nova Scotia by his father. He took over from his father in 1985 and began renovating the 100-year-old former nursing home location. It's safe to say he's been changing things ever since.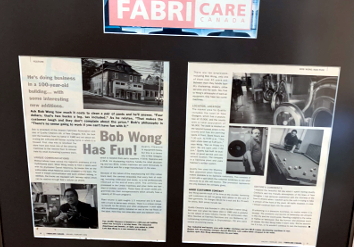 Fabricare Canada ran an article on his operation in 1995, including all the upgrades and reorganization he'd done to the multi-story building. That included a special area on the top floor including a pool table and shuffleboard game for the employees to use after work and between delivery runs. That's just the way Bob thinks—work should also be fun.
The shuffleboard eventually went to the local fire department (it was a big hit there.) The pool table is worn out and broken down, but Bob's business just keeps going.
In 2016, Bob went through a losing tussle with Environment Canada over some regulations he misunderstood and therefore didn't follow. It was a tough time, and he considered walking away from the business altogether. But he shook off the dust of that and kept going.
Just prior to the pandemic, at the end of 2019, he shut down the retail side of his business and continued with the commercial/industrial side. "That was after a couple of my long-term retail production employees retired. I took my late father's advice; if I couldn't do it well, I shouldn't do it at all."
He planned to retool but procrastinated on getting started. And then came Covid. Suddenly the government was offering interest-free loans with partial forgiveness. "I thought, better do it now, or else sell or shut down."
Not junk mail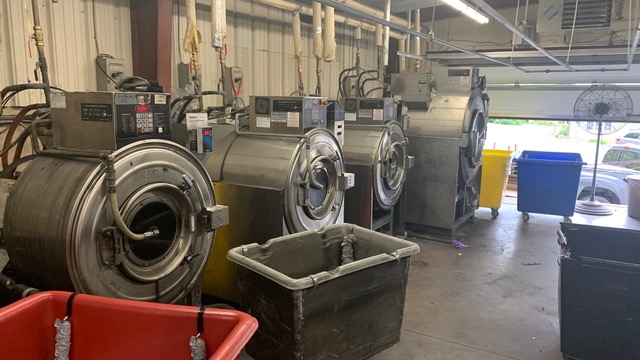 "It actually started when I received an email/flier from Ned Douglas at Harco, offering two used UniMac laundry machines. I'd just put new bearings in three older UniMac machines, so I bought these, as well. When the washers arrived, they actually fit the same UniMac bolt frames that were placed when the concrete floor was poured in 1990. That was a bonus."
At this point, he was on a roll, and decided to get new dryers, too. New Glasgow had installed natural gas, and he wanted to replace his old steam dryers with new ones from Electrolux via Automated Laundry. He called on Frank Guido.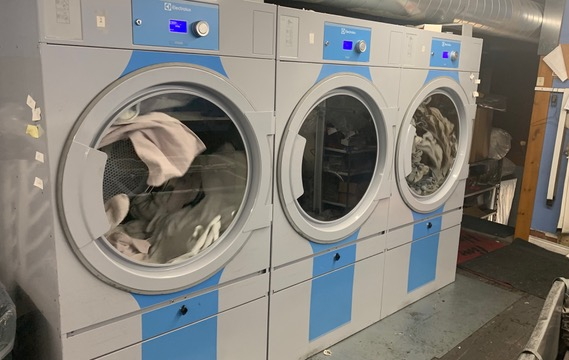 "I chose him because he drove down from Montreal to my plant 30 years ago when I was having a problem with my Agua Clean machine that I purchased from him. He also allowed me to make payments over 6 months. I did not forget that."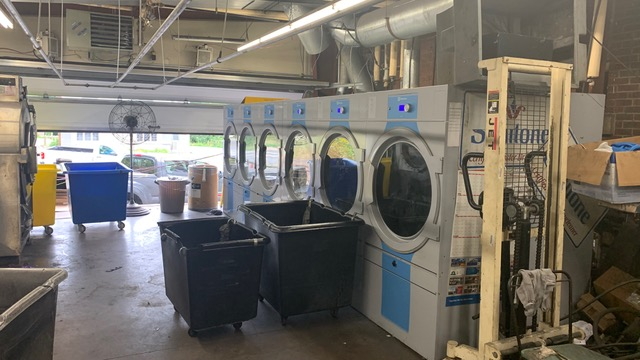 He studied the dryers in detail. "I liked that there were front roller basket supports and that the basket was partially solid and partially perforated, and the back was perforated, allowing an axial airflow."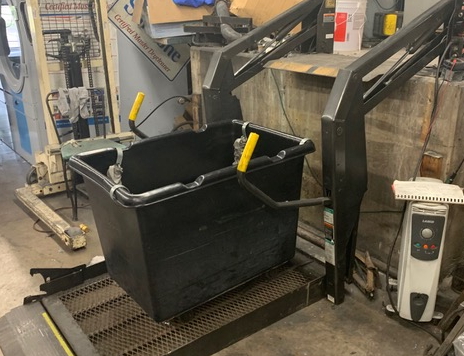 Six 83-lb. Dryers were installed on one floor, and three more 67-lb machines went to the second floor. "I had a large concrete pad that had a dry cleaning machine on it. We ended up putting a wheelchair lift on it and use it to lift the laundry carts. We also have a ramp." Bob likes to think creatively.
Bye-bye perc
Bob is not fond of looking back on the legal trouble with Environment Canada, but knows he got out of it more lightly than it could have been. Being Bob, he has a joke to take the sting out of it all. ("What's the difference between a lawyer and a dry cleaner? If the cleaner loses a suit, he pays. If the lawyer loses a suit, he still gets paid!")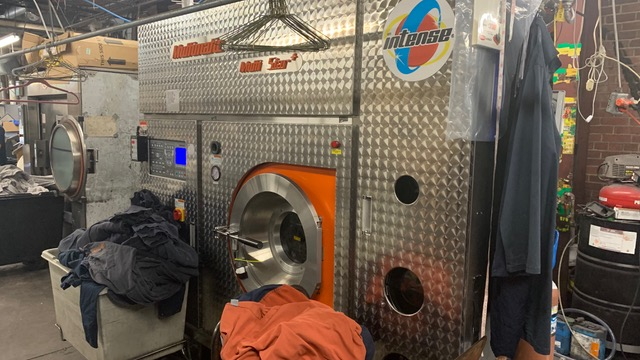 Determined to make a new start, he got rid of his old perc machine in favor of a Multimatic machine he saw on Kijiji (a Canadian online classified advertising website, part of eBay, which operates sections for cities and urban regions, for posting local advertisements.) The machine was in Ontario, so he did more research. He noticed it had an Intense by Seitz logo on it.
"I called Trevor Holmes at Seitz. I've known him since the 1990s. He actually knew the machine I was talking about and its history. He answered all my questions about what I wanted to use the machine for (mainly doing coveralls), and said it would work. He also put me in contact with Multimatic in the U.S. I got the local transport company to pick it up and with some tweaks on the drying time, it does what I want.
Might as well do it all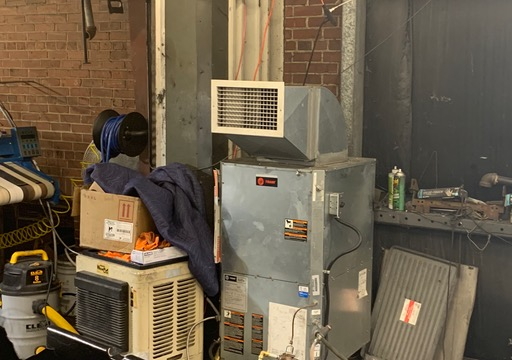 Wong shut down the large oil-fired steam boiler that served his plant and now he has just a small electric one for the dry cleaning machine alone.
He'd always wanted to have both ends of his building open for ventilation and for receiving. There were already garage doors, but he also put in a 17-foot door at the front of the building. As a bonus, he has now hooked up a 3.5 ton air conditioner for the working area.
Bob used to spend a lot of time chatting with customers at the counter, and no doubt making their day with his humour and his smile. Without the retail end of the business, he's working a lot harder.
"I have lost about (won't disclose) pounds. I call it my weight loss program. My brothers, both retired, shake their heads at me and are very happy I took over the family business and have done well. They think I should retire, too. But after 37 years as boss and around 45 years in the industry, I just tell them it will all come out in the wash."
Bob Wong 101
Bob's a teacher. We can learn a lot from him. His positive attitude, enjoyment of the work, willingness to change things around even if it means a lot of effort—these are the marks of a successful entrepreneur. He just keeps hitting them into the corner pocket.