A Clean Take on Innovation: Here's Who's Mixing Things Up
|
On March 3, our industry celebrated National Dry Cleaning Day in honour of Thomas Jennings, the first African American to file a patent for dry scouring, or what we know today as dry cleaning. Since then, our industry continues to make strides by innovating with new solvents, technologies and processes. I've highlighted my favourite businesses and initiatives below.
Most innovative take on a traditional product: Flint, The Award-Winning Lint Roller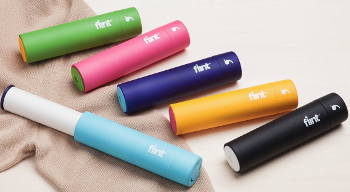 Believe it or not, Flint makes lint sexy. This American-based company has successfully designed a functional yet fashionable award-winning lint roller. Featured in the likes of Oprah, Condé Nast Traveler and The Today Show, Flint's signature roller is designed to pop out of its socket, so it doesn't stick to its surrounding environment. 'Flints' come in a variety of colours and designs including gold and hot pink. Each roller contains 30 lint sheets and are refillable, making it the more environmentally friendly option compared to traditional lint rollers. Flint rollers start at US$7.99 and can be purchased on their website or at Indigo.ca.
Most innovative bricks and mortar – Celsious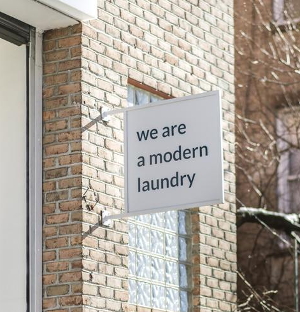 Celsious is a self-service laundromat in Brooklyn, NY, designed to make doing laundry beautiful and fun. Founded by sisters Corinna and Theresa Williams, Celsious was born from the vision to be the chicest and most energy efficient laundromat in New York City. Celsious customers choose from a curated selection of Celsious-branded detergents and have the option to sip on fancy iced coffees or participate in a yoga class while waiting in between loads. Since launching in 2017, Celsious has garnered major media attention fromVogue, The Wall Street Journal and The New York Times for making laundry trendy and cool.
Most innovative payment methods – Rinse Repeat Subscription Model
We're in the price per piece business, right? American start-up Rinse is taking a different approach with its Rinse Repeat Subscription Model, a subscription-based laundry service. Rather than pay by the piece or by the pound, Rinse Repeat customers receive a Rinse-branded duffle upon sign-up and are charged per bag, or load. A duffle bag's worth of cleaning starts at $60/ month, but the most popular option is two bags for $112. All of Rinse's pricing plans include Free Next-Day Rush and free delivery, and can include a mix of laundry, towels and bedding. Many wash-and-fold start-ups have crashed and burned, but Rinse continues to operate, making it one to watch in 2021.
Most innovative app feature – SPOT On My Way

If you're in the industry, you're likely familiar with SPOT, the POS platform. SPOT has kept up-to-date with meeting the needs of the modern-day customer. 'On My Way', for example, is an in-app feature that allows customers to quickly grab their dry cleaning on the go. The Starbucks-like app allows customers to signal that they are 'on their way', to your location(s) to pick up their items. All your staff need to do is get their order ready to go; with the customer's credit card on file, they'll be in and out the door in minutes. We introduced On My Way to Gibson's late last year and it's been well received, especially during this time of social distancing.
Most exciting environmental initiative: GreenEarth
Sustainability needs to be top of mind for our industry. GreenEarth makes it simple. The world's largest brand of environmentally friendly dry cleaning solvents has partnered with The Plastic Soup foundation and PlanetCare to create SeaClear filters or commercial laundry filters designed to catch microplastics in the cleaning process. Millions of microplastic fibres, like nylon and polyester, are expelled into our water systems every wash cycle and this has severe effects on our environment. In 2020, GreenEarth installed 20 filters in affiliate locations in California but had to postpone the pilot project for now due to Covid-19. You can learn more about the dangers of microplastics here.
Innovation is essential in a thousand-year-old industry. Did I miss a business, product, or idea? Share in the comments below…