Way, way outside the box
|
Les Nettoyeurs White's writes fresh rules for dry cleaning.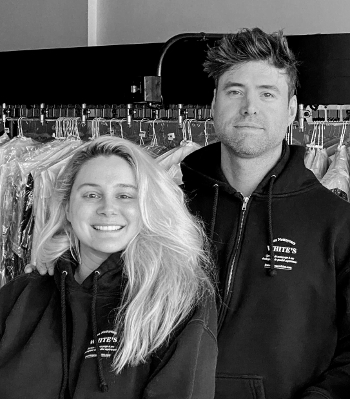 Audrey Girouard's family cleaner closed his doors after 30 years. Jokingly, her mother asked her to start a dry cleaning business so the family could still get their clothes cleaned correctly and without headaches. It was funny at the time, but it got her thinking. The result is Les Nettoyeurs White's in Boucherville, Montreal, QC — a unique boutique dry cleaning operation.
"Guillaume Germain is my partner in life and vice president of the company. He and I are new to this industry," said Audrey. "I think that's why we are able to see outside the box. We started gathering information and met the right people at the right time. We started the company in 2018 and took 8 months to build our plant. We really wanted to have the nicest plant possible to welcome our new employees. We wanted to do what has not been done in the industry yet. It was really important for us to build a cleaning plant that was modern, welcoming, safe, with the best machinery the industry has to offer. The doors opened in April, 2019."
Entrepreneurs, not dry cleaners
Both Guillaume and Audrey own companies outside of White's, and they bring skills and talent from those areas to their joint company. Guillaume owns Monolith Agency, a marketing firm in Montreal. Audrey owns Sunday Studios, a company that rents photography/videography studios to professionals and the public. The combined background makes their ideas for dry cleaning plants interesting and different.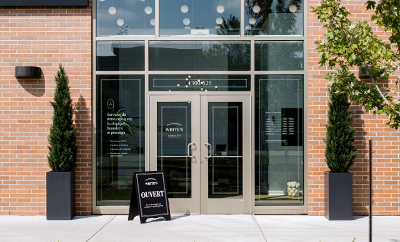 As can be seen in the photos, a White's location looks like nothing you've probably seen in places that process clothes for customers. Everything is geared toward the concept of a clean, sophisticated, sleek space that appeals to the kind of customer they hope to attract.
"From the start, I wanted people to see that White's is not just 'another dry cleaner,'" Audrey said. "We are providing excellent quality and we are very proud of it. My team is solid. When our clients tell us how happy they are and how we are changing their lives, it makes everything worth it. When they enter our boutiques, they say, 'Wow!' A clean aesthetic that reflects our work, and A-1 approach even with the most tedious garments, meticulous work — that's how the industry should be seen from the exterior."
Customer reaction has been great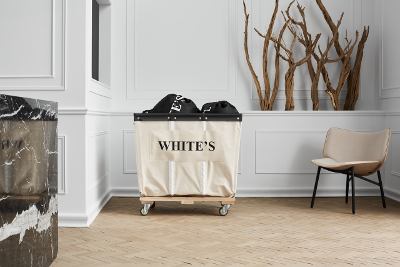 Customers say they feel like they are entering a hotel lobby, or that it feels like a spa. Fresh scents carry the experience a step further.
"I think some people didn't want to come in at first, because they thought our prices would match the look of the place," laughs Audrey. "But not at all. And they love our attention to detail, how we care for their clothes, and our ecological approach. We bag clothes differently, too. We make a trip to the dry cleaner enjoyable."
Bringing in the experts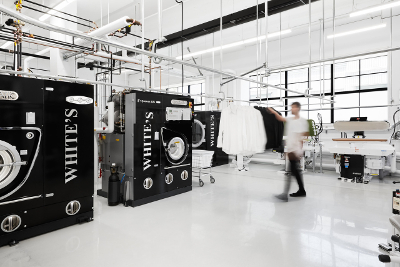 Audrey and Guillaume understood they didn't know the industry they were entering, so they called on experts to help them get started on the right foot. Norbert Blais designed the plant and planned how the machinery should be placed and installed. In a departure from standard plant design, the machinery is not placed against walls, making it hard to service and clean, but rather is out in the middle of the floor for easy access all around.
Both Lavanett and Automatic Laundry Systems supplied equipment for the plant. Firbimatic EcoGreen machines are used for dry cleaning, running with Seitz's Intense solvent. Sankosha finishing equipment (pants topper, form finishers, utility presses, double legger press, collar and cuff press) gives garments the kind of finish customers desire.
Equipment was ordered in custom colours — black or white — with the White's name printed in large letters of the contrasting colour. It makes for a dramatic workfloor unlike a standard dry cleaning plant. Everything is kept spotless to carry the message and branding of the company.
Covid was actually beneficial!
Just before community shut-downs were enacted due to Covid, White's was trying to purchase a competitor. "We decided to still do the deal and go forward, thinking there would inevitably be an after-Covid, and that we would be ready and standing strong," said Audrey. So, despite the gloom and doom of the economy and society in general, they bought three new stores in 2020.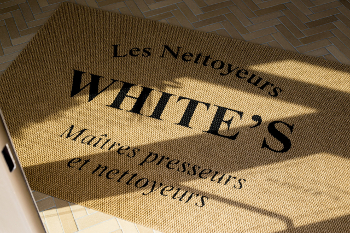 "We took the forced time off to renovate the boutiques so they would fit our branding. The timing was good, if we decide to look at it that way," she said. They slowed production, reduced staff, closed some locations temporarily. "We had no choice, with the government shutting down everything around us. It was a weird time to be expanding our activities, but it was perfect to not rush anything with our fast expansion," she explained. Now, they can't wait to get back to normal and move to full speed ahead.
Old and new ways to promote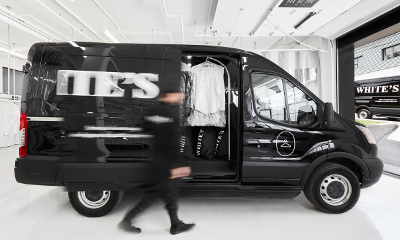 Drawing on their combined marketing expertise, the owners of White's mix traditional and modern methods of making the name of the company top-of-mind. Brochures delivered by post is on one end of the spectrum, and on the other are Facebook advertisements, TikTok (with 72,000 fans and counting) and a 30-minute television show they were involved in recently. They put up a billboard on a major highway that garnered a lot of comment. "I wouldn't know how to translate the joke, since it was a Quebecer slang, but it was a hit because it was a bit… risque," said Audrey. "It's all been in good fun, and valid ways to put our name out there."
The challenges are personal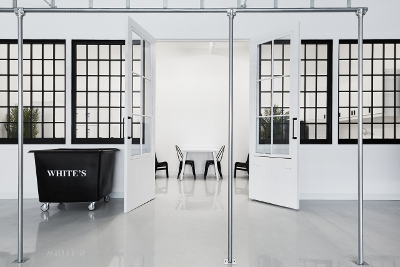 "Honestly, I think we've been lucky, except for launching a business just before Covid. Everything has been pretty smooth for us," Audrey said. "It's my first time having to employ and manage people, however, and I want to be the best boss possible for my team. I want everybody to be comfortable in the workplace we provide, to love it."
Finding qualified dry cleaning workers has been challenging, but so far they've been fortunate. Eventually, it will be more difficult, but for now they have a good team to take the company forward.
Already diversifying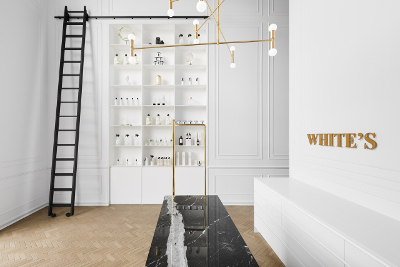 Many companies go years or even decades before they diversify into other things, but White's is already moving on that front, too. "With the good amount of time we had on our hands during Covid, we decided to go forward with the production of our own line of laundry detergents, fabric softener, and other items for home cleanliness," said Audrey. "I wanted to bring White's to another dimension than just services at the counter, like home goods related to laundry and cleanliness. I think that it's important to diversify our income streams — and I'm even more sure of it since Covid."
Out-of-the-box thinking is sure to feature prominently in whatever direction White's takes in the future. With owners like Audrey and Guillaume, creative ideas are just around the corner. And if they don't fit inside the box, so much the better.