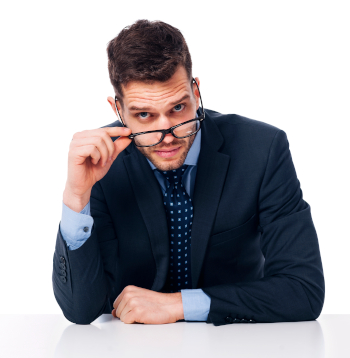 In our previous article in this series, we looked at the important difference between Marketing and Advertising. (You can read that here.) But what does good marketing look like?
We wandered the Internet looking at websites that demonstrate smart marketing, and then analyzed them to see what makes them tick. You can learn a lot just by looking.
First Glance
Websites and other materials that are used in marketing must convey an immediate, positive message. It's like putting on your best outfit to go for a job interview — except your interviewer will probably give you several minutes to make your case. Online visitors or those glancing at your brochures or other items have a very short attention span. You get them right away or you've lost them.
DRY CLEANERS TORONTO
https://drycleanerstoronto.com/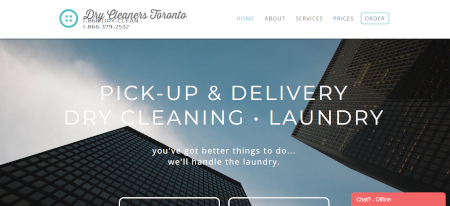 The website says this about the company: "DryCleanersToronto.com is Toronto's easiest online dry cleaning service. Founded in 2014 by father & son duo Mark and Jonathan Rosenfield, DryCleanersToronto.com provides a streamlined laundry pickup and delivery experience."
Right off the bat, we're dealing with a different concept in dry cleaning and laundry, in that it is all done via the Internet. But even more importantly, this company knows what it is selling: convenience and time savings. In a direct appeal to customers, it says, "First off, we know how busy you are, that's why we offer door-to-door delivery anywhere in Toronto, anytime. We're committed to high quality service so we use the latest in eco-friendly dry cleaning technology. Only the best for your garments! Turn your laundry-day into a breeze."
While they mention their service quality and ecological stance, the real emphasis is on the customer's needs.
To make it easy, the site includes a list of services with links to each, a complete price list, customer testimonials (very important these days) and a blog with good information.
Interestingly, they've made a special effort to help the community through clothing (and other) donations, and they make it easy for customers to participate.
We're already at your door, so why not donate some unused items!
DryCleanersToronto has partnered with Fort York Food Bank to use its pickup and delivery service for good! Donations of all kind – clothing, books, toiletries, non-perishable food, computers, etc. – can be made during any pickup or delivery. Simply prepare your donation along with your dirty clothes for cleaning and we'll collect everything at your next scheduled pickup.
PERTH'S
https://perths.ca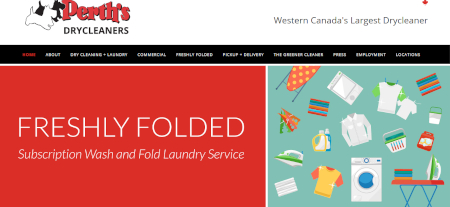 Perth's has 9 locations in Winnipeg, owned by Terrell Stephen. He grew up at Tower Cleaners in Calgary and purchased Perth's in 2012. The company tags itself "Western Canada's Largest Drycleaner".
The website is attractive, and the first thing you see is a "Subscription Wash and Fold Laundry Service", which is then explained in detail. It involves a set price per bag, with a monthly fee for service and weekly pick-up and delivery. They knew customers were bound to have questions, so they have a nice FAQ (Frequently Asked Questions) section to get all that handled efficiently.
Again, the emphasis is on saving customers from the burden of laundry. Nobody likes doing it, but if you're going to leave the house you really do need to have it done so you have clothes to wear. Perth's taps into this customer angst with their program.
They take the opportunity of already having the website visitor's attention to talk about their environmental emphasis, without using a lot of negative verbiage: "As a community steward concerned for our neighbours and environment, Perth's has a long history of green initiatives. We don't just talk about it – we research it, test it and do it. In 2006, we were recognized as a green dry cleaner by the Canadian Center for Pollution Prevention."
BUSY BEE GOLD
https://www.busybeegold.com/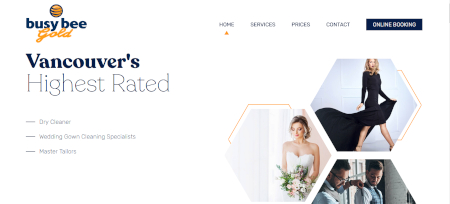 Based in Vancouver, BC, Busy Bee Gold focuses on high-end cleaning for high-end clothes. They use K4 as a solvent and also do wet cleaning. They explain why they do both, so customers understand.
What we liked about their marketing was that they post their Mission Statement right there for customers to read (and hold them accountable for):
Treat no two garments the same, cause no harm to the environment, endeavour to use our business to help the community, and always make sure our clients are smiling when they leave our store.
That last bit is nice. Who doesn't like doing business with a company that makes you go out the door with a smile? It's a human touch that resonates with customers.
TRILLIUM TLC
various websites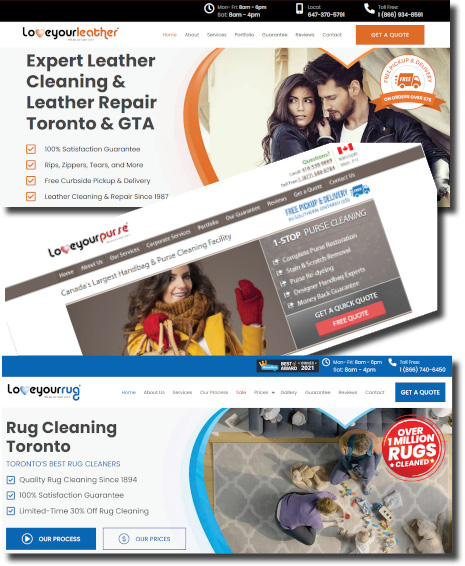 Trillium TLC, owned by Tony Kantzavelos, operates in the Toronto area and also has mail-order business from all over. The company has taken marketing in a very interesting direction. Realizing that customers are very attached to their clothes and other personal or household items, they developed the "LoveYour…" branding. And for each service they offer, there's a "LoveYour" website.
For example, if someone is interested in getting a precious leather jacket cleaned, he or she really doesn't care that Trillium TLC does a great job on rugs. They want to know they can handle leather. So when they do an Internet search for Leather Cleaning, LoveYourLeather.ca is going to come up pretty near the top of the search results. Or, if it's an expensive handbag that needs care, LoveYourPurse.ca will catch their attention. You get the idea.
Each of the websites has the LoveYour branding on it, but the feel of the pages is different, and customers are treated to nice images, testimonials, and before-and-after photos of work that's been done. It's the whole package — but only for that particular item needing service.
Though you might think it could become confusing, it's much more targeted than one huge website with pages branching off it for each kind of cleaning and repair. Usually people are looking for one thing at a time. They can learn what else Trillium TLC can do later.
GIBSON'S CLEANERS
https://www.gibsonscleaners.com/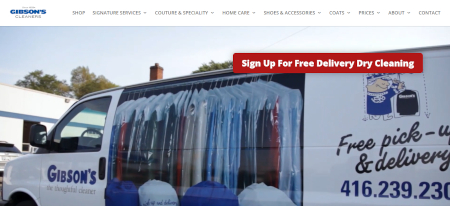 We are a society that is addicted to video! Gibson's takes advantage of that by having a professionally-shot video that begins playing the moment someone opens their website. It's all across the top of the page, so you really can't miss it. It shows actual Gibson's employees in the process of doing great work on garments in the plant.
There's an expanded version of the video on the "About" page, with president Rob McConnell directly addressing the customers and talking about the pride Gibson's takes in the work it does, and introducing the various locations. People like to deal with PEOPLE. Seeing the real pressers and counter people, hearing from the president, these are things that give a sense of familiarity before someone ever sends clothing to be cleaned. It's priceless.
Of course, there's a list of services and pricing, as well as an ongoing Blog of information.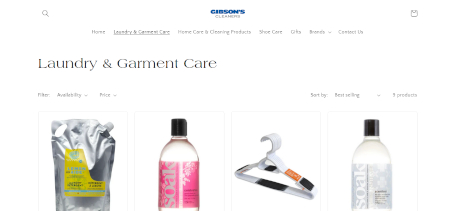 Then Gibson's takes an interesting leap. They know people will still do cleaning at home — whether of garments or around the house. The website includes a Launderette Shop. "Explore our selection of curated home care and cleaning products. Purchase products in-store or have them delivered on your next delivery day!"
Acknowledging that customers want services and products is brilliant, and Gibson's gives them access to high-quality items in a convenient manner.
UNNAMED CLEANER
Not sharing website!
On the principle that you can learn as much from a bad example as a good one, we found one that we won't even cite for you. Upon landing on their Home page, a box popped up requiring visitors to create a log-in account to even view the page! Barriers like that don't challenge customers and make them say, "OK, I'll sign up!" Instead, they just hit another button and move on….
As you build your own marketing program, make use of the resource at your fingertips and check out what others are doing online. And share your marketing successes with us! We'd love to make you famous — in a good way.