Lights, Camera, Dry Cleaning
|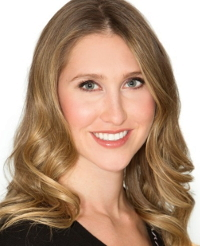 Summer calls for easy reading, so July called for a light-hearted column. I'm always pleasantly surprised when a dry cleaner makes its way to the big screen. Here's a roundup of my favourite dry cleaning related movie and TV clips.
Be sure to click on each subheading to watch the relevant clip on YouTube.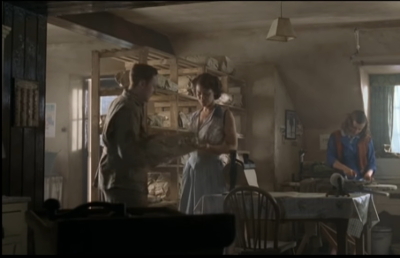 Band of Brothers highlights the journey of Easy Company, an American military unit sent to Europe to fight during WWII. When Sergeant Malarkey picks up his laundry in town, the woman politely reminds him that his comrades haven't picked up their own uniforms. In a heart-sinking moment, Malarkey knows the soldiers will never be back to pick up their items and have died fighting on enemy lines. This scene may have taken some liberties as it was rare for soldiers to get their uniforms cleaned, if at all. Back home, a shortage of chlorinated solvents led to an increase in petroleum-based products in the dry cleaning industry.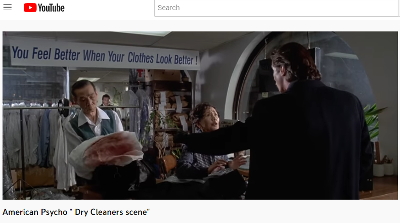 Christian Bale plays a psychopath in this 2000 cult classic about a New Yorker who lives a double life as an investment banker by day, and serial killer by night. [Note: Language alert on clip.] When Bale drops off some bloody sheets at his local cleaner, his outburst reflects his true character as an egotistical maniac. Throughout the film, Bale wears a variety of luxury suits selected by costume designer, Isis Mussenden. Certain luxury brands had issue with their garments being worn by a serial killer, and added restrictions and caveats when filming. Cerruti, for instance, only let Bale wear its suits when he was not in the act of killing, and Rolex didn't let Bale wear its watches, only side characters. Calvin Klein pulled out of the film entirely, perhaps a fashion victim saved!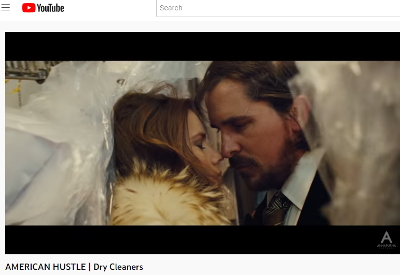 A dry cleaner's inventory room is the perfect place to play dress-up. Director Mary Hannon makes this come to life, with Christian Bale and Amy Adams in the Oscar-nominated 2013 film American Hustle. The two con artists share a romantic evening trying on leftover inventory and have an intimate moment 'under the poly'. Amongst the garments, fur plays a leading role. Fur coats were a huge trend in the '70s and early '80s, as I'm sure some industry folks can attest, before anti-fur campaigns soon followed. Today, brands who still use fur are trying to find more sustainable solutions. Luxury brands, like Gucci and Versace, have made bold announcements to eliminate fur entirely from their designs.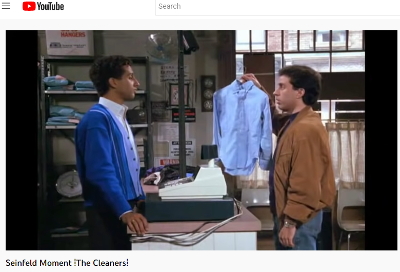 In this hilarious clip, a New York dry cleaner is the setting for a conversation between George and Jerry. Jerry eventually makes it to the store counter (slow service if you ask me), and shows the dry cleaner a shirt that's shrunk to a miniature size. Of all the scenes listed, this back-and-forth banter makes me laugh out loud as it hits all the stereotypical conversations customers have with their local cleaner. Seinfeld never won awards for costume design, but many of the characters' '90s outfits are back in style today. Iconic trends include light-wash jeans, white 'dad' sneakers, and oversized sweaters.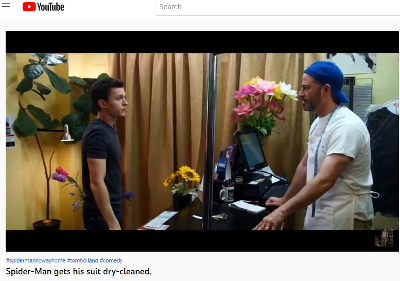 In this deleted scene, Peter Parker takes his superhero suit to his dry cleaner who just happens to be Jimmy Kimmel. Kimmel praises Parker for being a millennial 'who supports the industry', but questions why he is getting his 'pajamas' (his spidy suit), cleaned every two days. When a clip of Spider-Man plays on the store's TV, Parker fears his true identity will be revealed. Luckily, Kimmel doesn't catch on, and simply assumes Peter is a wannabe influencer. Many actors who've starred in Marvel movies have complained that superhero costumes are hot and uncomfortable. Michael Keaton even had a panic attack when he was first 'locked' into a claustrophobic Batman suit. The actor ended up using the feeling as inspiration for his character, "because you become very interiorly isolated when you get locked into that thing."
Marketing Tip:
These movie and media clips can make for great social media posts or content for newsletters. Simply post a still shot of the scene or ask your customers to rate their favourite in a social media poll. Do you have any other favourite scenes?