Kathy Craig receives Lifetime Achievement Award from IAHTM
|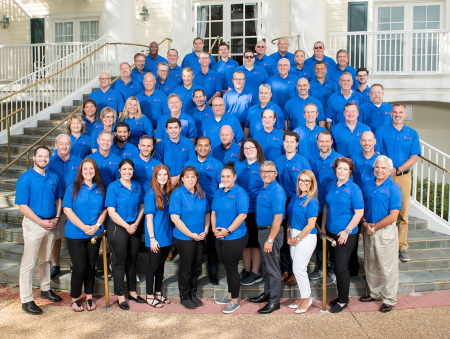 At its 2021 Annual Meeting and Educational Conference in September, the International Association for Healthcare Textile Management (IAHTM) celebrated being back in person for the first time since the pandemic started. Nearly 100 attendees, representing 17 laundries (some virtually), met in Florida for the event.
IAHTM is a non-profit membership organization for health care laundry cooperatives. It provides senior-level textile managers with resources and support to maximize their laundries' efficiencies and control costs, without compromising quality or patient focus.
Canadian Rocco Romeo is a member of IAHTM's board of directors, which served as official host of the five-day event. One of his duties was to present the Don Pedder Lifetime Achievement Award to fellow Canadian Kathy Craig. (The other award winner for the year was Norbert Gittard of Jensen.)
We interviewed Kathy and asked her about her long career and the changes she's seen in the industry.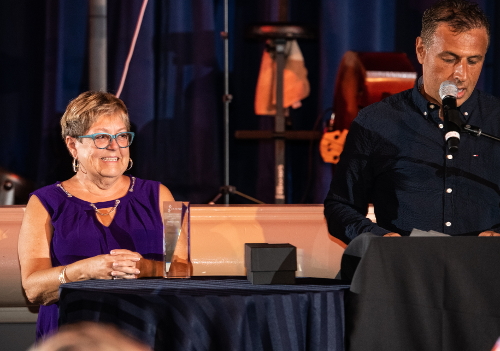 How did you get started in the laundry industry?
I began my career at Fundy Linen in 1985 as the part-time occupational health nurse. Over time, my role expanded to full-time, and included customer service and customer education, then to include most areas of the laundry, including employee relations. In 1991 our general manager became ill and I was asked to fill in for him. He was never able to return for long, and I became the general manager in 1992.
In 2010 the provincial government included Fundy Linen in the future FacilicorpNB, the parent company for all health care services not directly involved in patient care. I became Executive Director of Linen and Laundry Service for the entire province of New Brunswick. My job was to develop a plan for the amalgamation of laundries for both hospitals and nursing homes in the province, with the goal of better efficiencies and cost savings. When I retired in 2013, the plan was complete and most of the nursing homes had been integrated into a provincial system.
You are the first woman (from either side of the border) to receive this award. What are your thoughts on it? What legacy do you hope to leave?
I was surprised, humbled and grateful for this award and would have been even if I was not the first woman to receive it, as it comes from my peers in the industry – many of whom I looked upon as mentors.
When I joined IAHTM in 1992, I was in awe of the members at that time. Malcolm McCombe, Maurice Baetens, John Benn and Gerry Moore were leaders in the industry. I was the only woman in the room with all of these men and while they, for the most part, welcomed me, I worked hard to gain their acceptance and respect over the years. I learned a great deal from them and from being part of IAHTM. I joined the Board of Trustees shortly thereafter and have never looked back. My roles included Trustee, Educational Director, Vice-President and President (twice).
I guess my legacy is two dimensional. I was the first female laundry CEO in Canada, and thus a role model for those coming behind. I was also a leader in the industry (male or female). I have always been proactive and tackled any problems head on. I am proud to say I was always honest, truthful and worked hard.
What do you like about this industry? What attracted you to it in the first place, and why have you stuck with it?
I loved the industry from the first day I started to work at Fundy Linen. The people are really terrific and I feel I have made lifelong friends. In New Brunswick, I made it my mission to elevate the industry from being an afterthought in relation to the rest of health care to being an inclusive and proud member of the team. I also love the fact that the industry is always in positive, constant change through technology and science.
Were there any industry members you looked up to when your career started, or along the way? Who inspired you?
So many members inspired and mentored me that I will be nervous if I miss any. Don Pedder (who this award is named for) was a special mentor of mine; I loved picking his brain. Jim Hunt (IAHTM has a scholarship named after him), Dave Chandler, Rick Lucas, Rocco Romeo, Paul Seigel and many more. Deb Lark was the second female member of IAHTM, and we bonded immediately. And there were special people on the supply side as well. I am indebted to Gerry Daigle, Rob Jackson and Manny Sandhu from Harco, Harry Weiss, Carlos Fernandez.
I want to thank IAHTM and its board and members for giving me this award. I also want to thank Christy Carper (IAHTM Executive Director) for all of her help and patience. I will be eternally grateful.
What advice would you give to inspire other women in the industry? What might they need to overcome to succeed?
The laundry industry is a great industry. It gets in your blood and is an industry that you can become passionate about. I think if you are willing to learn, listen to advice and work hard you can get there.
When I started the saying was, "The women do the laundry; the men run the laundry." I am so proud it is no longer true.