Topper Linen has had a roller coaster history of success, tragedy and recovery. This article, written by TRSA to promote its upcoming Toronto Production Summit, which will include a visit to Topper Linen, shows how perseverance and a great attitude can really pay off.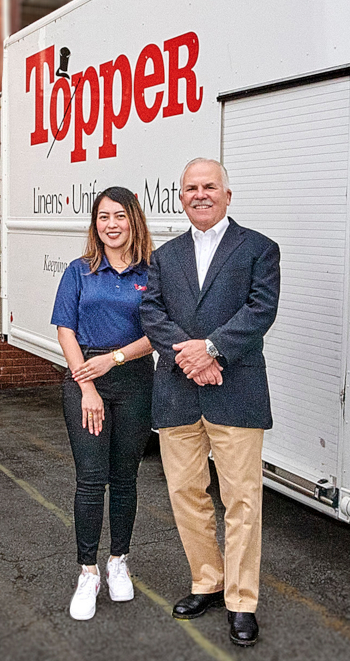 Attendees at TRSA's upcoming Fourth Annual Canadian Production Summit & Plant Tours this Oct. 4-5 in Toronto will get a close look at a company that not only survived a disastrous fire and a series of COVID-19 lockdowns, but now has a fully refurbished plant, and an outlook on the future that's brimming with optimism.
The summit will feature tours of two leading Canadian plants: HLS Linen Services, a healthcare and hospitality operator; and Topper Linen Supply Ltd., a food-and-beverage (F&B) independent. Tim Topornicki, president of Topper, says he's delighted to host a tour of Topper Linen, in part because he's excited about growth prospects as the Toronto economy gears up for growth.
"I'm looking forward to hosting TRSA visitors here in Toronto," Topornicki said. "We are a proudly Canadian-owned and operated company in a great city, and we are excited to share what we've learned about how a mid-size independent can overcome challenges and rebuild with new systems and machinery that can maximize throughput, water and energy savings, and much more."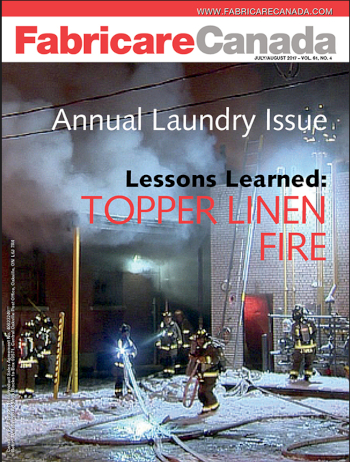 A fire of undetermined origin in February 2017 destroyed one of Topper Linen's six buildings. "We have two plants on one street and one burned down with our soil-building and our mat and parts department," Topornicki said. "So we built a two-story brand-new facility, and we attached it to one of our buildings. Plus we put an addition on top of one of the buildings."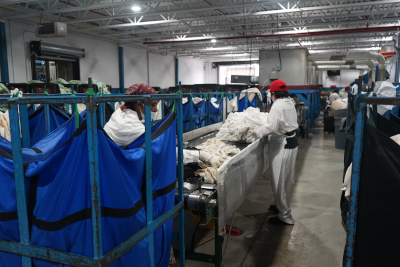 The plant's original production area now has a whole new soil-sort system with cart dumpers dropping goods for counting on stainless steel tables. After sorting, these goods are placed in new sling carts for movement to the wash aisle. "It's a very efficient way of offloading because we're still counting everything," he says. The pandemic had delayed reconstruction, as Topper Linen's cash flow dried up with the closure of F&B outlets. Topornicki is happy now to have all that behind him. "We've turned the corner … 100%," he says. "We have a beautiful facility with lots of room. It's nice and clean, and it's a pleasure to go to work. Our workforce is very happy."
Other recent improvements at the plant have addressed Canada's rigorous environmental regulations with which Topper Linen must comply. These include a 10% carbon tax per cubic meter of natural gas. Topper strongly backs efforts to protect the environment, but saving on taxes and fees is also a business imperative. "Anything at Topper that we can do to reduce our carbon footprint and save on natural gas is a priority for our team," Topornicki says.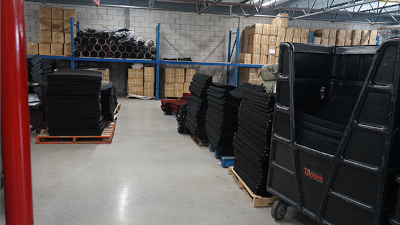 Roughly two years ago Topper Linen completed its installation of a dissolved-air floatation (DAF) system that removes oil and grease waste from wash water used to clean mats. It's also used for the initial-cycle wet downs of bar mops and other F&B items, he says. "We're not washing mats any longer using fresh water, even our rinses, the water is clean enough that we're able to get through the whole cycle of our mat business. We're very pleased with that." Topornicki estimates that the DAF system and related measures have reduced his overall water use in this conventional plant to less than two gallons per pound.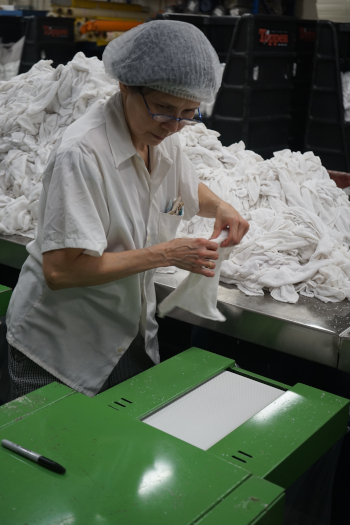 Currently, the plant is processing roughly 175,000 lbs. per week (79,378 kg.) with 125 employees. The staff at Topper Linen includes several people who fled the war in Ukraine that began in February 2022 when Russian troops invaded that country. Topornicki's grandparents emigrated from Ukraine. While born in Toronto, Topornicki is steeped in Ukrainian culture, and he has a limited proficiency in the language. He's made an effort to welcome and hire Ukrainian refugees who are seeking to make a new start in Canada. They've joined co-workers from an array of racial and ethnic origins in the "melting pot" that is modern Toronto.
The Topper Linen staff who work in this newly refurbished plant process goods including a mix of roughly 55% uniforms, 15% mats and 30% linen. Textiles are tracked via barcodes for delivery over 17 routes used to service 2000-plus Topper Linen customers.
Other highlights of Topper's 60,000-square-foot (5,574-square-meters) plant that summit attendees will see first-hand on Oct. 5 include:
7 900 lb. (408 kg.) Ellis Corp. washer/extractors
3 recently installed Pacesetter dryers from Brim Laundry Machinery Co. Inc.
A Vision tunnel from Leonard Automatics Inc.
A triple buck press from Colmac Industries Inc.
300 HP steam generators from Miura Boilers
Shell tube heat exchangers from Kemco Systems Inc., plus two shaker screens
A 9 million Btu water heater form Kemco
For more information on TRSA's Fourth Annual Canadian Production Summit & Plant Tours, and to register, click here.
(Reprinted with permission from TRSA)