In these days of social distancing, it is more important than ever that your online presence makes a good impression. Customers can't come in and see you smile — even if they do come in — thanks to your mask. So how do you brighten their day and do some serious marketing at the same time? I skimmed a few Facebook pages to see what cleaners are doing on social media. I admit, I laughed more than once.
Let's get through the normal stuff first
Of course, you should have a Facebook page and use other social media, and you should be using it for run-of-the-mill marketing some of the time (emphasis on "some"). List your store hours, your locations, give links to driving directions, give easy access to your pickup and delivery service, introduce your staff members, etc. If you're not doing those things, you need to get started. You're pretty invisible if you're not online these days.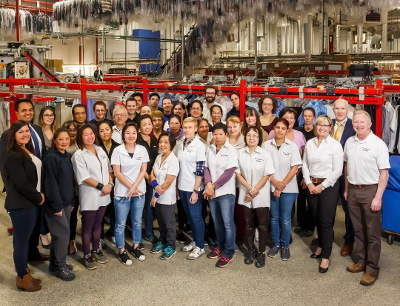 (Above, Tower Cleaners staff photo with lots of smiles and an impressive facility.)
Information doesn't have to be dull
There are ways to give information that make a viewer sit up and take notice. One thing they are looking for online is reviews and opinions of different companies or products. So, if you've got good reviews, post them in a creative way.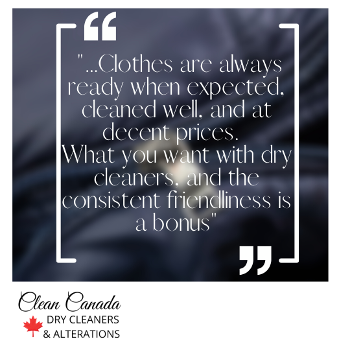 Clean Canada Cleaners of Orangeville, ON takes a dignified approach to good reviews. The image says, "…Clothes are always ready when expected, cleaned well, and at decent prices. What you want with a dry cleaners, and the consistent friendliness is a bonus." The manner of the post is in keeping with the company's personality. It's important to maintain your brand integrity across all your communication pieces, so if you're a fairly formal company, don't suddenly populate your social media with cartoons and crazy pictures.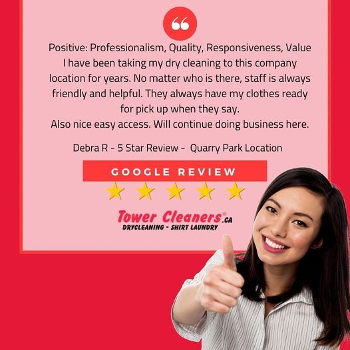 Tower Cleaners of Calgary, AB takes a more relaxed approach by including a fun image, and they're able to say that this is a 5-star Google Review, which adds credibility.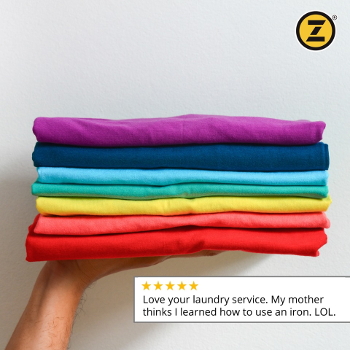 Zips is a franchise operation, and supplies branded images for use by franchisees. Many of their posts are humorous. This one gives a five-star review and the quote is, "Love your laundry service. My mother thinks I learned how to use an iron. LOL." Humour is fine, as long as it's tasteful.
Marketing with a Twist
Listing your services is a good idea, but some companies work hard to make them memorable.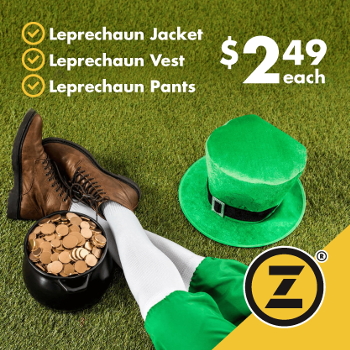 Piggybacking on St. Patrick's Day, Zips reminds people that pieces are 2.49 each — no matter what they are.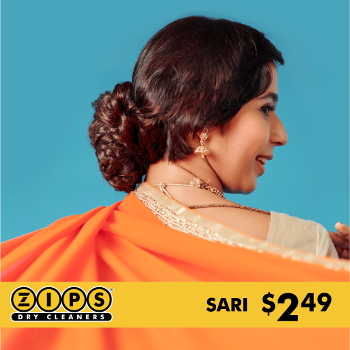 Zips goes further and shows that even specialty items like saris are the same price as everything else. It's a bonus that saris come in a rainbow of wonderful colours, making the image that much more eye-catching.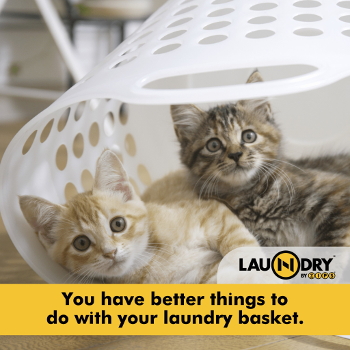 Advertising professors have said for decades, "Everybody loves kids and animals in ads." When an image like this comes across a viewer's screen, there's an automatic, "Awwww!" and then they read the caption. This is a clever way to remind people that laundry is a drag, they have more fun things in life to do, and that your company will take that chore off their hands.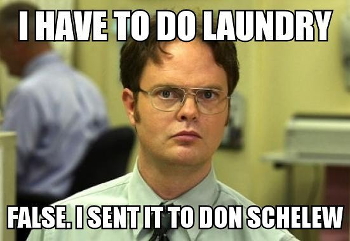 Avid internet surfers see familiar faces and stop to read what is going on. Here, Don Schelew Drycleaners in Halifax, NS is promoting his laundry service by calling on one of the stars of The Office television show. Since this character is always saying crazy things (aren't they all?) fans will stop to see what it says. It's a sneaky way to get attention, but once you've got it, use it to sell your services.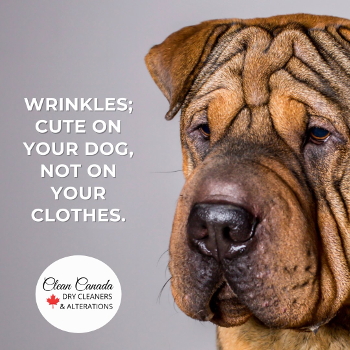 Clean Canada Dry Cleaners cashes in on the cute dog attraction to make potential customers pause and read his message. They feel a need to smooth out those wrinkles on that dog… and that reminds them that somebody else can do that to their clothes for them.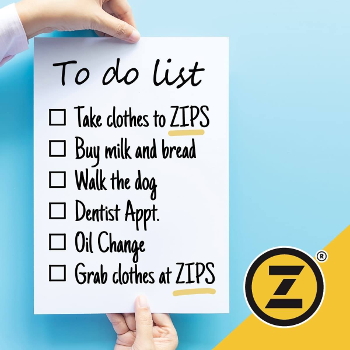 Nobody likes having a To-Do list like this, but Zips makes you think. Anyone reading this knows this list will take hours to complete — but while it's getting done, so are the clothes, and the last stop brings them full circle. Great marketing.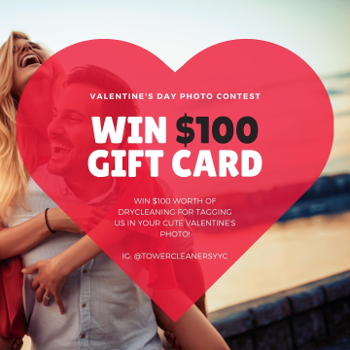 Driving people into your locations or onto your routes is not the only goal you're trying to achieve. Here, Tower Cleaners seeks to increase its social media following with a simple tactic: "Valentine's Day Photo Contest. Win $100 Gift Card. Win $100 worth of drycleaning for tagging us in your cute valentine's photo. IG: @towercleanersyyc". This boosts their social media presence because their name is put out there by others in connection with a fun contest, which raises awareness of Tower as a "fun" place to get your clothes cleaned.
A picture IS worth a thousand words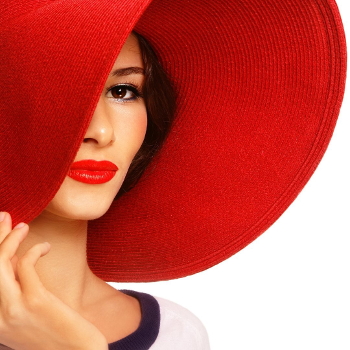 One key to effective online marketing is the use of high quality images. No matter what text is combined with them, if the image is ugly or hard to look at, viewers will just keep scrolling. An image like this one stops people with its clarity, vibrancy and intrigue. It doesn't cost much to get access to great images (millions of them) online through services like Adobe Images, iStockPhotos, ShutterStock, or my personal favorite, FreePix. Look for a service that gives you royalty-free images that don't require you to include a byline attribution. You may pay a little more for it, but it's worth it to have access to whatever you need.
Let them know you understand
People like to do business with PEOPLE. A faceless company doesn't make them feel particularly loyal; interacting with fun employees brings them back. Think about how hard it is for you to "break up" with your phone company (not!) as opposed to changing dentists and leaving the hygienist you have actually come to look forward to seeing twice a year. When you can make your company feel "human" (though still professional), customers are drawn back time after time. Social media is a great place to make that happen.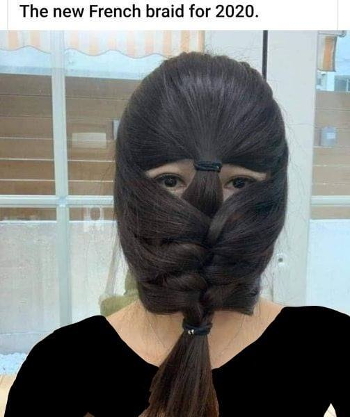 2020 gave us all unique challenges when it came to communicating with customers. An image like this, shared on Facebook by The Drycleaner of Toronto, ON, is a tongue-in-cheek way of saying, "Yes, we're all worried; yes, we need to wear our masks; but it's still OK to laugh. We're in this together." (Has anybody done research on hair-masks?)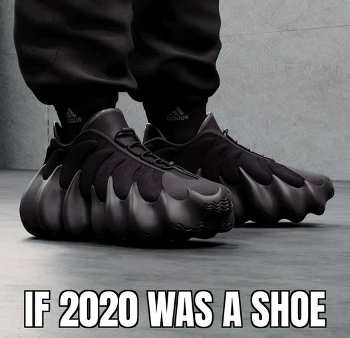 Again from The Drycleaner, an image that sums up what most people feel about the year we endured. Gentle humour is a great way to empathize with others and make your company seem more approachable.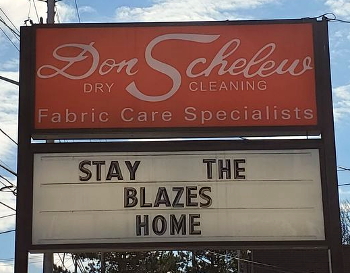 Don Schelew not only posted his position on quarantining on the sign outside his location, he took a picture of it and posted it to his Facebook page. This is a great way to bring the real world into social media.
Don't you hate that saying?
"A journey of a thousand miles begins with a single step." Don't you hate that saying? You've no doubt had it thrown at you when you were about to tackle something huge and you just wanted to strangle the speaker. Unfortunately, when it comes to developing a social media presence, it's true.
STEP 1: Make up your mind to "do" social media, no matter what you think of it.
STEP 2: Jump in and make up a page. They've made it easy.
STEP 3: Be on the lookout all the time for interesting things to post, and post them. Start with the basics and move on from there.
STEP 4: Keep it up! Don't let your page sit there without a posting for weeks, months, years. You should post something — something! — every 2 days or so. Make it a game to make it more fun.
Social media is here to stay. It can be a powerful marketing tool, and it doesn't have to be boring. It can be uniquely YOU.