Fashion and Colour outlook for Spring/Summer 2022
|
There's some good news out there for our industry for Spring and Summer! More fabrics that will require professional processing, things that just won't look good without a great finish, and people itching to buy new clothes and get out of the house at last to show them off.
Fashion Week in the various capitals of the fashion world showed off a mixture of styles, and that means there should be something for everyone. (Unfortunately, it also means there's something that will look bad on just about everyone, too.) With careful selection, your customers will be sporting some new looks soon.
First, the colours

Pantone is the company that gives us the first glimpse of the colours for each season, and they charted wonderful hues across Fashion Week.
Spring and Summer will blend bright, cheerful tones with solid neutrals that will set them off really well. From various shades of blue (strong blue to peacock blue) through some bright-but-not-obnoxious oranges and into flowery pinks, people are craving colour and freshness as they emerge from their Covid hibernation.
There's also a blend of spring greens-to-yellows, and then beige/taupe and brown shades to give them a backdrop against which they will really pop. If you haven't already seen these colours showing up in your favorite department stores and boutiques, then you haven't been shopping.

What about hemlines?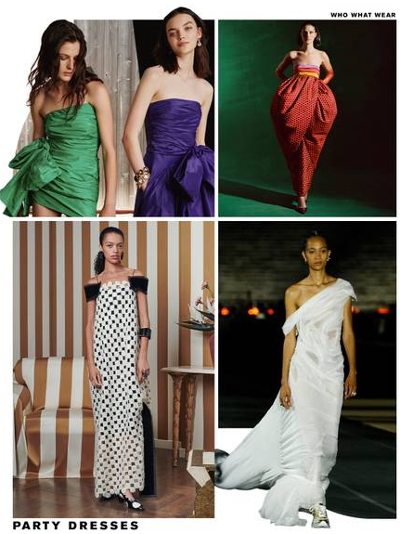 The question used to be, "Where is the hemline this year?" And it could be anywhere from thigh-hugging mini to floor-dusting maxi—or anything in between. For 2022, the answer to that question is simply, "Yes." All levels of hemline will be in evidence, so customers will have to choose carefully to look their best.
Ultra mini skirts in strong shades and interesting prints and fabrics
Hyper feminine frothy skirts with ruffles and embellishments
Maxi skirts in tube styles, tightly fitted from waist to ankles
Midi skirts with loose, flowy pleats
Puffballs – large, puffy silhouettes at hem or overall
New Bohemian skirts and sarong skirts, with ethnic prints, mis-matched prints, and tactile fabrics
Dramatic draping, that is asymmetrical, gathered, ruched or pleated
In other words, hemlines will be all over the place, and there is a style for everyone to feel comfortable (or edgy) in.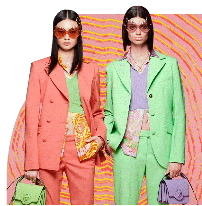 What else is hot?
People who have been lounging in leggings too long are eager to show some skin and some embellishments. Not only are styles widely varied, so are fabrics and treatments.
Low-rise waists and cropped tops—in other words, bare midriffs
Super sheer fabrics (we mean see-through) that can be layered to protect modesty, or… not.
White suiting that is loose and flowing, with bold accents like big buttons and shoulders
Colour-matched top and bottom, forming a column of one colour
Metallic sheens, rather than sequins—a less flashy way to shimmer
Cutouts, at the neck, the waist, the hip, just about anywhere
Strap accents at the shoulder, cleavage, and waistband across that bare midriff
Netted knits, either tops, vests, trousers, skirts or handbags
Large, branded handbags bordering on tote-sized
Accessorized legs, with thigh-high boots, feather trims, lace leggings, embroidered hosiery
Pleated skirts—some crisp pleats, others loose and soft
Underwear as outerwear, specifically the bikini top or bra with a regular skirt/pants or jacket
Low key luxury—pale colours, but in upscale fabrics like silk, satin, and with quirky accents
Feathers and ruffles over the whole garment, or just as an accent
Fancy white frocks in everything from tulle to crochet to linen and satin, in every conceivable length and style
Fringe on everything from garments to handbags to hosiery
Platform shoes, even "flip flops" with chunky soles
Are you ready for this?
It doesn't matter what you think of the styles your customers wear, are you ready to clean them? As a textile care professional, having a finger on the pulse of the fashion world means that you are ready to service any of the garments described above. The first time you even think about it should not be when the customer arrives at the counter with a net vest that has fringe at the hem and shoulder straps that make it appear to be "barely there".
How do you service that? Can you service that? How will your presser deal with it? How will you hang it so that it is not damaged by being suspended from those skimpy straps? And that's before you ever get to the question about what that interesting green stain is….
Take some time to look at the online sites that review each season's fashions. Discuss them with your staff. Especially today as people yearn to make a bonfire out of the sweatpants and move into something fun and colourful, you are bound to have them cross your check-in desk.
Here are a few to get you started. Then just search for "2022 Spring-Summer Fashion Trends" and keep up with what is going on.
Fashion trends come and go. But a disaster that happens in your plant because you were not ready to properly care for a garment can haunt you for many seasons to come.