You've no doubt had nightmares about turning clothing pink because a 'bleeding' item got into a white load. But what about turning clothing green?
As climate initiatives gain steam, there will be more efforts to help consumers know the history of a garment's manufacture—all the way back to the creation of the fibres used—so they can make 'green conscious' choices.
Will it make a difference?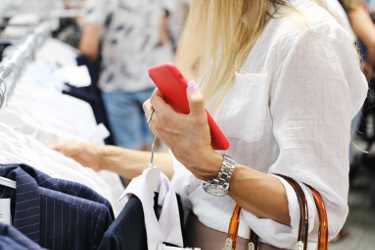 The logic behind the initiatives is similar to those behind clear, comprehensive food labeling. If a consumer can easily see what is in a package of cookies or a frozen dinner, they are more likely to at least consider making healthy choices. This is good for everybody, as healthier people reduce the drain on healthcare resources.
Fast Fashion threw caution to the wind when it came to creating long-term, serviceable garments. Whatever was hot could be shipped to market in a matter of days, and then abandoned just as quickly by fickle customers who had moved on to the newest fad/colour/fabric/idea. Along the way, environmental impact went through the roof.
With the backlash against Fast Fashion, countries like France plan to mandate including climate impact information on clothing labels as early as next year. The goal is to make supply chain and production paths more transparent to purchasers. It's not new. According to CINET, there are already 450 types of environmental labels in use worldwide, 200 of them in the European Union alone. France will be the first to make the labeling mandatory, however.
As service providers who handle garments from all over the world on a daily basis, this may mean you begin to see symbols and other label inclusions that might have you stumped. They will not apply directly toward garment care, but may help you know when to pretest a given textile, depending on its origins.
More symbols?
Aren't care labels already cluttered enough? Where are they going to put all this new information? Will you have to memorize a whole new array of symbols?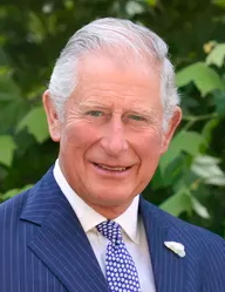 The good news is that most people these days have a handy scanner right in their pockets—the ubiquitous smart phone. The New York Times reported that (then) Prince Charles' Sustainable Markets Initiative Taskforce recommended the use of a 'Digital ID' utilizing the QR code method. The code panel opens a web page detailing a fashion item 'from production through sale and even resale.'
This can help cut down on counterfeiting of luxury goods, and is useful in recycling, since various components are identified, like buttons, dyes, trims, etc. Retailers and brands including Armani, Mulberry and Chloé have signed on to the Taskforce program.
Sheep Inc. garments includes a plastic-looking circle of biodegradable castor bean derivative that can be viewed via smart phone. According to Alexander Lewis, chief designer for the company, when the consumer scans the dot, 'an app page then opens, where you can see "which flock the sheep is in, the date wool was shorn, when the sheep last had vaccinations, or gave birth, the journey the wool took from New Zealand to the mill, to the knitters, fulfillment center, and to the customer.'
Retailer Nisolo, a sustainable shoe brand in Nashville, TN includes something with every pair of shoes that looks like the 'Nutrition Facts' we're all familiar with on food items. In this case, however, the emphasis is on factors that are part of planet protection.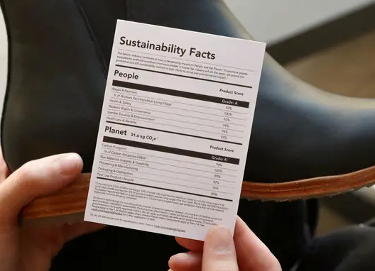 Per the company's website, these include:
People – "Sustainability" means pursuing 100% Living Wages and best in class measures across Health & Safety, Governance & Worker's Rights, Gender Equality & Empowerment, Healthcare & Benefits, and Racial Justice.
Planet – "Sustainability" means pursuing 0% Net Carbon and best in class measures across Raw Materials Integrity, Process & Manufacturing, Packaging & Distribution, and Circularity & Post Use Product Lifecycle.
The full label details 12 different categories, and cost the company half a million dollars and three years to put into practice. If the slip of paper gets separated from the shoes, there's also a QR code on the hang tag and shoe bag.
Why all the fuss?
The United Nations has said that the fashion industry alone contributes between 2 and 4 percent of global greenhouse gas emissions. This is because of the expansive supply chains necessary to bring items to market, and the production processes that contribute to global pollution.
'The fashion industry produces about 20 percent of global wastewater, while 85% of textiles end up in landfills or are incinerated when most of these materials could be reused,' the UN went on to say. 'Overall, the industry consumes more energy than the aviation and shipping industries combined, which highlights the importance of emissions reductions across the sector.'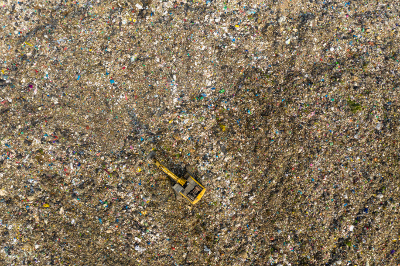 Industry leaders say it will be a struggle to bring about a uniform way of transmitting the life-cycle information on every garment or textile, but it's what has to happen in order for the practices to be made clear to consumers.
Activists like Valeria Botta of the Environmental Coalition on Standards say the proposed regulations don't go far enough. They want them to include banning practices (like destroying returned or unsold goods or ecologically dangerous methods) so that 'consumers should not have to fight to find a sustainable option—that should be the default.'
Should you care?
We should all care about our planet. That is clear. But for you as a textile care expert, these new regulations may well bring you information you need in properly treating your customers' items. It may also raise questions among your customers as to what the labels mean. As the new labels become standard, you will need to know what they mean, how to access the information, and how to explain it to your customers.
As your mother perhaps told you, forewarned is forearmed.