The under-reported story of the Covid-19 pandemic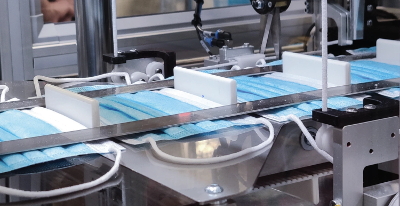 When the Coronavirus emerged as a pandemic situation, personal protective equipment (PPE) became part of daily life around the world. Masks. Gloves. Gowns. Face shields. A lot of it is single-use, because that's the whole point: protect yourself, and then get rid of the protection, fast.
But where is all that PPE going?
According to a blog on Road Runner recycling's website, just the number of face masks used during the pandemic is almost beyond comprehension:
Yes, they're lightweight and can be wadded up like a facial tissue, but multiply anything by 129 billion and you have a huge problem.
Someone has an idea
The Canadian Shield is a Kitchener (Ont.) based advanced manufacturing company that specializes in the design and production of PPE. The company was founded in March 2020 at the beginning of the Covid-19 pandemic. Today it is one of Canada's largest onshore manufacturers of medical-grade PPE.
Recognizing the waste issue of disposable PPE, the company is on a mission to create a sustainable medical device manufacturing industry in Canada. "We are making a number of significant innovations that include industry-leading automation technology, as well as biodegradable, medical-grade masks," said Jeremy Hedges, president and CEO of the company.
They call it the BioMask™.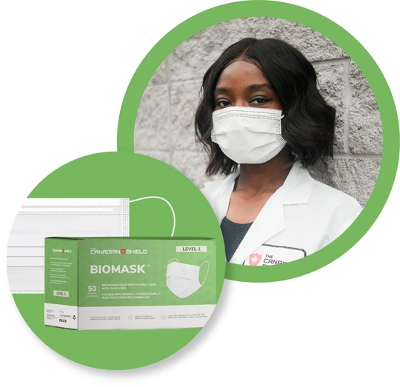 "Most of this PPE, unfortunately, is non-recyclable or non-biodegradable. While more studies still need to be conducted to understand the full impact of PPE waste, creating a biodegradable face mask is a significant step towards reducing plastic medical waste in our landfills," said Hedges.
You may have heard of other biodegradable face masks on the market. Most of the time, these unrated masks require very specific conditions in order to biodegrade. For example, biodegradable face masks made from wood-based fibres require oxygen in order to break down – this is called aerobic biodegradation. This type of biodegradation poses a significant issue when the majority of PPE ends up in landfills, which are typically anaerobic environments (meaning oxygen is not present).
If you think about your local landfill, all the waste is compacted layer on layer over time, so it makes sense that oxygen has trouble reaching below the surface. This means that even items like newspapers are unable to break down after years and even decades in the landfill, simply because this material needs an aerobic environment to break down, and landfills are anaerobic environments.
What's different here?
The BioMask™ is unique because of its ability to anaerobically biodegrade in the landfill, meaning it can break down without the presence of oxygen. It has been tested to biodegrade 6.89% in 45 days in anaerobic conditions like landfills (in accordance with ASTM D5511-18).
That doesn't sound like a lot of biodegradation, but it is an industry benchmark that means the masks degraded that much in 30 to 45 days – and it is assumed they will continue degrading after that.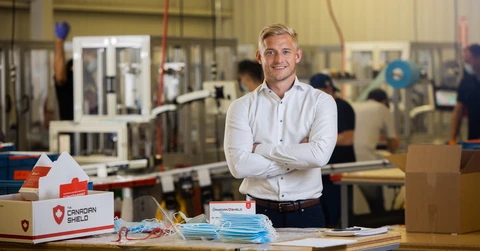 "It's important to note that we're operating within the rules for environmental claims and advertising in Canada, which means we need to be extremely specific about what we mean when we say biodegradable.
"At this point, we've proven that BioMask is biodegradable, but we can't extrapolate data beyond that until we receive more conclusive long-term test results. We are actively conducting longer-term studies to determine the full biodegradation cycle of the BioMask™, but until that study is complete, we can't claim biodegradability beyond the 45-day period. We will continue to update our biodegradability claim and timeline as those studies are completed.
"For now, we are using the very common, and widely used, ASTM D5511-18 standard to define the biodegradability of our product. We believe that in order to have an impact on the massive amount of plastic PPE waste that has been generated over the past year, we must absolutely start sooner rather than later," Hedges clarified.
"Up until the creation of the BioMask™, biodegradable masks could not be used in health care, which is the largest consumer of PPE face masks," said Hedges, because the masks didn't meet standards for medical-grade equipment.
Isn't Covid coming to an end?
"While the use of masks in everyday life may decrease, the need for masks in hospitals and health care facilities will remain prevalent. We are committed to heavily investing in IP and automation, with the vision of building a sustainable medical device manufacturing industry in Canada for years to come and we look forward to extending our reach internationally," said Hedges.
The Canadian Shield is currently in the process of finalizing innovation contracts with national Shared Service Organizations and Group Purchasing Organizations to allow Canadian hospitals and municipalities across the country to purchase the BioMask™ at competitive rates, in line with existing overseas contracts.
In addition to these contracts within health care, The Canadian Shield is actively selling the BioMask™ to any and all organizations, first responders, manufacturers, and other groups who are seeking a reliable supply of medical-grade face masks that can biodegrade in the landfill.
"Our team at The Canadian Shield is incredibly proud of this significant innovation in the PPE space. Creating sustainable medical device products is core to our mission and aligns with our team's values. It's also a huge step in the right direction when it comes to reducing the impact of plastic waste in our landfills," Hedges said.
For more information, visit The Canadian Shield's website.