TRSA 110th Annual Conference
October 10 @ 8:00 am

-

October 12 @ 5:00 pm

EDT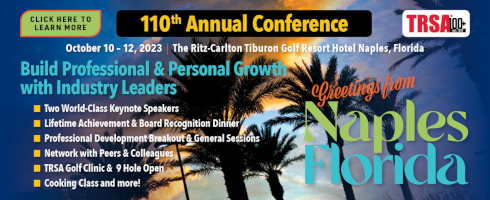 Take advantage of professional development and networking opportunities during this fall's Annual Conference October 10-12.
Receive the insight and inspiration needed to lead your everyday operations to the next level.
Fresh perspectives by top speakers will fill out this year's agenda. Benefit all levels of management, from general and plant-based managers to next-generation executives and emerging leaders to executives and owners by attending sessions such as: 
Navigating Hiring & Retention: Insights from an Industry Insider Turned Entrepreneur -Join J.R. Garcia, a 30-year industry veteran and the founder of Laundry People Finders, as he shares his insights and tips on recruitment and retention in the laundry industry. 
Leveraging the Values of ESG for Success – This exclusive discussion brings together industry leaders and experts who are driving sustainable practices and responsible business strategies within their organization.
The Power of Intelligent Growth – Putting an emphasis on creating business value, especially in times of economic uncertainty, should be a key objective for all companies regardless of whether they are public, private, etc. History shows that focus on "intelligent growth" generally produces the best outcome for value creation.
Industry Performance Report – Andrew Wittman walks you through the key highlights in the industry performance report. Take away insights on everything happening within the industry.
And that's just the first day of this action packed conference! These session are all breakout sessions and occur in tandem, so bring multiple members of your staff to gather the all of the information being shared by these subject-matter experts.