DLI West Coast stain removal course
June 1 @ 12:00 am

-

June 23 @ 12:00 am

PDT

$645 – $845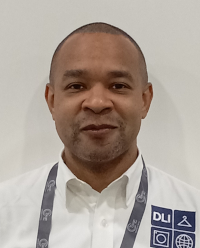 DLI's West Coast Stain Removal Course combines the convenience of virtual meetings with the instructional power of hands-on, practical training. Students will meet online for two hours on five different days before heading to the spotting board for a full-day of hands-on training in Anaheim.  Taught by Brian Johnson, Education Director for the Drycleaning & Laundry Institute.

DLI's School of Drycleaning Technology offers this course in a blended learning format. The added flexibility helps make the course more accessible for students and their managers. "Convenience is a huge factor for the students," Johnson said. "Our previous students loved the course because they didn't have to leave their jobs and families for a full week to come to the school. With the blended course format they could develop this critical skill while only having to learn the hands-on part in a much shorter time."
Attendance for this course is limited to 24 total students with capacity for eight students on each in-person, hands-on training day. Date selection will be first come, first served. All 24 students are required to participate in five days of Zoom training for two hours each day prior to meeting in-person at U.S. Multitek's facility in Anaheim, California, on June 21, 22, or 23.
Six-day course in total. Hybrid – Live Virtual Zoom courses for four days.  
Two-hours of virtual instruction on Zoom for four days: June 1, 6, 8, 13, and 15 from 11 a.m. – 1 p.m. Pacific each day. (All attend Zoom classes prior to the one-day in-person session
One day in person at U.S. Multitek in Anaheim, June 21, 22, or 23.
Stain removal boards donated by Sankosha USA, facilities provided by U.S. Multitek, Anaheim, CA.
Course Topics
Removing coffee, ink, grease, and other stains from clothing.

Identifying cotton, silk, polyester, and other fabrics.

Using bleaches without damaging the fabric color.

Using specialty products such as digesters, amyl acetate, and acetone in stain removal.

Identifying fibers and fabric construction.